On Tuesday, February 27 at 7:30 PM EST at The Apollo Theater in collaboration with The Atlantic presented a talk with Oscar-winning actress Lupita Nyong'o along with her Marvel Studios' BLACK PANTHER co-star Chadwick Boseman moderated by Ta-Nehisi Coates.  The event was a sold-out conversation where they talked about the film and shared their experience as actors.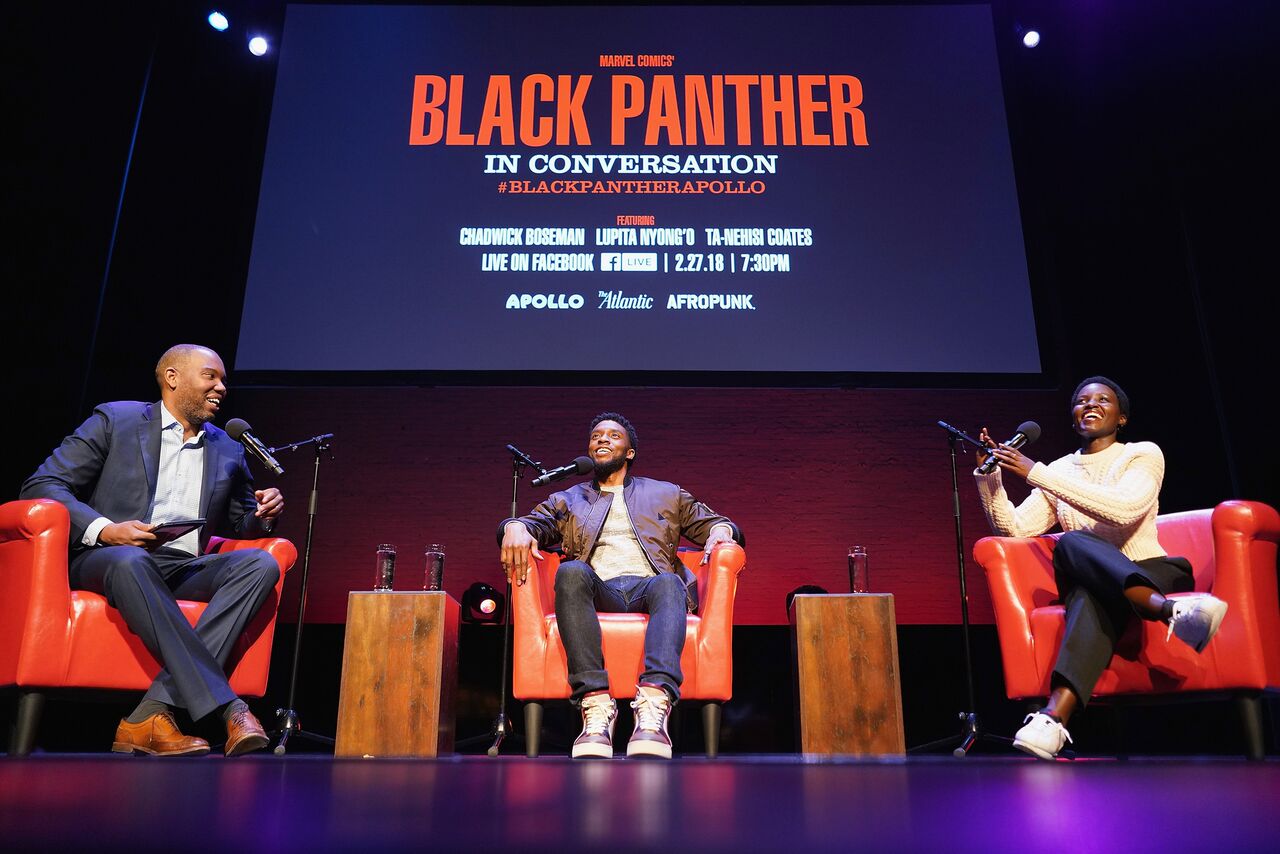 For this event, hundreds of free tickets were given to a number of Harlem organizations and their constituencies, the event was also live-streamed by the Apollo, The Atlantic, and AFROPUNK—making the conversation available to fans and audiences worldwide.

The is event comes at a moment when Marvel Studios' BLACK PANTHER continues to land rapturous praise and smash box office records in its opening week. Boseman stars as T'Challa, the first black superhero in the Marvel franchise, and Nyong'o as the spy Nakia—performances which, like the film, are receiving universal acclaim. They will be interviewed by Ta-Nehisi Coates, national correspondent for The Atlantic and current scribe of Marvel Studios' BLACK PANTHER comics, whose writing and depiction of the fictional African nation of Wakanda influenced the film.
As part of this initiative, the Apollo and The Atlantic made courtesy movie tickets available to a number of Harlem organizations, whose constituencies were invited to screen the film at the AMC Harlem 9 before proceeding to the Apollo's famed stage for the conversation featuring Boseman, Nyong'o, and Coates.

Marvel Studios' BLACK PANTHER, which has been heralded as embracing diversity in film and encouraging critical conversations about the state of the current cinematic landscape, provides a significant topic of discussion for both the Apollo Theater's Harlem stage and The Atlantic. This event continues The Apollo's long history as a facilitator and community convener for conversations on important, socially, and culturally relevant issues to Harlem, New York, and the nation. Similarly, throughout its 160 years, The Atlantic has been a vehicle for the most urgent writing on matters of race, justice, and equality—and has sparked global conversation on the most consequential issues of our time.

Additionally, AFROPUNK, the culture collective, and presenter of global arts festivals participated as a marketing partner. 
At the end of the night, as a collective appreciation for the film, audience members were asked to join in with for a group selfie while posing using the Wakanda symbol.  
I am a professional writer, web content manager, web producer and social media strategist who has worked for quite a few high profile brands as well as a few startup companies in my career.