Throughout my life and career, I have learned countless lessons about love, family, friends, and work. The endless make it or break it moments I have experienced could fill a book—bringing the reader on a rollercoaster from year to year.
A self-declared nerd, I frequently lacked confidence growing up. Never feeling beautiful or smart enough, I time and again fell the victim of bullies. Yet there was one thing about me that always gave me courage: my hair.
Strong and healthy, it was the one thing I could stand behind: bold and daring when I felt the need to hide, uplifted and voluminous when I felt the need to shine. Today, it continues to be the trait of mine I cherish most, and I'm grateful for the two secret beauty products that help me shine day in and day out: Save the Day and While You Sleep.
Before the days of using these two secret beauty products, I grew up in Paris. It was an idyllic time filled with chocolate crepes along the Champs Elysées and hopscotch at the base of La Tour Eiffel. It goes without saying that I was quite the happy child.
I was also apparently quite the fan of bob haircuts.
Over the years, my hair transformed with each chapter. After a merry childhood in France, I moved to to Plano, Texas – whereupon I was given the wonderful gifts of thick-rimmed glasses and a mouthful of metallic braces. My hair remained a bob throughout my early teens and well into high school.
A life-altering moment, one day in math class, I sat by chance behind a young woman named Diane with a similar haircut. We became best friends. At the time, I was regularly getting 92's or 93's on homework; but Diane would always get 100's. Seeing that it was possible, I began to think to myself, 'Why couldn't I simply put in just that much more energy into my work so as to get that better grade? Why settle for mediocre, when just a few more minutes of my focus and investment might get me that 100?'
This became one of the first make or break moments in my life, whereby from then on, I began to get 100's. Looking back, this became the early seed of my philosophy to kill it in every moment: 'Whatever it is you are doing, be present in the moment and do the very best that you can that very second. No matter how small the task, overdeliver.'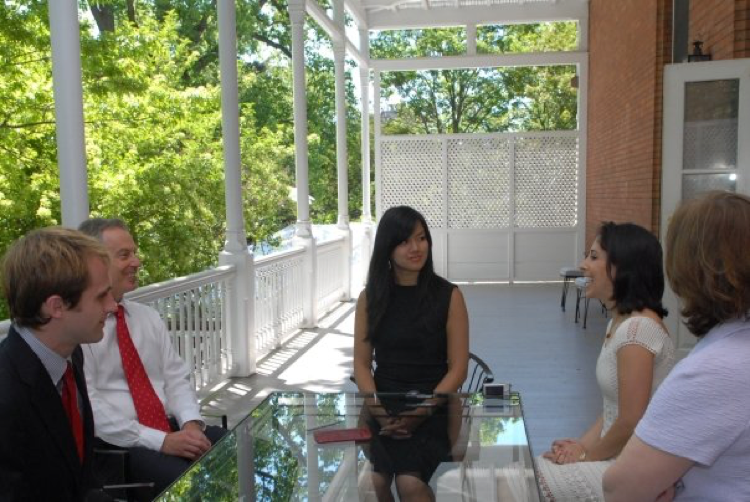 This life-changing philosophy took me to Yale and Harvard Business School, where each year, I adopted a new hairstyle that would reflect where I was in life. Ranging from ponytails my freshman year of college to sleek layers for tea with Tony Blair and his wife my senior year, hair has indeed been an integral part of my journey.
Continuing on my path upon graduation from business school, I began to find my footing in the world. As I took on three jobs during the day, young women would write me letters asking for help and advice. This eventually inspired me to teach myself how to code so that I could build these young women a platform that would focus on empowering one another by providing access to information.
That very idea became Mogul, now one of the largest female millennial platforms in the world.
Now, as a thriving entrepreneur, I aim to display confidence daily, which my hairstyle accordingly reflects. Just as I learned when I was younger, thanks to my best friend Diane, I give every moment of the day my all. I do all that I can to maintain focus and reach for success within each meeting, which thereby means less time to take care of my hair.
That is why, each morning, I apply Save the Day by Bumble & bumble before my usual styling routine to instantly revive my otherwise at-risk hair. It instantly repairs and protects against further damage (it's UV protective too).
As an entrepreneur, my day is packed with diverse events and meetings that can require different hairstyles. Therefore, it's vital for me to protect my hair the best way possible, and to make sure it always looks polished and beautiful. You never know who you are going to meet, so it is always ideal to look and feel your best!
For instance, you could be in a TV or magazine shoot one minute and then be meeting with top-tier investors the next minute. By the time I head to a speaking engagement in the evening, oftentimes seated across other public figures or even royalty, I am so grateful that my hair's shine and volume has remained, due to the time invested in taking care of it daily.
Here I am hair and makeup ready as a Judge on the TLC and Discovery Channel TV series
Not only is taking care of my hair important for health and appearance, but it also helps me to feel the most confident possible when I treat my locks as if I've just stepped out of a salon – without having to step foot inside of one.
My secret weapon, other than Save the Day, is that I habitually apply While You Sleep by Bumble & bumble before bed for swingy, silky, de-stressed strands by the morning; this repairs and strengthens my hair in just one use. This product has been a godsend since I don't have as much time to devote to getting ready in the mornings. It makes my beauty regime not only more high-quality, but more efficient.
When I look back at the entirety of my journey so far, from that little girl with a bob cut to the woman who loves to take care of her most cherished locks with Bumble & bumble, I am thankful for each step of the way. Both the highs and the lows have taught me that anything is achievable with focus, hard work, and confidence.
Mogul is the culmination of so many childhood hopes and dreams, and with the support of amazing advisors, investors, colleagues, family, and friends (and a few phenomenal beauty products that make life easier!), we will continue to be able to positively impact the lives of millions of women across the globe.
Forbes 30 Under 30. Business Insider 30 Under 30. Elle Magazine 30 Under 30. Tech Executive. Film Producer. Book author. Arts philanthropist.