Movies by women and about women are such a great thing to celebrate. The stories many times display our sisterhood and support of one another. The film, Frisky by Claudia Pickering is a perfect example of this case.  
Frisky is a comedy about two twenty-somethings who move to San Francisco to chase their career, but end up chasing tail instead. The story begins when two twenty-something women move back to San Francisco, where they had met on exchange years earlier, their high career aspirations quickly become sidelined by their sexual interests. While wildly crass and charismatic in their public personas, they are in fact fundamentally at odds on many levels.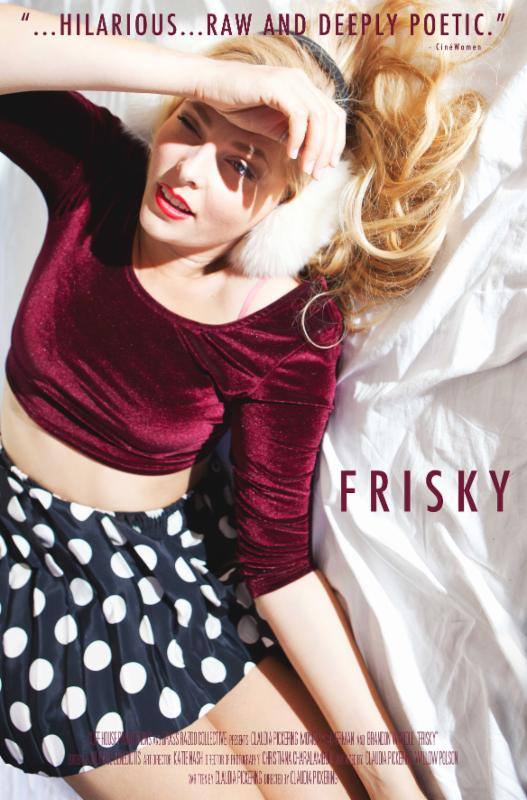 Their opposing beliefs surrounding responsibility and romance, combined with their close quarters while crashing in an acquaintance's living room, find them thrust onto a fast track to discovering what their friendship is really made of. Based on true events, Frisky is an honest, tongue-in-cheek look at what it is to be a woman in the limbo years between college and "the real world".
10 things you need to know about the film:
1.    Completed on a $5k budget
2.    Being released through Gravitas Ventures in US and Canada on March 14 (See website for platforms)
3.    All-female production crew (aside from a stand-in sound guy for a couple of days)
4.    A story about beautiful, strong female friendship.
5.    Uh, it's hilarious.
6.    Set in San Francisco, guerilla shoot.
7.    Almost got shut down by the cops as neighbors thought they were shooting an 'adult film'
8.    All indie musicians on the soundtrack.
9.    Based on true events.
10.  Director also runs a film festival in Sydney - Freshflix - supporting indie filmmakers, musicians and artists.
Frisky is written, produced, directed (and starring!) first-time filmmaker Claudia Pickering, this is a powerhouse comedy with a beautiful female friendship at its core. Based on true events, Frisky was shot in San Francisco by a team of independent filmmakers.
Claudia has gone on to launch a film-festival-come-great-excuse-for-a-good-party called Freshflix in Sydney, Australia, in 2016, which has quickly become a sell-out quarterly film festival celebrating short and long form content from all over the world. It's incredible to witness what this filmmaking community has achieved in such a small amount of time as Freshflix events have injected life into not only the region's filmmaking community, but a wider audience of curious and passionate fans. For more information, check out the website or via social media on Facebook and Twitter.  
I am a professional writer, web content manager, web producer and social media strategist who has worked for quite a few high profile brands as well as a few startup companies in my career.