Yoga and Spiritual Coach Taryn Raine, 26, is the Founder of The Remote Yogi, a platform where she empowers and supports woman through her home yoga program. She's also this series' 31st spotlight and episode 31 of the Thank You Heartbreak podcast. 
Reading Taryn's spotlight, it's impossible to overlook the transformative power of heartbreak. It feels like her story is really one where in losing one thing, a person finds themselves gaining the world. 
Of course, it's not as simplistic as Taryn losing her husband. What seems to have happened is, in losing her marriage, what she was able to free herself from was all the "shoulds," the vision really that brought with it so many expectations for how a woman should be living now that she is a spouse. 
On episode 31 of Thank You Heartbreak, Taryn dives straight into this part of her story. And, it's a part I believe so many woman are yearning to have realized in themselves—and are yearning to be liberated from, just as Taryn was. To be clear, it wasn't that Taryn suffered under the weight of her ex-husband's expectations. Not at all. She suffered under the weight of her own. 
Think about it, so many of us spend our days dreaming of what life will be like once we've found the one, once we've declared our I do's. We picture ourselves. Not only in our imagined home but, more than that, we picture the way we will move as this imagined person—a wife, the chosen one. We imagine a lightness will become us. A feeling will become us. 
Why? Because we believe that when we become a married woman, we will feel perfect. And when we don't? Well, that's what provokes us—panics us—into becoming perfect, into doing everything it takes to perfect ourselves and our surroundings. Notice how perfecting our world sounds a lot like the need to control it. You see, the problem is, we associate our desired feelings with roles and circumstances. And once we step into those roles and settle into those circumstances, it astonishes us—degrades us—to find that the feelings have not followed us into our roles or into our homes. 
This was the big wake up call that Taryn was served within her marriage. To find out what was waiting for her on the other side of this wake up call, grab your earbuds and tune into episode 31 of Thank You Heartbreak.
To take her words in right away, keep reading and consider:
When was the last time you felt like you were fighting for your relationship? If you had to zero in on that moment, what was it within yourself that you were fighting for? Maybe it was appreciation or an exit plan.
What's the difference between a person who tries so hard to make a relationship work versus a person who tries to make a relationship grow? How are the needs different?
What are some healthy tools that you've learned along the way that you will take into your next relationship?
What's your Achilles' heel?
What role is most important to you? How do you imagine you'll feel when you become that role? How can you begin to feel that way today, tomorrow, this week?
What comes up when you picture yourself sizing down and becoming rootless? Anxiety? Excitement? Where would you go first and what part of yourself would you want to meet there?
What part of your self-reinvention would make the biggest impact on your current life?
Don't bite your tongue. Share your big takeaways below. You never know who you could inspire with your words and even a fraction of your story. 
1. How did you grow up and grow into yourself because of the relationship?
We were married for three years and had a rough time of it from the very beginning. He was not a bad man, but had a lot of his own depression in our marriage, which led to alcohol and gambling problems. I was dealing with a lot of anxiety and became a workaholic as a way to cope. I was raised very religious and although I was not practicing faith, I had immense guilt at the thought of divorce. Instead, I fought like hell to make things work. I took marriage classes, invested in counseling, and did everything I could to make it work. 
At the same time, my ex worked nights and I had a lot of free time to figure out my own needs. I was terribly lonely and depressed. However, I was called to become a yoga teacher and launch three small businesses (workaholic tendencies were really extreme) while I was married and working full time. Even though I was under a lot of scrutiny and judgment from my ex for doing so. I learned the importance of fighting for someone you love, but then learned how important it was to fight for myself and my own worth. 
2. How did you adjust your mindset after your breakup so, instead of focusing on what was lost, you focused on what you could gain? 
It was an incredibly painful experience, but as soon as I left, I felt like I could breathe again. I realized how much I was holding back on my own growth to make the relationship work. I began to attract yoga students who were also going through painful breakups. We created a strong bond during that time and I received the first taste of how incredible my life was about to become, as a coach and mentor to other women. I just knew I had released myself from a cage and I was ready to fly. 
3. If every person that comes into our lives is truly an opportunity for us to learn and grow, what do you believe your ex was there to teach you? 
My ex was there to teach me how to value myself. It took me a long time to figure it out, but deep down, I did not think I was worthy of being treated well. I let all my exes treat me poorly because I didn't think I deserved better. In fighting for him, I learned all the right tools to use in a healthy relationship. I learned more about my needs and what would become non-negotiable for future partners. I learned to love myself, because I had to put myself first in order to leave. I am incredibly grateful for my marriage and divorce. I wouldn't take it back.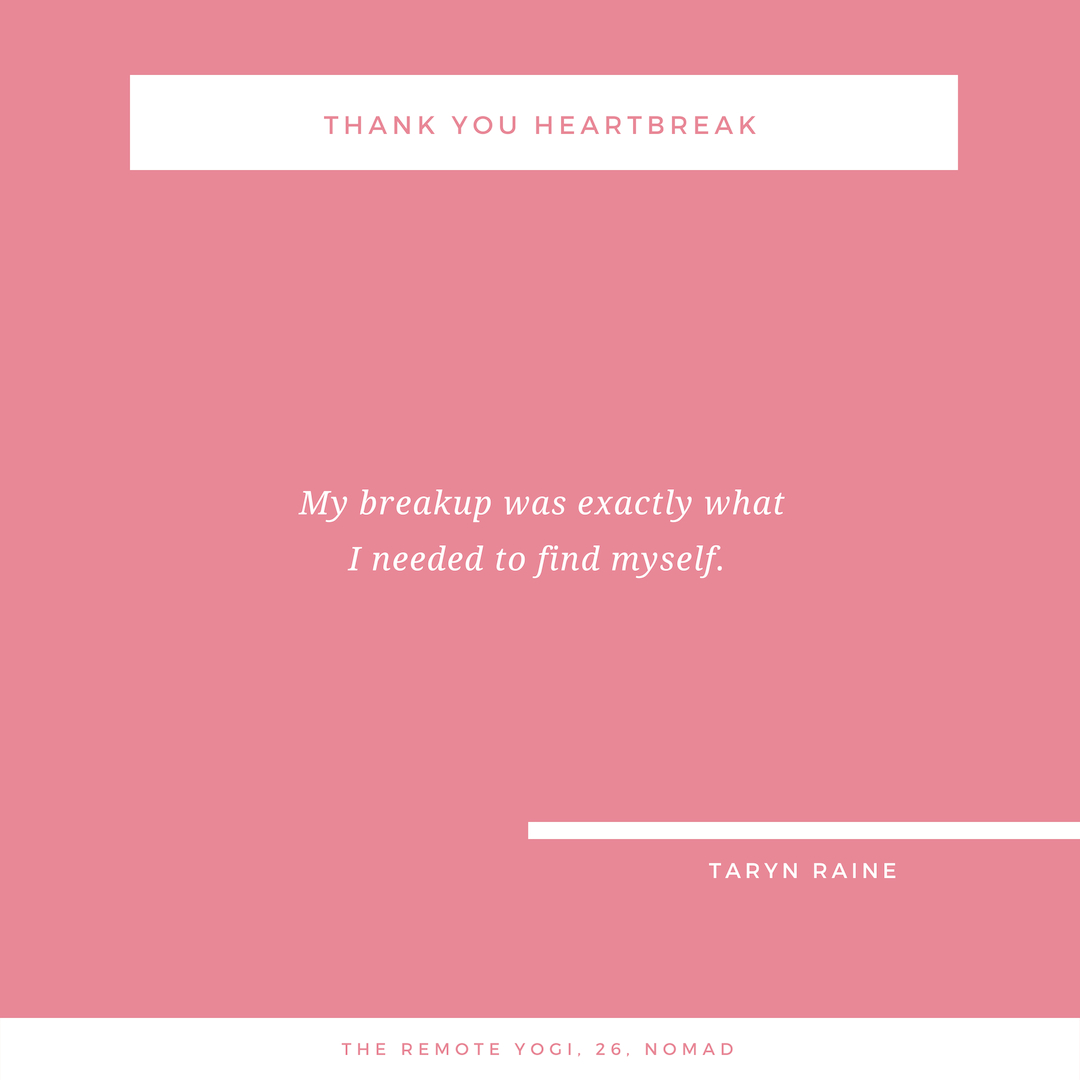 4. What would you tell someone who was in need of finding the silver lining in their breakup?
My breakup was exactly what I needed to find myself. I had lived my entire life looking for my savior, my other half who was going to provide my happiness. This is an extremely dangerous mindset to have. In my divorce, I had to find friendship, happiness, and love within myself. I learned what it meant to feel worthy of everything I desire. I would've never found that within the relationship. I had to go through heartbreak to stand on my own two feet. 
5. Do you think your success is a product of something you already had inside of yourself but relationship priorities either delayed or distracted you from going after or do you think solitude and loss themselves drove you to want more for yourself? 
That's a great question. I think that my current success was not even thought of before my breakup. I had convinced myself early, even as a child, that I would one day for defined by the roles I was able to play for other people — wife, mother, friend. I had very little concern for my own ambitions and cared less about what I did for a career. 
In a lot of ways, the process of being married and divorced young forced me to reevaluate the life I had planned. I decided to completely take my life in the other direction by investing time in myself and my desire to travel. It is in taking time to be alone and focusing on personal growth that I felt my true potential really shine within me. Looking back now, I don't think I ever would have been satisfied with the life I had envisioned for myself, but I had to experience the loss of that dream to really move past it. 
6. Ingrid Bergman famously said, "Success is getting what you want; happiness is wanting what you get." What do you have today that you wouldn't have imagined could make you so happy? 
I would never have imagined so much happiness in owning so little, in having very little plan for where I am heading next. Years ago, I used to fantasize about owning the best kitchen appliances, of wearing fancy clothes, and having a large home. I was also very stressed out about constantly planning my future and obsessing over the steps I would need to take to tackle each goal. 
It was in releasing everything I had that I felt truly happy, that I felt free. I gave up nearly everything, but I gained back so much more! I have gained the most supportive friendships, the freedom to change the direction of my life whenever I choose, and most importantly, so much faith in myself. I have gained a new best friend — me. 
7. One of the most popular sayings is, time heals all wounds. What did you discover over time that helped you heal your wounds most? 
Perspective. When you are feeling angry and hurt, it is natural to paint the other person in a negative light. In anger or frustration, it is easy to see all the wrong they have done and all the mistakes that were made on both sides. In our sadness, we can look back and hold onto the good moments, the moments when love was blooming, and that makes us feel incredibly depressed. However, I think we gain a lot of perspective in time. Slowly, the rose-colored glasses can be removed and we can see the cracks in our love story, allowing us to release the delusion that we lost a "perfect love." 
Similarly, when we can begin to see our part of the story, we can release the hurt and take ownership of our side. Additionally, we can start to feel for the other person and allow ourselves to see things through their eyes, really experiencing whatever emotions they were having. Once we have gained the new perspective, we can work on the harder step of forgiveness. We can choose to not only forgive our past lover, but most importantly, ourselves. I forgave my ex-husband early on, but it took me a long time to forgive myself. When I finally did, I felt so much weight lift off my chest. 
8. Coming out of your breakup, is there anything you could have done that would have gotten you to where you are now, only more quickly? If so, what would that have been?
Honestly, no. Part of me wishes I had the courage to have left my ex-husband sooner, but everything really needed to happen at the right time. I feel the same way with my healing process after leaving my ex. I needed a year where most of my life stayed consistent, but I got used to the quiet of living alone and working through my heartbreak. I think if I had left to travel any earlier than 1 year after leaving him, I would have been too depressed. I would not have allowed myself the time I needed to grieve and I would have missed out on how incredible my journey has been since then. I would suggest not rushing things, ever. I always check in with my gut and what feels right to me. 
9. If you could say or ask one last thing to your ex, what would you rather do? And what would the statement or question be?
I would ask him to forgive himself. I sincerely hope he has. We have stayed friendly since our breakup, but he has really struggled with self-forgiveness on his end. He's held onto a lot of guilt for how he treated me within our marriage and that's got to be incredibly heavy. I recently told him that I am grateful for what we went through together. It wasn't pretty and it wasn't fair, but it has shaped me into exactly who I am today. I quite like the woman I have become, so I have to be grateful for how I got here, even when it was painful. I hope he really understands that deep in his soul one day. 
10. In your opinion, what does it mean to Breakupward? What would that look like to you?
To Breakupward means to grow and flourish into a truer version of yourself after a heartbreak. To me, that means releasing how you defined yourself within the walls of a relationship and exploring who you get to become when you are on your own. It is a reinvention. 
It is the opportunity to get to know and love yourself in such a deep way that you're completely happy in your own presence. It will redefine what any future relationship looks like because it will have to fit the person you've become — one who is sure of herself and determined to chase after her desires.
To connect with Taryn and learn about her offerings, visit her website at theremoteyogi.blog and connect with her on Instagram and Facebook.
—
For her coaching services, including e-coaching services, visit Breakupward.com.
A Breakup Coach trained and certified in Solution-Focused Life Coaching, Chelsea Leigh Trescott is the host of the podcast Thank You Heartbreak and the founder of Breakupward—a movement encouraging men and women to use heartbreak and setbacks as an opportunity to launch themselves to a greater [...]