So much of our fear stems from or is perpetuated by the stories we hear and the stories we tell ourselves. Breakup stories are some of the worst and most damaging. Seldom do we hear of a breakup that makes us think, "Wow! If only heartbreak had motivated me in that direction, then, I would have let go sooner and feared less for myself." The reality is, these stories are out there. You just have to ask for them. 
For this Q&A series, that is exactly what I did. Over the following weeks, various creatives will get honest with themselves and the Mogul community about how their breakups landed them on top. 
You'll be hearing from women who attribute their professional success to heartbreak and credit their breakup for being the catalyst for personal transformation and professional reinvention. 
My hope is that these stories will encourage new thinking and even comfort you, that they will help you fear less and love greater. And perhaps most importantly, my hope is that they will help you breakupward and focus on all that is possible for yourself.
This is our 23rd spotlight, and I'm excited. Not just because "Thank You, Heartbreak" is gaining steam—and I'm yet to see an end in sight—(great news)—but especially because of the woman I'll be introducing you to today. 
With more than a few credentials to her name, Tanya Fruehauf, MA, CSAT, CCC, 43, is the founder of Catalyst Counselling, her own private practice in Vancouver, BC, which specializes in addiction issues, relapse prevention, relationships, codependency, and relational trauma counselling. Alongside her work with substance addiction, Tanya also counsels individuals and couples through sex and love addiction. 
Confession: If I had never received help in 2012 for my own codependency and love addiction, there's little chance that I'd be in any position to have jumpstarted this project, let alone coach individuals through the torture of their own heartbreak. I share this because love addiction is a real issue—and one that often goes unacknowledged and, consequentially, untreated. 
How come? 
Well, for one, there's shame attached to the emotions and the behavior that results, and with shame often comes secrecy. So what happens is, love addicts will deny the severity of their feelings and the hole they've dug themselves into because, not only is it human nature to protect those we love (and the relationships we associate with love!) but, as with any addiction, our dependency will convince us that our situation is necessary for our survival. That it is normal to love like this! That it can be solved! That we, in a word, need this relationship… even when it is crushing our spirit and breaking our heart. 
In Tanya's spotlight, you will hear about her own experience with overcoming codependency and how this experience ultimately informs her practice today. I love this detail as it reminds us that our pain can always be made purposeful, that the very experience that seemingly crippled us before can become the catalyst that incentivizes us to change course—to breakupward—and take charge of the direction of our lives with new intention and momentum. 
In fact, this is one of Tanya's essential teachings: that we empower ourselves when we take responsibility for our choices and our feelings. When we cease being a victim to our discomfort, we seize the reins of our life. We let certain pipe dreams burst and give ourselves the space, both mentally and physically, to repurpose ourselves and reimagine our futures. 
As you read her spotlight, ask yourself where you have a habit of relinquishing your power. Ask yourself, what freedom means to you and why having it may make you uncomfortable. Think about the ways in which feeling free and being responsible relate to having to grow up. Where do you still feel young and underdeveloped in life? Where might you feel unappreciated or unprepared? Needy or not yet enough? 
Are you neglecting any part of yourself? Are you sitting on your own wings? Are you waiting for permission to fly? Have you ever waited for your love to really take off?
As always, these questions are here to help you breakupward. Remember, the deeper you look, the more clearly you will be able to hear what your heart is longing for. Think of every question as a window of opportunity and every answer as an invitation to fly. 
1. Do you think your success is a product of something you already had inside of yourself but relationship priorities either delayed or distracted you from going after or do you think solitude and loss themselves drove you to want more for yourself? 
For me, I see my success came from feeling the frustration and yearning that my life could be so much more than it was. I had that nagging feeling of longing. I knew I had been living below my potential for way too long. In AA they say, "If nothing changes, nothing changes." And let's face it - you don't make changes when you are comfortable and content with life. Discomfort is the catalyst for change. That is why I named my private practice Catalyst Counselling. The name was inspired by finding whatever is your catalyst for change.
My codependency and excessive focus on others didn't give me the space to ask myself "what do I want?" or "what do I need?" I held it together on the outside, but inside I felt defeated. I spent many years trying to be what others wanted me to be. 
My success was a by product of professional and personal heartbreak; Professionally I had to face the fact that the height of my acting career was starring in an Applebee's commercial. At that time, I was a struggling actress pushing 40 years old and I couldn't live much more on the pipe dream that I was only one booking away from fame and fortune.
Personally I faced devastation when my my boyfriend told me he "didn't really have a timeline for marriage" after 8 years together. After I had spent numerous years investing in him financially and emotionally, it felt like the worst rejection you could imagine.  
2. How did you adjust your mindset after your breakup so, instead of focusing on what was lost, you focused on what you could gain? 
Our relationship had been dying a slow death for a few years. After we officially ended it, aside from the obvious sadness and grief, it actually felt like a relief to me. With my new freedom (and the fear of being in my last few years before I'd officially be a cougar) I felt like I had a window of time that I had to seize professionally and personally. Not only did I start dating, but I put myself out there professionally. I ended up landing my first job post Masters Degree at one of the best treatment centers in Canada for addiction. I felt like I didn't have a choice but to seize the moment. 
3. If every person that comes into our lives is truly an opportunity for us to learn and grow, what do you believe your ex was there to teach you? 
My years with my ex feel like a blur but I ultimately feel gratitude for him. He taught me that there is a word called boundaries and that I needed them. He showed me what I needed in relationships but, above all, the relationship taught me that I was codependent. This made me have a greater understanding for myself and for the codependency and addiction issues that I now work with in my practice.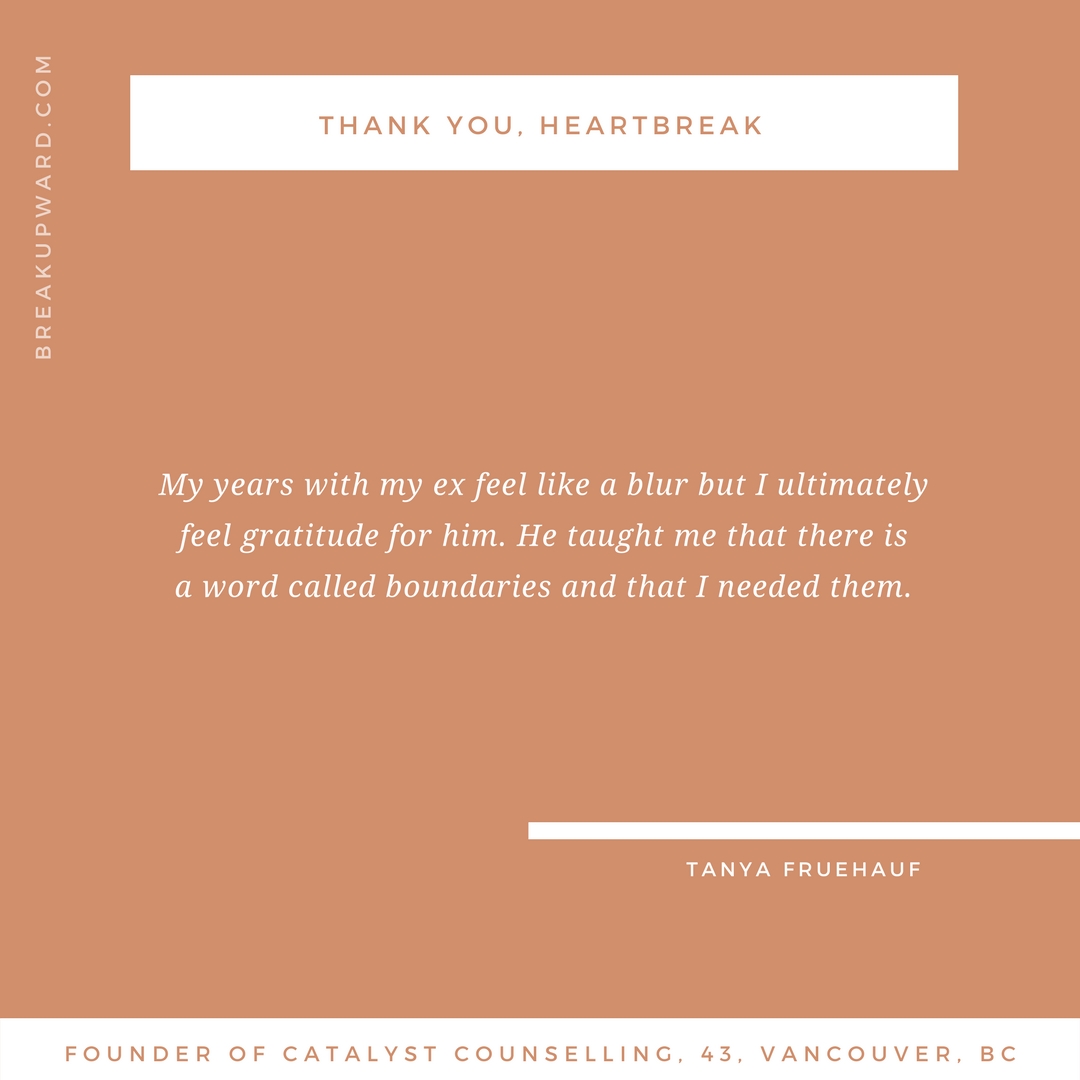 4. One of the most popular sayings is, time heals all wounds. What did you discover over time that helped you heal your wounds most? 
I don't believe that time alone heals our wounds. It's more about how you spend the time you have.  
Luckily, I had an amazing support network. Their unconditional love and patience gave me stability. As cliché as it might sound, having an incredible therapist also helped! I was able to better understand my patterns, confront my fears and connect to hope. Putting time into therapy helped me take responsibility for what I had chosen in a partner; I learned how I contributed to the dysfunction and I learned that I was codependent and that I eventually became a mother figure instead of a partner. Ladies, I highly recommend therapy!
Aside from understanding more about my emotional process, what also helped heal my wounds was focusing on my career where I found new meaning and empowerment. 
Ultimately, time gave me space to explore myself. I was able to envision what I wanted for myself instead of prioritizing how to make life better for my ex-boyfriend.
5. How did you grow up and grow into yourself because of the relationship? 
From conception and onward, we as humans are constantly developing. As long as you are alive, you have the opportunity to grow. 
In this relationship, I started to get a better sense of my needs and wants. 
This relationship lasted for 8 years throughout my 30's. As I grew in the relationship, I started realizing more and more that me and my needs were not in the relationship equation. 
As I grew, I learned how to give myself permission to ask for what I wanted and needed. It became too painful not getting my needs acknowledged or met. So ultimately, the pain of being disappointed and unsupported led me to outgrow the relationship (although it's fair to say that we both outgrew the relationship). 
6. Coming out of your breakup, is there anything you could have done that would have gotten you to where you are now, only more quickly? If so, what would that have been?
Looking back on it, I probably could have ended the relationship earlier, but that doesn't necessarily mean I would be where I am at today. 
I don't believe I could have done anything to expedite the process to get me where I am today.  
7. What would you tell someone who was in need of finding the silver lining in their breakup?
I would say: "I understand you are in pain. You won't be able to see it now, but there are lessons and opportunities here that will lead you to greater things." 
8. If you could say or ask one last thing to your ex, what would you rather do? And what would the statement or question be?
I would ask the question: "Why are you supporting yourself now when you couldn't do this when we were together?" 
9. In your opinion, what does it mean to breakupward? What would that look like to you?
I love the idea of breaking upward! That is exactly how I would describe what happened for me. 
I envision breaking upward as letting your broken parts fall but instead of hitting a bottom, they hit a springboard and rebound to take you higher than you could have seen yourself before. 
Breaking upward is about parting ways with someone so that you can take your life to the next level. It allows you to create space for a life that better fits you and your needs.  
For me, breaking upward put me in a position to empower myself and take responsibility for taking care of my needs. Relationship wise, I found a partner who was a much better fit for me - and who I ended up marrying! Career wise, breaking upward inspired me to get my Masters degree, pursue a fulfilling career and own my own business - all which had been pipe dreams for me before my breakup.
Learn more about Tanya's private practice and how she can help support you at catalyst-counselling.com. 
--
A Breakup Coach trained and certified in Solution-Focused Life Coaching, Chelsea Leigh Trescott helps her clients find meaning in what's been lost. For a chance to be featured in her HuffPo advice column or Mogul Q&A series write [email protected]
For coaching services, including e-coaching services, visit Breakupward.com.
#love, #relationships, #romance, #breakups, #breakup, #makeup, #empower, #empowerment, #interview, #inspiration, #women, #womensissues, #advice, #relationshipadvice, #coaching, #life, #lifecoaching, #happiness, #survival, #success, #business, #entrepreneurship, #business, #writing, #divorce, #bossladies, #girlboss, #divorce, #healing, #therapy
A Breakup Coach trained and certified in Solution-Focused Life Coaching, Chelsea Leigh Trescott is the host of the podcast Thank You Heartbreak and the founder of Breakupward—a movement encouraging men and women to use heartbreak and setbacks as an opportunity to launch themselves to a greater [...]