If this is your first time coming across this series, you're joining us at the perfect moment.
From Day 1, the mission of Thank You, Heartbreak has been to find female creatives all across the globe who have used heartbreak as a catalyst to professionally reinvent themselves.
We've spotlighted Suzy Homemakers who stepped out of their homes to pursue degrees and featured women who, in leaving behind their gilded cages, found their way on stage.
Some of the most spectacular stories have also been the most ordinary which tells me what impresses us the most are not intangible tales of coming into glamorous new careers or enviable relationships where we suddenly find ourselves playing house behind the proverbial white picket fence that was never ours before but rather are tales of becoming the women we didn't think we could be.
That is, in many ways, what our new job becomes post-heartbreak. A job of thinking more of ourselves—of allowing more for ourselves.
As we come into our 20th spotlight, I want to reflect on two big takeaways that have emerged from this series. To start, I've learned that others leaving us is a golden opportunity to become the one person who won't abandon ourselves anymore. I've also seen a pattern, that when we suddenly have less in our lives, we are empowered to ask for more out of ourselves.
What I love about the story you are about to read is, it's what I was hoping to find when I began this series. I was hoping to find women who were genuinely thankful, who regardless of their disappointment, their letdown and longing, could look back at the men they've loved and would be willing to thank them, who could look back and see that having the relationship and then losing it helped them—inspired them—to not only recreate themselves but in many ways find themselves again.
Marinel M. de Jesus, 41, of Washington D.C. fits this profile beautifully. She is a woman who has defied the odds. Not only does she harbor zero ill-will toward her ex, (as you'll read, she openly acknowledges that her affection toward him still remains), but she traded in her 15 year title as a prosecutor in order to become a mountain nomad. This, my friends, is professional reinvention at its finest.
Founded in 2016, Peak Explorations, is more than Marinel's passion project, it is her profession, and more than a profession, it is a social enterprise. In addition to co-ed treks and tours for solo travelers looking for not only a sense of adventure but a tribe of like-minded outdoor enthusiasts, Peak Explorations offers women-only treks, a special opportunity for women to unite and pave their way to a more active role as leaders on and off the trails.  
Alongside Peak Explorations, Marinel launched Brown Gal Trekker, a media entity that documents her alter ego's travels and trekking journeys in addition to the tales of other female wanderlusters.
As you read Marinel's story, ask yourself, if apps and bars didn't exist, where would I go to meet my soulmate? What's the furthest distance I would travel?
Ask yourself, what is my passion and where could I go to engage it? Think of who you might meet there, doing the very same thing as you with just as much heart.
Now what will it take for you to get off your tush and go do that thing before the calendar year folds over into 2018? (No pressure! But, as Marinel says, life happens on the move. And I'm here to tell you, love does too.)
Remember, the comment section is a place where you can inspire us as well. Share your answers, your big takeaways, and your questions below! One of the strongest ways you can show up in life is by putting words to your invisible, interior world.
PS: When Marinel and I began our discussion, the first thing she said to me was that in her old age, she'll have the most fascinating love story to tell. Obviously, that one grand admission made me think about my own loves and, when taken all together, what kind of story they will amount to. I want you to think about that, too.
When it comes to your own romances, what has already happened to you that moves you still? Do you remember any conversations you had with an ex that pierce your soul to this day? Perhaps it was a single line that set you in motion. I remember an ex saying to me, if I ever leave you, (he did), and I come back in ten years, (it's only been 2), and the only place you've published your writing is Facebook, I'll never forgive you. The fact that he said that boggles my mind still. How in the world did he know to say that? But, my God, I'm so thankful he did. Because, look. I've done it. I listened to him. That fascinates me. What have you done in reaction to your own romances that fascinates you?
Get in touch and spill it. I'm over here, just waiting to know you. 

1. Do you think your success is a product of something you already had inside of yourself but relationship priorities either delayed or distracted you from going after or do you think solitude and loss themselves drove you to want more for yourself? 
In my case, it's the loss that drove me to find my real purpose. I practiced law for 15 years in the field of child abuse and neglect. In 2011, I met this man from Belgium in the wilderness of the Patagonian Andes in Chile while backpacking for 9 days with my American friends. We then became friends via Facebook and for 3 years we inspired each other in pursuit of our passion for one thing - mountain trekking. 
In 2012 and 2013, we managed to reconnect twice as friends. I invited him to trek up Whitney, the highest peak in the continental U.S. but for whatever reason he was denied entry to the U.S. That's when I felt this feeling of romance towards him. But how do you tell someone that you like them when you live in different continents? You just don't. Life had other plans. 
In 2014, I was fortunate to get 1 year off from my job to do mountain trekking in Asia and Europe solo. During that one year away, I reconnected with him (he coincidentally managed to get a sabbatical too) in the Philippines. We traveled for a few months but our strong sense of independence and love for the mountains tore us apart and after trying four times to be together (our reunions over the span of a 4-5 month love affair involved various countries), we called it quits.
In 2015, badly hurt from the loss of this person that I've loved since 2011 as a friend and then a mate, I made a conscious decision to finally focus on what I love - mountain trekking. Part of me felt compelled to do this because it gave me a sense of feeling closer to my ex in some way - the idea that trekking in the mountains and continuing to do so the rest of my life is akin to my reliving that sense of inspiration that I experienced when he was still part of my life. And, as insane as this may sound, at times I wonder - will I ever run into him on the mountains again? After all, we have this insane love for the mountains and we met once - the first time - in the Andes mountains.
In 2016, I officially established my mountain trekking company by launching an LLC. Since then, all my effort and time have been put into my establishing the company. In the back of my mind, I still think about my ex and wonder if he knows of my new endeavors and if he can sense this connection that I still carry between us. The loss without a doubt led me to find the courage to pursue my true passion and left my lawyer job of 15 years for good. If that's not passion, then I don't know what is. After all, how I feel about the mountain trekking is synonymous to the love I felt for my ex, and even today that affection remains.
2. How did you adjust your mindset after your breakup so, instead of focusing on what was lost, you focused on what you could gain? 
I learned to focus on the idea that anything is possible. I became inspired to pursue my passion in full, rather than in pieces. I gained the courage to accept my authentic self even if my ambitions lie outside the box, i.e. society's expectations. Compounded by the notion that my time on earth is limited, I learned to be more present and mindful of every experience which compelled me to become appreciative of my existence. I am able to choose joy rather than wait for life to be ideal enough to experience it because not choosing joy doesn't serve me or anyone else in my life.
3. If every person that comes into our lives is truly an opportunity for us to learn and grow, what do you believe your ex was there to teach you? 
The pain from the loss certainly opened the door to realizing that I have gained so many lessons from the experience. For one, there's no such thing as finality or goodbye. Each experience flows to the next which then makes you more appreciative of what you had rather than mourn over a "loss." With this kind of perspective, I manage to fill myself with infinite optimism towards the future in that every moment and person I encounter will lead me to something meaningful in the future.
4. One of the most popular sayings is, time heals all wounds. What did you discover over time that helped you heal your wounds most? 
I learned my ex came into my life to teach me an important lesson. In recognizing this fact, I managed to gather insight as to the "loss" I experienced in that losing someone always provide us with something to gain in life. It also challenged this idea of whether there's truly a goodbye or finality in any relationships. Arguably, the most influential relationships in our lives go on within us in the form of clarity or enlightenment. We only need to be mindful of the impact in our lives of those people who mattered the most to us in order to fully avail ourselves of the lessons.
5. How did you grow up and grow into yourself because of the relationship? 
I reconnected to the truest version of myself. I finally listened to the little voice that persisted to tell me of my real desires in life. Once I listened, I realized fear was barring me from connecting with my desires. Over time, I took whatever courage I had within me to overcome my fears so I can make my desires part of my reality. Having practiced as a lawyer for 15 years, my desire to hike and run an adventure company were both unconventional. Little by little, I found myself getting closer to taking the leap of faith to go for what I want until the day I took the plunge in totality. I never looked back since then.
6. Coming out of your breakup, is there anything you could have done that would have gotten you to where you are now, only more quickly? If so, what would that have been? 
I believe the timing in my life from the day I met my ex until now has been perfect. I wouldn't change the timing of the events in any way. I wouldn't even say I would want to have learned things more quickly. It was perfectly orchestrated by life.
7. What would you tell someone who was in need of finding the silver lining in their breakup? 
Everything in our lives is a matter of "perspective." Allow yourself to be guided by positive thoughts, not by the negative ones. Make it a habit to be grateful for small and big things in your life. Don't dwell in the present moment, especially if it's negative. Always dream and live the future as if it's already here. Believe it is already here and it will happen.
8. If you could say or ask one last thing to your ex, what would you rather do? And what would the statement or question be?  
I'd be curious to ask, "how did my presence in your life impact you?" I guess I'd also add a simple "thanks" because I can never be grateful enough for the experience of meeting him and sharing a unique life experience together, even if only for a moment.
9. In your opinion, what does it mean to breakupward? What would that look like to you? 
To me, to breakupward means looking at the positive side of the experience and moving forward with a positive mindset. We have more power than we think when it comes to creating our own reality. We only need to seek from within where we wish to go from here and believe that you're already there.
Connect with Marinel yourself on Twitter, Facebook, and SoundCloud. To follow in her footsteps, tune into browngaltrekker.com, a media entity that documents Marinel aka the Brown Gal Trekker's travels and trekking journeys. It is also a one stop destination for women, nomads, trekkers and travelers looking to find inspiration and travel advice. For those seeking a different kind of adventure, while making the planet a better place, check out peakexplorations.com for Marinel's affordable trek and tour offerings. Purchase her book, Tales of a Brown Gal Trekker (Life Happens on the Move), a compilation of personal travel essays and poetry to inspire readers to release their fears, take up their own unique journey, and pursue their own definition of freedom and happiness.
--
A Breakup Coach trained and certified in Solution-Focused Life Coaching, Chelsea Leigh Trescott helps her clients turn their sob stories into silver lining breakups. For a chance to be featured in her HuffPo advice column or Mogul Q&A series write [email protected]
Visit Breakupward.com for coaching services.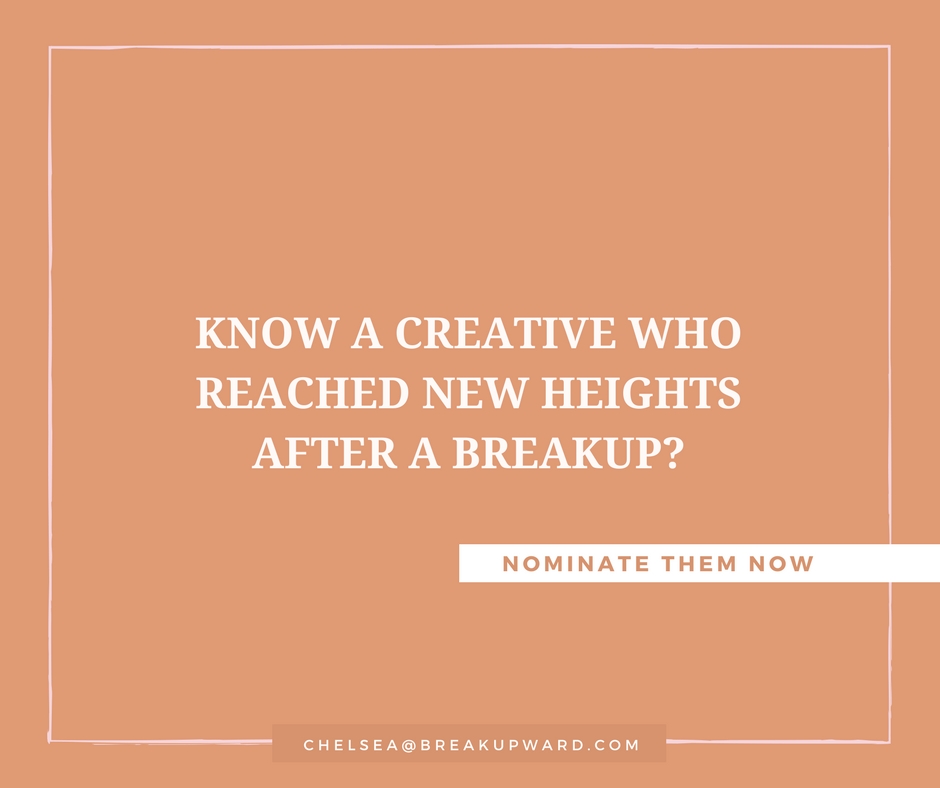 #love, #relationships, #romance, #breakups, #breakup, #makeup, #empower, #empowerment, #interview, #inspiration, #women, #womensissues, #advice, #relationshipadvice, #coaching, #life, #lifecoaching, #happiness, #survival, #success, #business, #entrepreneurship, #business, #writing, #divorce, #bossladies, #girlboss, #divorce, #healing, #spirituality, #independence, #missindependent #travel #nomad
A Breakup Coach trained and certified in Solution-Focused Life Coaching, Chelsea Leigh Trescott is the host of the podcast Thank You Heartbreak and the founder of Breakupward—a movement encouraging men and women to use heartbreak and setbacks as an opportunity to launch themselves to a greater [...]