Known as a jane-of-all-trades by day, Kelly Noel Rasmussen, 25, of Madison, WI specializes in client management, content creation, and social media management as an Account Coordinator for Strategic Partners Marketing, LLC. Out of the office, she serves as a guest angel tarot card reader with The Rose Gallery in Lake Mills, Wisconsin.
In our 19th spotlight, we start off with a very familiar story, a story of a woman who felt called to explore an alternative career path but who resisted that drive because she was worried that her new found interest would irk her then-boyfriend.
Often, stories like these have at their center the tension of ambition itself. We've heard it in stories spotlighted prior. Women who sit on their dreams and prioritize their fears. Like, the fear that a woman who steps out and into the arena on her own is somehow abandoning her partner. Or, the fear that gaining accolades will make a husband shrink and threaten to leave if she doesn't go back to playing small.
Sometimes these fears are based on real threats, and sometimes they are based on what we only imagine could happen. Sometimes we don't say it, and sometimes we don't even realize it, but we hold ourselves back because we are the ones who are afraid that should we gain momentum in some new area of our life then we will outgrow our current relationship and we will be the ones itching to leave.
Kelly Noel's spotlight takes a familiar story and turns it on its head in many ways. For one, it's not only a story about the tension surrounding ambition, but the tension surrounding what's behind that ambition. In this case, faith. As you'll see, Kelly Noel wasn't only exploring a new career interest, she was exploring her spiritual side through that career and being that her then-boyfriend was agnostic, it's easy to understand why pursuing this path felt especially challenging.
It begs the question, is it really our own success that we worry will intimidate our partner or is it how a new path creates an opening for a new part of our personality to shine through? For Kelly Noel, it was her spirituality; for others, it may be their hospitality, their charitability, gregariousness or charisma. The point is, identifying the aspects of ourselves that we are hoping a career will bring forth is the real calling. Because it's not just success that we are after, it's who we will become in the process of striving for it.
As you read this spotlight, think about what work means to you. Focus not on what project you are working to complete or what title you are looking to attain, but on what type of person you are working to become.
Also, pay close attention to what Kelly Noel has to say about her own grieving process. The very rituals she avoided post-heartbreak are the rituals, in retrospect, she wishes she had braved earlier. This aspect of her story fascinates me, as it holds a spotlight to all the various ways we choose to breakupward. For other women in this series, solace was found in steering clear of sad songs and any reminder of their ex. Whereas, in this story, Kelly Noel discovered that strength came through facing the very triggers that broke her down and left her in tears.
Let me tell you, this is a woman after my own heart. My brave face is often not without tears either.
As always, my hope is that these stories will encourage new thinking and even comfort you, that they will help you fear less and love greater. And perhaps most importantly, my hope is that they will help you breakupward and focus on all that is possible for yourself.
1. Do you think your success is a product of something you already had inside of yourself but relationship priorities either delayed or distracted you from going after or do you think solitude and loss themselves drove you to want more for yourself? 
In my case, I feel that my success was a product of something I already had inside of me but my relationship delayed and distracted me from pursuing it. This was especially true after my first relationship ended, at the beginning of 2016. I was very deeply interested in exploring my spiritual side, learning to do tarot more proficiently, and connecting with my intuition and Divine guidance in a deeper way. 
Because the person I was dating was agnostic, I felt that choosing to explore these things while I was with him would end our relationship. And because I was 23 and more insecure, I compromised who I was and delayed this inevitable spiritual exploration until my Divine guidance literally pushed me out of that relationship.
Less than two months later, I began working as a guest tarot card reader at a local metaphysical shop, The Rose Gallery, so things began manifesting for me quickly once I actually made the leap to end that relationship.
2. How did you adjust your mindset after your breakup so, instead of focusing on what was lost, you focused on what you could gain? 
It was very hard for me to shift my mindset after my first breakup, at least initially. I allowed myself to feel down, to grieve, to write poetry in response to our breakup, and to write letters to my ex that I never sent. It wasn't until about 6 weeks after the breakup that I felt ready to do much of anything. 
I found enough healing that I didn't constantly have a weight pressing on my heart, and I met up with my ex in person. I had so much hope that he would have changed in that 6 weeks (one of the reasons we broke up was that he didn't know what drove him and made him passionate in life), but nothing had. The disappointment I felt when I connected with him made me realize that I made the right decision at that time and that there was more for me out there. Two days later, I met my more recent boyfriend. I asked, and the Universe delivered.
3. If every person that comes into our lives is truly an opportunity for us to learn and grow, what do you believe your ex was there to teach you? 
My first boyfriend (and ex) taught me A LOT. Throughout our relationship, I was always analyzing our relationship and how we were doing and was this okay? For the first year we were dating, I was also quite infatuated with him and loved the person I imagined he was instead of the person that he actually was. He taught me a lot about how to navigate a romantic relationship successfully, how to communicate with someone I loved openly and fairly, how to be responsible for my own emotions. 
Many of the things that I was learning in that relationship I didn't fully integrate until I was dating someone else, or even more recently, now that I've also gone through another breakup. My first ex taught me (and is still teaching me) how important friendship and companionate love are to a romantic relationship. 
For the longest time, I had the illusion that passion was most important, and while passion is important, I've learned that it's something that can grow, and understanding, respect, and friendship with the other person are most critical.
4. One of the most popular sayings is, time heals all wounds. What did you discover over time that helped you heal your wounds most? 
After breaking up with my first boyfriend, I originally had the belief that I would never meet someone like him, someone who could be so special to me. So, in addition to the "clean pain" of the grief I was experiencing, I was creating "dirty pain" with this story I was telling myself, which made my emotional experience worse. When I started dating my second boyfriend, and now ex, I was emotionally closed off to this new person, suspicious of his intentions. He was (and is) a very compassionate, sensitive, conscientious person, but I was still healing from my breakup and needed to put up walls.
Over time, I discovered that he was sincere and compassionate, and when I finally allowed myself to be vulnerable with him and cried in front of him about how I was still hurting because my first relationship had ended, I felt that brought us closer together.
I realized that multiple people could be special to me, care for me, love me. I realized that there were other amazing, loving, intelligent, and attractive people in the Universe, and that I could connect with them all, just in slightly different ways. By dating him, the belief of "never finding anyone else" was destroyed, which helped me heal most.
After my second breakup, I realized that having open lines of communication was most important for maintaining a long-term relationship. While our communication was good, sometimes I felt like he wasn't as open with me as readily. If I did something stupid, he never called me out on it, and I didn't feel like he brought issues forward in our relationship so that we could resolve them right away. When I was able to recognize that our relationship had been deficient in this way, I was more easily able to release my attachment to the idea of continuing to date him. 
5. How did you grow up and grow into yourself because of the relationship? 
Just as I shared that I learned a lot from my relationship with my first boyfriend, I also grew up a lot because of it. When I first started dating him, the longest (and only) relationship I had had previously had lasted six weeks and had very little impact on me emotionally. I was a virgin+, and while I read a lot, I was pretty clueless about sex. I was still focused on the idea of "having a boyfriend," like it was a status symbol, rather than about building a relationship or partnership.
I entered the relationship doing my best to do what I thought I should do, what I thought he wanted from me, what would please him. And because I hadn't been in a relationship before, I didn't completely know where my boundaries were physically, psychologically, emotionally, and psychically. Instead of making sure all my needs were met (either by that relationship or in other ways), I was doing my best to meet his needs and neglected certain areas of my life. 
6. Coming out of your breakup, is there anything you could have done that would have gotten you to where you are now, only more quickly? If so, what would that have been?
Even though I feel I healed pretty quickly from my second breakup, I could have healed more quickly if I had allowed myself to fully feel my emotions from the beginning. I thought I needed to be strong, so I didn't truly sit with my grief until almost two months after our breakup. If I had told myself earlier that it was okay to wail and cry out my ex's name and feel the emotions through my body to release them, without judging them, I could have found healing sooner. Creating the space to acknowledge and accept my emotions – without restrictions, no matter how ugly it got – was ultimately what helped me move on.
After my first relationship, I was in an odd place. I had broken my dominant arm only a couple weeks before that relationship ended, which made physical activity difficult. It also made writing and journaling challenging. As such, I felt I didn't have access to a lot of traditional coping tools and got stuck in listening to the Beatles CD my ex had made me and re-reading the cards he had given me for my birthday and Christmas.
But, even with my broken arm, if I had known what I know now about healing from relationships and moving and healing energy, I would have meditated more often, and I would have sung along to sad, happy, angsty, and inspiring songs more. In relationships, we sometimes deny our truth or do not fully express it, and this had been the case with me. Singing and crying are both powerful ways to move stuck energy, and I would have capitalized upon that. In any case, I would have taken a more intentional approach to healing rather than letting myself feel that the pain from our breakup would last indefinitely.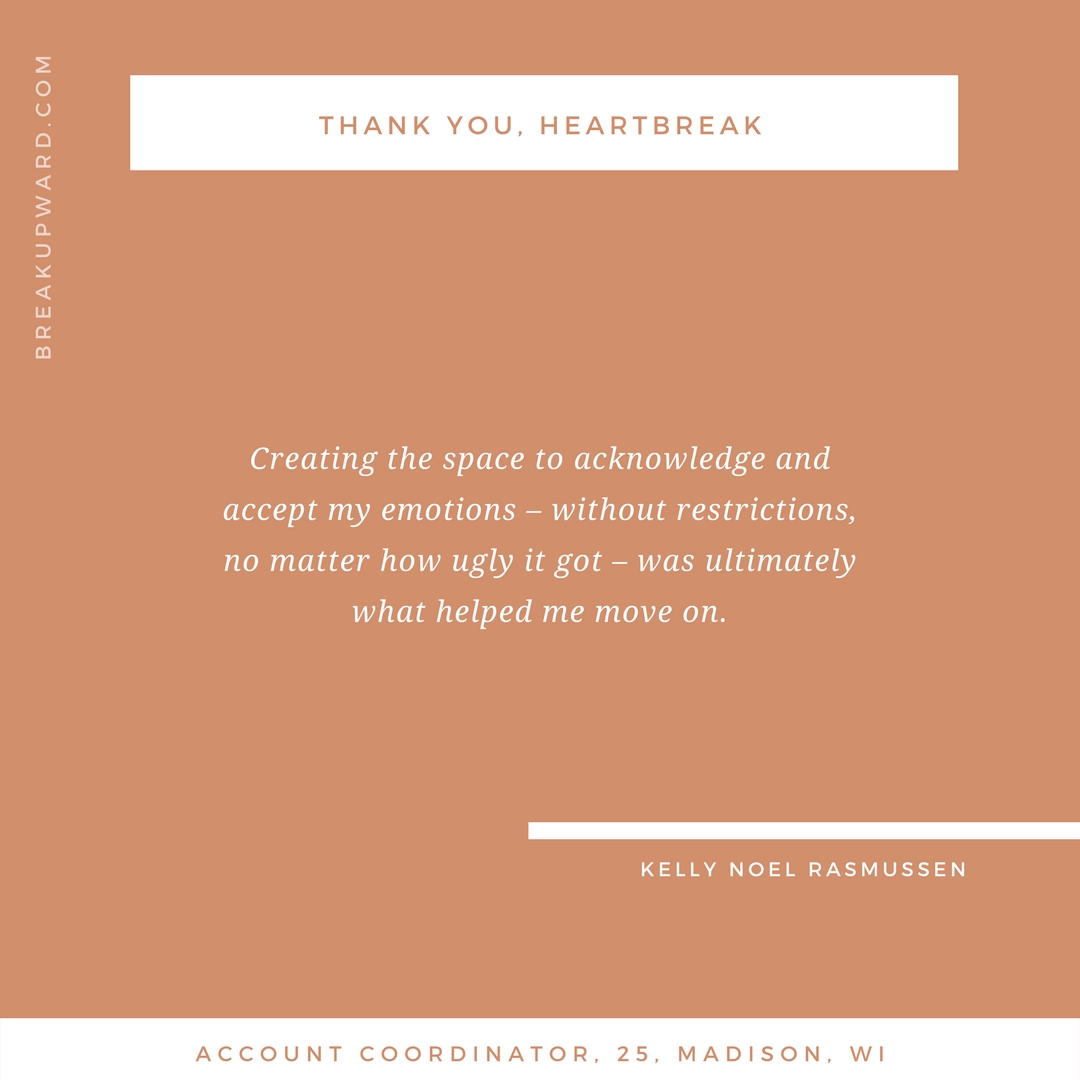 7. What would you tell someone who was in need of finding the silver lining in their breakup?
I once heard a quote that goes, "Love (or God) is everything, even this." Find the beautiful and the sacred and the learning and the growth available in your situation, and you will find peace with what happened. After all, we learn and grow from every experience that comes into our lives, but especially those that challenge us and even seem to rip our hearts to shreds. Know that this is a new beginning, a new opportunity, and capitalize on it. 
8. If you could say or ask one last thing to your ex, what would you rather do? And what would the statement or question be?
I currently have the freedom to speak my mind around (and ask questions of!) my first ex-boyfriend and best friend, which is great. But the lingering question I have for him is, "Why are you so certain that we would break up again?" I have asked him this already, but I don't fully emotionally accept his answer because I so want to be with him. I see how he and I have grown in the past year and a half, but I feel that he still sees how we are the same as we were then, how we still have areas of some incompatibility. While I trust that things between us will happen in Divine Timing if they are meant to, releasing expectations and moving through this space of being friends is a challenge in my present reality.
If I could say one last thing to my second ex, I would say, "I will always love you, even though it didn't work out between us. I wish you light, love, peace, and joy, and I hope you know how strong, intelligent, compassionate, beautiful, and special you truly are. And I hope – if you choose to be with anyone else – that she is able to love you genuinely and unconditionally as I hope I did, as I did my best to. You deserve nothing but what is in your highest good and greatest joy, and I hope you have the courage and strength to pursue that every day of your life. I love you, I love you, I love you."
9. In your opinion, what does it mean to breakupward? What would that look like to you?
In my opinion, "breaking upward" means intentionally growing from a relationship and breakup and choosing not to let the breakup define who you are, and who you can be moving forward. For me, breaking upward has meant using breakups as an opportunity to learn from what didn't go as well in the relationship as it could have so that I could avoid the same pitfalls and challenges moving forward. Breaking upward has also meant choosing to heal from the relationship and then move forward with my life, pursuing my passions, and releasing any guilt or fear that I harbored as a result of how the relationship ended. Breaking upward takes strength, self-awareness, and courage.
Connect with Kelly Noel yourself on Instagram and Twitter. Find out how Strategic Partners Marketing can save you precious time and up level your small to medium business at strategiesthatpay.com.
--
A Breakup Coach trained and certified in Solution-Focused Life Coaching, Chelsea Leigh Trescott helps her clients turn their sob stories into silver lining breakups. For a chance to be featured in her HuffPo advice column or Mogul Q&A series write [email protected]
Visit Breakupward.com for coaching services.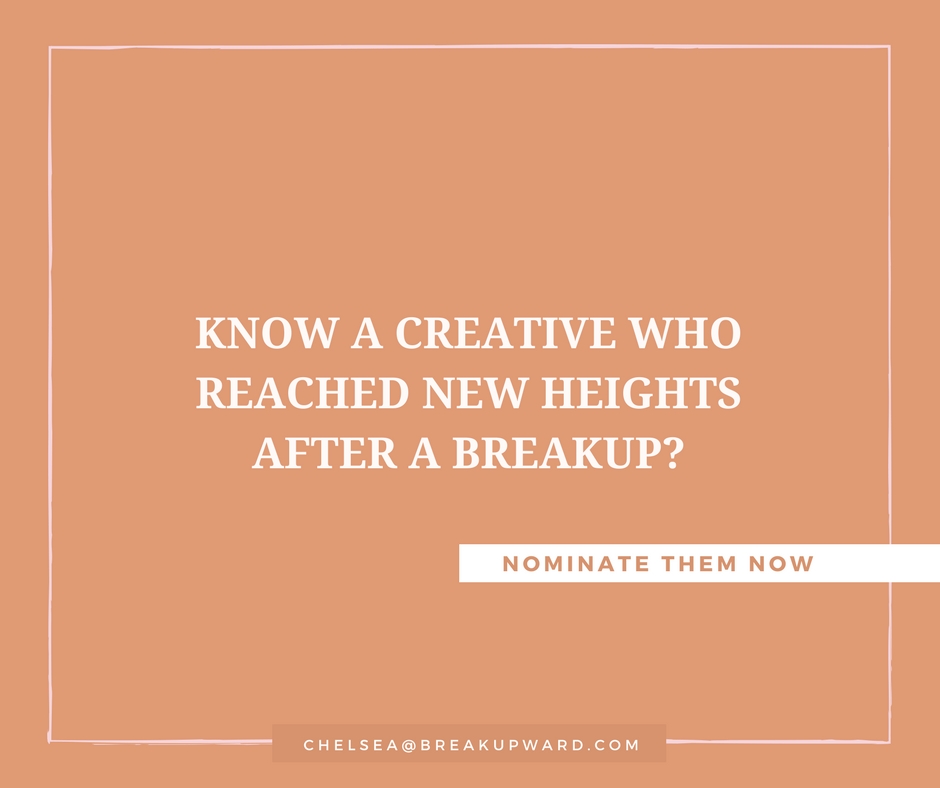 #love, #relationships, #romance, #breakups, #breakup, #makeup, #empower, #empowerment, #interview, #inspiration, #women, #womensissues, #advice, #relationshipadvice, #coaching, #life, #lifecoaching, #happiness, #survival, #success, #business, #entrepreneurship, #business, #writing, #divorce, #bossladies, #girlboss, #divorce, #healing, #spirituality
A Breakup Coach trained and certified in Solution-Focused Life Coaching, Chelsea Leigh Trescott is the host of the podcast Thank You Heartbreak and the founder of Breakupward—a movement encouraging men and women to use heartbreak and setbacks as an opportunity to launch themselves to a greater [...]