Creative Ambassador for the Chicago based tech startup company, Xamin, Hope Alcocer, 29, currently residing in Brooklyn, NY could make any twentysomething look over their resume and shrink a little inside. Basically, she's a woman who, at every low point, has made big, dreamy goals happen for herself. 
Starting in 2011, when she launched KHLOE, an acronym for Klothes, Love, Opportunity and Empowerment, a woman's magazine written for women by women, only to then pivot at 22 in order to create her own boutique marketing agency. Nearly seven years later, and she has successfully served over 100+ clients in eight different industries all over the world. 
The venture that resonates with me most is her latest, Where Hope Lies, a newly-released novel written post-heartbreak. Inspired by her own painful experiences and the lessons that emerged as she journeyed through several dark nights of the soul, one of the novel's core messages is that sometimes what you think you want is not what your heart wants or needs at all. (A truth we so often try to shelter ourselves from which, in avoiding, shatters us instead.)
Where Hope Lies is, "a journey to find myself, my place in the world, and the arms of where my heart, my dreams, and my hope should lie." 
"Should lie…"
Is that not what breaking upward is all about? Reading this, I knew Hope was who we needed to hear from next. 
As you read this spotlight, ask yourself to focus on what your ex gave you rather than what he took away. Focus on what you gave him, and celebrate yourself for all the moments when you were the giver. Be proud of that choice, the choice you alone made to demonstrate and initiate love. As you think back on your relationship, ask yourself the same questions Hope had to ask herself: 
What did I do to lead to our demise? 
When did our relationship go south? 
Where did I go wrong?
Then, use these answers to heal you and help you better yourself so you can fear less and love greater. 
1. If every person that comes into our lives is truly an opportunity for us to learn and grow, what do you believe your ex was there to teach you? 
I was in a toxic, emotionally abusive relationship for nearly a decade on and off – that relationship left me convinced that I was not able to love or open up ever again. I felt damaged, broken, and incapable of truly connecting to someone. 
This particular ex showed me that I was capable of being loved and loving. He loved me during a time when I was constantly ill and battling a plethora of mental health issues, so this meant even more to me. That's when we need love the most, right? When we're the most unlovable. Granted, it ended in heartache, but he brought me out of a dark abyss and patched up what the ex before him had crumbled. 
2. How did you grow up and grow into yourself because of the relationship? 
I was stuck in college mode before he came along. I was a very selfish, self serving person before the relationship. He came to me needing a lot of reassurance about who he was as a person, as a son, as a boyfriend and as a man. This forced me to grow up as he patched up certain areas of his life. It showed me I could be caring, nurturing, and carry my partner through their dark times too. 
3. One of the most popular sayings is, time heals all wounds. What did you discover over time that helped you heal your wounds most? 
I would say that saying is pretty applicable to my situation too. You know, usually when someone breaks up with you, you throw it back on them as to what they did wrong—I instead took a good, hard look at myself and asked, "What did I do to lead to the demise?" "When did it all go south?" "Where did I go wrong?" 
I didn't do this to necessarily get back with him—I did this because I wanted to be better for the next person I was with. 
So I took note of where I went wrong—and I made a valiant effort to work on things and weak areas—areas that lacked maturity. I worked on myself—mind, body, heart and soul. And that, coupled with time, healed my heart faster than anything else I've ever tried post-breakup. I harnessed my heartbreak and pain and used it to achieve a higher level of self-actualization. 
4. Do you think your success is a product of something you already had inside of yourself but relationship priorities either delayed or distracted you from going after or do you think solitude and loss themselves drove you to want more for yourself? 
I think it is a healthy combination of both, honestly. I've always been a very driven and self-aware individual, but I would get wrapped up in whatever serious relationship I was in and put my goals, my growth, my healing on the back burner. 
I've had my share of breakups over the last 15 years, but this one by far fueled me to be the best version of myself and completely change my life. I also have always chosen partners that don't "keep up" or have the same drive as me. It's always held me back. After this breakup, I vowed I would never have a boy hold me back from reaching my true potential again. 
5. How did you adjust your mindset after your breakup so, instead of focusing on what was lost, you focused on what you could gain?
After he walked away, I was a shell of a person. I couldn't get out of bed I was so depressed. I actually remember googling "How many days do I have to not drink or eat before you die." Dark, I know. I had no will to live. My mom came into my room and knelt next to me and said, "Hope should never have to beg for love." 
The fact that she said "beg" made me feel pathetic and pitiful. And it was a reality check. And from the moment that set in, I changed my mindset of "poor me" to "f--k you, I'll show you I don't need you to be who I want to be."  
6. Coming out of your breakup, is there anything you could have done that would have gotten you to where you are now, only more quickly? If so, what would that have been?
This sounds like a no brainer but: STOP STALKING HIS SOCIAL MEDIA. Oh my god, I wish I did this so much sooner. 
My advice: 
Stop checking in. Stop trying to be relevant. Stop. Stop checking on his friends on social media. Stop trying to see if he's on a mutual friend's snap story. Stop. 
Reverse stalk: act like they don't exist. Remove them and those close to them. It does nothing but breed obsessive compulsive thoughts and that is the last thing you need. 
When we have a breakup many times we like to have any tie we can to that person we shared life with—staying connected is a foot in the door, it's sometimes an ego boost to see how they're doing without you, but it prolongs the inevitable and only makes you hurt and long for the other person even more. 
7. What would you tell someone who was in need of finding the silver lining in their breakup? 
It gets better. I promise. And one day you'll wake up and say, "Hey, I don't feel that gaping hole in my heart anymore." "Hey, I have an appetite again." "Hey, I want to actually walk across the room and talk to that new guy." The pain lessens with each passing day and with each passing day you have a new and bright opportunity to better yourself. 
8. If you could say or ask one last thing to your ex, what would you rather do? And what would the statement or question be?
Thank you. Thank you for letting me go. I love the me I am without you. 
9. In your opinion, what does it mean to breakupward? What would that look like to you?
I love that phrase. For me, this looks like using a breakup as a stepping stone, not a stumbling block. It means you'll harness the pain and heartache of a breakup and use it to move onward and upward in your own life. 
I feel I did this post-breakup. It took a bit to get back on my feet, but once I did there was no stopping me. I have continually worked on being a better person and have knocked life goals and milestones out of the park ever since we parted ways. 
Connect with Hope yourself on FB, Instagram, Twitter, and LinkedIn. Visit her website at hopealcocer.me. Purchase Where Hope Lies to read more stunning quotes like this one: "We never looked quite right on paper, but that's what made us so great. We were exactly what we wanted to be...and that was happy." 
--
A Breakup Coach trained and certified in Solution-Focused Life Coaching, Chelsea Leigh Trescott helps her clients turn their sob stories into silver lining breakups. For a chance to be featured in her HuffPo advice column or Mogul Q&A series write [email protected]
Visit Breakupward.com for coaching services.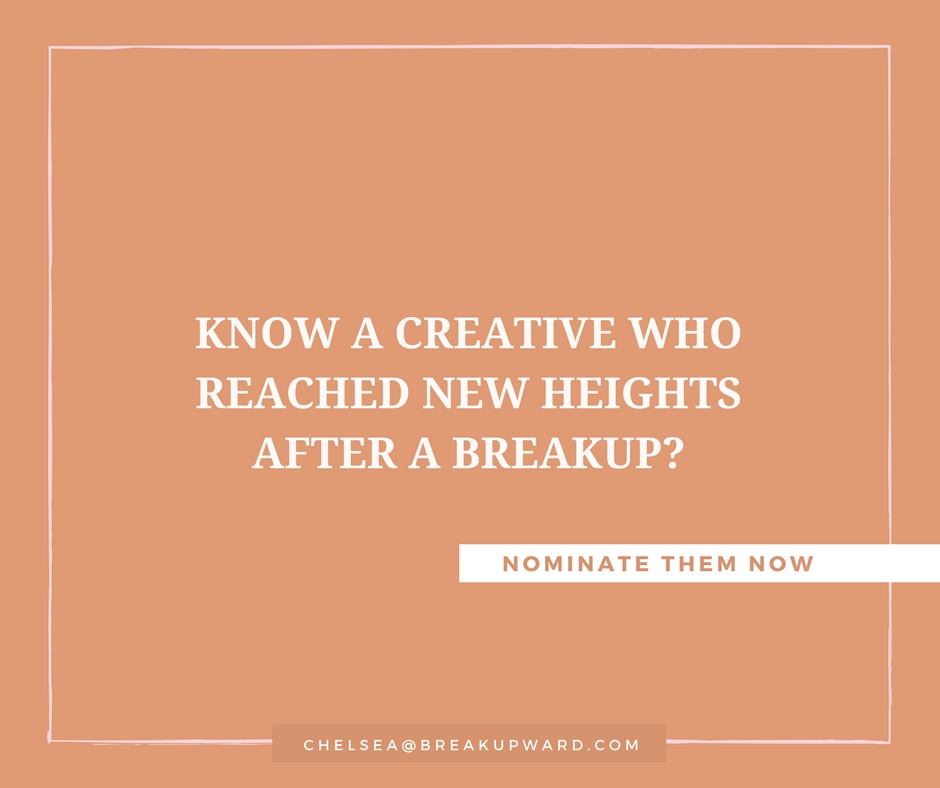 #love, #relationships, #romance, #breakups, #breakup, #makeup, #empower, #empowerment, #interview, #inspiration, #women, #womensissues, #advice, #relationshipadvice, #coaching, #life, #lifecoaching, #happiness, #survival, #success, #business, #entrepreneurship, #business, #writing, #divorce, #bossladies, #girlboss, #literature
A Breakup Coach trained and certified in Solution-Focused Life Coaching, Chelsea Leigh Trescott is the host of the podcast Thank You Heartbreak and the founder of Breakupward—a movement encouraging men and women to use heartbreak and setbacks as an opportunity to launch themselves to a greater [...]