So much of our fear stems from or is perpetuated by the stories we hear and the stories we tell ourselves. Breakup stories are some of the worst and most damaging. Seldom do we hear of a breakup that makes us think, "Wow! If only heartbreak had motivated me in that direction, then, I would have let go sooner and feared less for myself." The reality is, these stories are out there. You just have to ask for them. 
For this Q&A series, that is exactly what I did. Over the following weeks, various creatives will get honest with themselves and the Mogul community about how their breakups landed them on top. 
You'll be hearing from women who attribute their professional success to heartbreak and credit their breakup for being the catalyst for personal transformation and professional reinvention. 
My hope is that these stories will encourage new thinking and even comfort you, that they will help you fear less and love greater. And perhaps most importantly, my hope is that they will help you breakupward and focus on all that is possible for yourself.
Everything Joyce L. Kyles does, she does exceptionally well. Understandably, it's because her heart—and story, a survivor's story—is the driving force behind all she commits to. 
Known for her transparent and passionate approach, her career as a national keynote speaker, the best-selling author of Restoring the Whole in My Soul (the paperback edition), Executive Director of Walking Into A New Life, Inc., Host of Boots On the Ground, a Blog Talk Radio show addressing the interactions of domestic violence and other social points of interest around the country, and career as a certified domestic violence advocate combines more than 20 years of real life experience with practical applications and professional training. 
WOW is right.
As a survivor of domestic violence and sexual assault, Joyce has made it her personal mission to educate, inspire, and inform communities about the importance of establishing holistic wellness, self-worth, tangible self-sufficiency, and healthy relationships. 
In our 11th spotlight, we are fortunate enough to hear from Joyce as she rewinds the tape and takes us behind the scenes, looking backward at the relationship that drove her to standup for her greatest asset, herself—an effort that is now the very backbone of her own teachings.
1. Do you think your success is a product of something you already had inside of yourself but relationship priorities either delayed or distracted you from going after or do you think solitude and loss themselves drove you to want more for yourself? 
From my personal experience, it was the loss of my marriage that drove me to want more for myself. Before then, I found myself in a place of contentment with being a wife and mother, and I was involved in a couple of community organizations. I always enjoyed writing and speaking and did those things between church and the organization. I never really thought about what JOYCE wanted or needed to feel complete. The breakup forced me to really see how unhappy I was and how much of myself had been lost. I've transitioned from a victim to entrepreneur, Executive Director, and award winning speaker/trainer. 
2. How did you grow up and grow into yourself because of the relationship? 
I considered why I wanted to break up with my husband in the first place. My children and I were very unhappy. We were in an unhealthy and holistically unstable environment. I didn't have any family in the area and I was really too ashamed to let anyone I worked with know what was going on. In my mind, I was having to do everything on my own anyway, so why not just be ON my own, recognize that my children were depending on me and knowing that I had what it took to pull myself up and make a better life for all of us. I started saying positive affirmations, reading more and focusing on the fact that I was strong enough to make it out and that going forward, everyday was a good day—the valleys as well as the peaks. I removed any visuals from my immediate view that would remind me of the hurt and trauma the breakup caused me. I knew if I just kept my mind focused on the positives, I could gain a lifetime of holistic restoration and peace. 
3. If every person that comes into our lives is truly an opportunity for us to learn and grow, what do you believe your ex was there to teach you? 
He was there to teach me not to ever settle. I knew going into the relationship that he wasn't really the best fit for me. But, he didn't treat me the way my last husband did, so I made excuses and accepted a lot more than what I should have. He made me understand that saying no is a complete sentence and not to compromise myself for the sake of a relationship. I learned that I could [say no] and do now. I use my voice to help others find and maintain their strength, self-worth, and pursue dreams that they either didn't realize they had or had them physically or emotionally tucked away, and [help them] see themselves as powerful, successful, and at peace.
4. How did you grow up and grow into yourself because of the relationship?
I realized that I was stronger than I originally thought. The opinions of others became less important. Understanding the need of self-love and validation were key. I've grown to understand there's a difference between being alone and being lonely. I had been in a relationship but was still quite lonely. I grew into a person who found her own voice through pain and came into an understanding that no relationship was worth losing yourself over. I wasn't growing in a positive way. The more we stayed together, the more we were growing apart. 
5. One of the most popular sayings is, time heals all wounds. What did you discover over time that helped you heal your wounds most?
I realized I wasn't alone. I knew other people had gone through abuse, but it wasn't until I started going to counseling and connecting with other survivors that I realized just how many of our stories had similarities. It gave me the confidence and support I needed to move forward, knowing there were others who'd gone through what I had and eventually, overcame. 
6. Coming out of your breakup, is there anything you could have done that would have gotten you to where you are now, only more quickly? If so, what would that have been?
I could have left sooner. I actually knew I needed to leave five years before I actually did. I allowed the fear of the unknown to keep me in an unhappy and unhealthy place.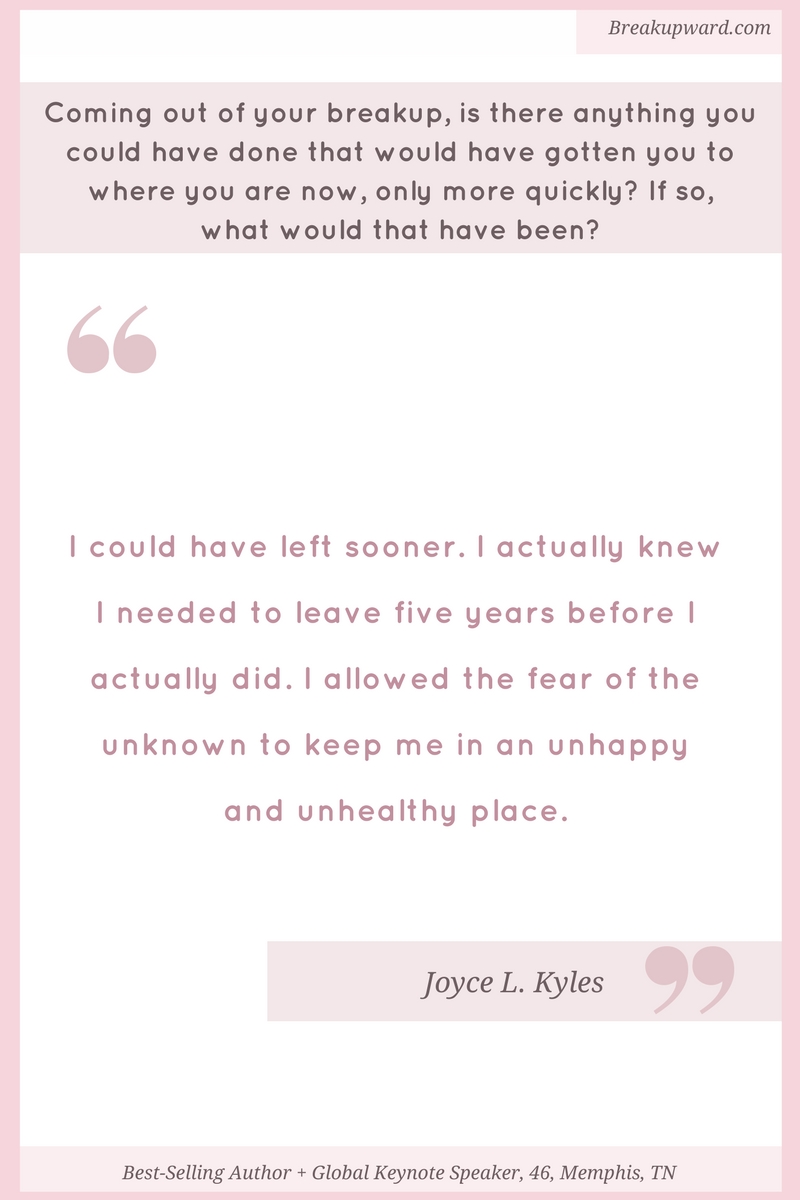 7. What would you tell someone who was in need of finding the silver lining in their breakup?
There is always a positive to be found in every experience. Understanding why the breakup is necessary is key. Once you've come to terms with the why, you're at the beginning stages of accepting the hurt so you can ultimately get to point of healing. If it's not helping you to grow, it's best to come to terms with letting it go. 
8. If you could say or ask one last thing to your ex, what would you rather do? And what would the statement or question be?
To be perfectly honest, I have no desire to see or talk to him ever again. There is nothing I'd want to ask him or say to him. I've given a lot of thought to this question and can't think of a single thing I'd want to say. I'm just glad to have that chapter of my life behind me and unwilling to give him any power, including the power of my thoughts.
9. In your opinion, what does it mean to breakupward? What would that look like to you?
To breakupward means finding ways to grow from the experience of heartbreak. It's about learning from the choices you made in the relationship, self-discovery, and how to establish a foundation of positive healing. In my case, breaking upward helped to develop my own voice, appreciate my sense of self-worth, understand what I wanted as an individual and have the courage to explore a new and adventurous life. There was no down side to my breakup. It was the very thing that needed to happen so I could understand the beauty of what life has to offer. 
Connect with Joyce yourself on Facebook, Twitter, and Instagram. Read her Amazon best-seller, Restoring the Whole in My Soul. Listen to Boots On The Ground on Blog Talk Radio. And explore the various ways you can work with her next on her website at joycekyles.com.
--
A Breakup Coach trained and certified in Solution-Focused Life Coaching, Chelsea Leigh Trescott helps her clients turn their sob stories into silver lining breakups. For a chance to be featured in her HuffPo advice column or Mogul Q&A series write [email protected]
Visit Breakupward.com for coaching services. 
#love, #relationships, #romance, #breakups, #breakup, #empower, #empowerment, #interview, #inspiration, #women, #womensissues, #advice, #relationshipadvice, #coaching, #life, #lifecoaching, #happiness, #survival, #success, #business, #entrepreneurship, #business, #womeninbusiness, #womenentrepreneuers, #divorce, #bossladies, #girlboss, #entrepreneur
A Breakup Coach trained and certified in Solution-Focused Life Coaching, Chelsea Leigh Trescott is the host of the podcast Thank You Heartbreak and the founder of Breakupward—a movement encouraging men and women to use heartbreak and setbacks as an opportunity to launch themselves to a greater [...]