Christmas is a sacred Christian holiday, celebrated all over the world. However, each country has it's own unique Christmas traditions and this is why there are so many interesting and strange Christmas customs. Most of them would seem completely odd to foreigners, but for the natives these customs are something that has been passed down from one generation to another. Here are some of the most strange and unique Christmas traditions around the world:
1. Banana Christmas Tree (India)
Only 2.3% of India's population are Christians, but this doesn't mean they are small in numbers. India is a big country and there are 25 million people that celebrate Christmas! They attend a midnight mass and give gifts just like the rest of the world, but they have their own unique Christmas tradition. They decorate banana trees for Christmas. This due to the fact that there aren't real Christmas trees like pines and firs. That's why they usually decorate banana on mango trees for the holidays.
If you visit a Christian home in India during the Christmas holidays, you will see a brightly lit, decorated banana Christmas tree. You could even see them on the street, showered with beautiful Christmas ornaments and garlands.
2. Predicting the Future with Shoes (Czech Republic)
Single Czech ladies have a way to predict if they relationship status will remain the same next year. On Christmas Eve the would stand with their back towards the front door and throw a shoe over their shoulders. If the toe of the shoe points at the door, this means the woman is going to get married soon. However, there is no clue when this will happen.
3. KFC for Christmas (Japan)
Japan is the land of all things strange and Christmas traditions make no exception. The traditional Christmas dinner can't go without stuffed turkey, but for the Japanese it's the Kentucky fried chicken thighs and wings. The first thing that pops in the mind of a Japanese when you say "Christmas" is the crispy chicken. Each year, more than 240,000 barrels of chicken are being sold on Christmas, all over Japan.
4. Christmas Cake (Japan)
Another unique Christmas tradition from Japan is the Christmas cake. If you throw a Christmas party, you must have one of these sponge cakes with whipped cream, strawberries and chocolate. Most people order it months before the holidays so they can be sure that there will be cake. If there are any unsold cakes after the 25th, they are unwanted and often thrown away. Funny thing is that unmarried Japanese women over the age of 25 used to be called Christmas Cakes!
5. Remembrance of the Dead (Finland)
For families in Finland, Christmas Eve is the time to visit the graves of their ancestor and relatives. That's definitely a strange Christmas family tradition, considering that you're supposed to get together with your family that is still alive. They would go to the cemetery and light candles in memory of the deceased. Another part of this spooky Christmas tradition is to leave food on the table for the dead and sleep on the floor so that the deceased can rest in the bed after the generous meal.
6. Skating to Mass (Venezuela)
There is a rather amusing Christmas tradition in Caracas, the capital of Venezuela. On Christmas Eve, children tie one end of a string to their big toe and leave the other end outside the bedroom window before they go to sleep. When Christmas morning arrives all streets are closed for cars and people roller-skate to mass. You can see them occasionally tug on any of the strings that they see hanging from the windows.
7. The Goat that Can't Survive Until Christmas (Sweden)
Sweden has its own bizarre Christmas custom, which isn't exactly a tradition that goes way back in time. It all started in 1966 when a 13-metre tall goat straw figure was erected in the town square of Gavle. On Christmas Eve the goat mysteriously went up in flames. Since then, the town's people continue to erect the goad figure each year, but vandals set it on fire. People even placed bets whether the goat will survive until Christmas or perish in flames.
8. Christmas Covered in Spider webs (Ukraine)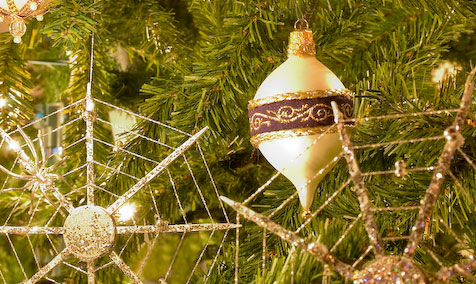 Ukrainians have their own Christmas tree decorating tradition. They cover the tree with artificial spiders and cobwebs. You might think that they're decorating for Halloween, but that's how you are supposed to ornate the tree for Christmas in Ukraine.
This Christmas tradition comes from an old folk tale about a poor woman and her family. They didn't have money to buy Christmas tree ornaments. However, when Christmas morning arrived the whole tree was covered in webs and when the light touched them, they turned into silver and gold. This made the poor family rich and never wanting more.
9. Christmas Sauna (Finland)
Another Finnish Christmas tradition on the list. There are many families in Finland that have their own sauna because it's believed that the "sauna elf" lives there to protect it and make sure that humans behave well. On Christmas, people would strip naked and enjoy a good soak in the sauna. However, they do it before sunset, since the spirits of the dead need to use it before that Christmas meal.
10. Christmas Shoes and Socks (Philippines)
About 80% of the people in the Philippines are Christians and Christmas celebrations are grand. All of the holiday festivities continue all the way to January. On Christmas Eve children leave their polished shoes and clean socks outside the window so that the Three Kings fill them with presents. The end of Christmas celebrations is marked by the "Feast of the Three Kings".
11. Christmas Pudding and Wishes (Britain)
The British have more than one Christmas tradition. One of them is to eat Christmas pudding and make wishes. Each family member has to stir the mix clockwise and make a wish. Back in the day, they'd even put a coin in the pudding and whoever finds it will be wealthy and lucky. Some chaps even put engagement rings in it to propose to their special lady.