All is not fair when it comes to gender roles in the workplace. Call it "office gender politics."
Women work so hard to be judged solely on merit, yet the truth is that these politics are always at play.
So while we're growing mightily in our jobs and careers, let's not allow other unsightly behaviors (active or unconscious) to speak for us. Instead, let us be the mindful sex.
Avoid these 11 opposites of decorum, courtesy and common sense, and you can keep it classy and high level, startup or Fortune 5, top of the ladder down.
11 Workplace No-Nos If You Want To Be Taken Seriously at Work:
1. Gossiping or badmouthing.​​
Doing so is a waste of energy, and the only person who looks bad is you, not the colleague or boss being blabbed about. Avoid spreading rumors and throwing others under the bus.


Gossiping is so high school.
Tip

: Focus your energy above and elsewhere. If you are pressured to contribute, keep it positive by saying, "I'm sure the person is doing the best he/she can," or better yet, avoid the de facto "it is what it is" by offering a real solution or better process to help.    

Tip

: Don't be so easily influenced by negative and disgruntled workplace haters. Remember, those who throw shade are likely suffering from personal insecurities or issues, or lacking their own creative ideas or valid solutions to a problem.


 
2. Primping.
Unless it's your job to do so, for e.g., you work in beauty, applying your makeup or doing your hair at work attracts the wrong attention. It shows a lack of respect for your work and workspace. So get off your butt and visit the Ladies room. (Sitting for extended periods of time is bad for you anyway.)
3. 'Sitting on your foot' in your office chair.
Why do women do this? Stop it. You're not a little girl. 
4. Mixing personal and professional.
Conversations: Be conservative about personal conversations and texting at your desk. Work time is for work. Modern offices now have separate areas for private conversations—use them and mind your time spent.

Relationships:

Don't get involved with a co-worker, and definitely not a boss. While there are many women out there who have met their future partners in the workplace (perhaps because they're in different departments or floors) this usually leads to awkwardness, and sometimes even losing your job. Ultimately one person must leave the company. Why should it be you? Why complicate your life and jeopardize your career? Can you really trust the other side not to kiss and tell?

It only works on TV, folks.
Juicy details: Don't be so verbally forthcoming about your personal life. You never know how that info will be used, interpreted or re-told.

​Enough said.
5. Crying.
Lost a sale? Frustrated? Received a break-up text? Eff'd up and got reprimanded? If you feel the waterworks coming on, be discreet and excuse yourself. It's not about showing a weakness as much as it is being professional and sparing others your meltdown.
6. Taking all the credit.
Generously extoll your team's praises. When speaking or writing emails, try to incorporate more "we" than "I". It will make you a better leader, get you more respect, and come back tenfold. 

7. Blaming others, even newbies.
This goes with items 1 and 6. If you're a manager and one of your direct reports makes a mistake, don't call him/her out. Take a hit for the team.
Tip: Instead of saying, "He/she is new," or "He/she didn't do x," how about saying, "We missed it and won't do it again." Then, check it off as part of a list for next time.

Tip: Graciously offer to help team members. Remember how crappy you felt when you were blamed or criticized for not knowing something, at no fault of your own? That doesn't mean you have to pass it forward—be the change.
8. Faking or brown-nosing to curry favor and likability.
Other terms that come to mind: wheedling, ingratiating, flattering. Guess what? It's lame and people see right through it.
Tip: Implementing this list will get you respect in the workplace.

Tip: If you need a task carried out by colleagues, request politely and formally. You don't have to beg. Just clearly state what you need and when you need it. CC only those who have a direct need-to-know (not their manager, not their whole team, and not just to cover your ass).
9. Time-wasting tasks.
If you're asked to do something that is blatantly inefficient or wrong, don't do it. Address concerns and document them with an email to a supervisor.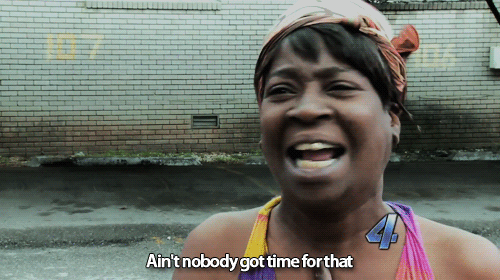 Tip: Be a step ahead and suggest alternatives or better methods to reach the end goal. Come review time, show how you saved your company in time and/or money by putting your idea forward. Then use that as leverage for a raise.

Tip: If your voice isn't being heard, keep pressing until it is—the squeaky wheel gets the grease. Diffusing a situation early on by piping up (and out loud) effects change.
​
Tip: More eyes and brains are sometimes better than one. Enlist a team to help; the challenge may invigorate team morale, especially when you overcome what appeared insurmountable.
10. Being quiet.
While contributing or speaking up is natural to many, it can be so hard for others.
Tip: If you're a manager, encourage individual team members to submit ideas or thoughts for upcoming meetings or over group lunches.

Tip: If you're shy or introverted, view meetings as acting sessions where your 'role' is to say even just one line, if called upon. A new perspective may allow you come out of your shell and get your brilliant thoughts and ideas noticed.
11. Dressing inappropriately.
This could be an entire article on its own and likely will be. Here are the basics: Keep skirt hemlines lower than where your fingertips hang against your thighs. Use fashion tape to prevent slipping v-necks and button-up shirt peepholes. Wear properly-fitting clothes and buy the best career wear you can afford.
Take some cues from the master of power dressing, Claire Underwood:
Better yet, read this: Buzzfeed: 13 Reasons Claire Underwood is a Fashion Icon
Follow me on MOGUL! Author, editor and writer in tech, travel, money, lifestyle, and more. Instagram: shindychen / Snapchat: realshindychen ❤️ 2015 MOGUL 35 Under 35 👑