From map to territory.  I want to be that couple. 
Delight is to be extracted and savored from anticipating and actively planning a trip according to a 'NY Times ' article. The pleasure can be a communal shared experience collaborating with those who know you and have already done what is proposed. Such was the case with passionate about cruises colleague Teresita Berndes-Carlson.
The goal is to hone in on what nourishes most based on a limited timeline. The weeks before departure the excitement builds with tensions too. Cuts must be made. Rushing through various sites is one way to travel, but frightfully exhausting ultimately.
A cruise was chosen based on the assumption that unpacking once would significantly reduce the shlep factor of travelling. Unfolding once has its appeal. Sailing overnight to different islands minimizes stress and strain from covering vast swaths of terrain, seeing many places. The dare will be to go into depth on the 7 islands visited on this Windstar Cruise Best of the ABC Islands. One full day at sea, the other 6 are spent island hopping.
Reminded of the old country saying, "You don't miss your water until your well runs dry," the urban farmers in us seek out land based activities - growing collectives, tropical jungles and botanical gardens once we dock.
Arriving from a concrete jungle called home, dense forest is high on the to do list. The surround sound conversations between birds, insects and frogs piercing silence is immediately soothing. That said, a daily day dip in the sea, or other fresh water, in addition to pools, is the minimum amount of time to be spent splashing and paddling, weather and other conditions permitting. The first of several travelogues originating in Los Angeles, California, unwind with us through the West Indies winding up in Barbados, the Eastern Caribbean.
'Keeping it Light' Affirmations and Reframes - A Positive Self Talk List
#1 Making Room for Unplugging
If life in the fast lane is your primary residence, the following might strike a chord. Wrapping up work for a couple of weeks is a formidable task to be respected.  The irony of throwing oneself onto a yacht exhausted, to force relaxation, is almost comical if it were not so sad.  
Comfort is taken in a paraphrase from legendary producer/musician Quincy Jones who is known to say that he has 'projects' in his life, not problems.  
The affirmation is: Be humble. Prepare to dwell fully in a portion of welcomed noble boredom intermingled with intense eco-adventures.
#2 The Fun in 'Reading is Fundamental'
Tingling with glee, it takes the discipline of delayed gratification to restrain myself from reading Rachel Cusk's take on a favorite theme of mine, adult-essence transformation. Tempted to dive into her works now, I would feel guilty if I did. A fine show produced by the public radio station KCRW, "Book Worm," by Michael Silverblatt (I routinely listen to while doing weekly administrative tasks) brought Ms. Cusk's work to my attention.
To eschew work on this Saturday afternoon by over indulging in my desire to read for pleasure, instead I imagine inhaling them next week from my ocean balcony room while doing DIY facials and responsible tanning.
The affirmation is: Working with temptation for self indulgence to regain focus on the larger goals, delayed gratification works wonders for getting through drudgery and hard times.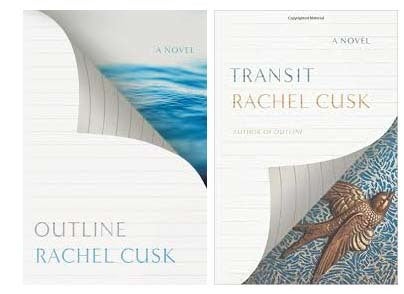 Rachel Cusk's novels invoke themes of adult essence reinvention.
#3 Aspirational Fun Contains Room for Study
Working on vacation is odious to some. For one day at sea, an alluring idea is to retreat from the social whirl of ship life and retreat for a few hours of continuing education required by my profession. My second cruise, the first was a continuing education cruise to Alaska in the aughts with UCLA psychiatrist Dr. Daniel Siegel, noted for his ground breaking work in Interpersonal Neurobiology.  As impressive as the arctic natural wonders, he taught for 4 days extemporaneously without notes.
Self-styling a light touch study vacation during a defrag and refresh is a viable compromise. To sync into a contemplative state with the new set of important guidelines governing tele-health on a deck chair bathing in salt air breezes is unbeatable. Besides, the Cusks are novellas really. An antiquated romantic notion, a tradition to revive, perhaps more suited for longer sea faring trips, to be employed on this shorter cruise, using time aboard for reading, writing and reflection.
The affirmation is: I have all the time I need.
#4 Start Packing to Jump Start Joy
Before the ship embarks from Aruba, a break and treat from thinking ahead to get out of town, the valise is hauled out and dusted off. The importance of earning one's daily bread is paramount as is breaking down the upcoming trip into manageable pieces. What looks easy usually is not and contains many moving pieces.
As opposed to throwing everything into suitcases the night before, tossing items into the suitcase with plenty of time to edit, ups the 'savoring the pleasure' ante. Part of me is gone, already where I am going in my mind from having spent weeks creating itineraries. The fact remains there is another full week of work ahead, before I get to indulge in them.
The positive re-frame is: To step out of and into a stable work life balance is to craft a meaningful life full of worthwhile challenges.
Disclaimer Alert: A vacation is no substitute for mental health counseling, though travel, like reading about it, can reveal insights about life. Nothing written in this blog should be construed as therapy or advice. If you or someone you know is suicidal, do not hesitate to reach out to a professional or trusted family member or friend to get needed help.
If you — or someone you know — needs help, please call 1-800-273-8255 for the National Suicide Prevention Lifeline. If you are outside of the U.S., please visit the International Association for Suicide Prevention for a database of international resources.
You Might Also Like
Tara Fass, LMFT #35078, is a licensed marriage and family therapist in Los Angeles, California. She treats adults and couples dealing with a broad range of issues from navigating the legacy of divorce in one's life, to the quarter life crisis and conscious aging. Together we attempt to make meaning [...]