One X, the full-service creative studio agency of One Solution, leading branded content division of Urban One, takes home Silver honors at the 2019 Telly Awards; winning first place, for its McDonald's "Money Moves" branded content series produced in partnership with Burrell Communications Group in 2018.
"Money Moves" nominated in the Branded Content: Campaign-Commercials category went up against strong campaigns from competitors NBC and VIACOM.
"My team and I are thrilled about this honor and the fact that our partnership is producing best in class content for an iconic American restaurant chain and brand," said Detavio Samuels, President of iONE Digital/One Solution.
"Money Moves" is a video content series that takes audiences inside the minds of some ambitious cultural influencers to unpack the principles and personal philosophies that fuel their success. It features advice from inspiring leaders in Black creativity, including Celebrity Stylist, Ty Hunter; Fashionista and Entrepreneur, Tai Beauchamp; and Valeisha Butterfield, Global Head of Women and Black Community Engagement for Google.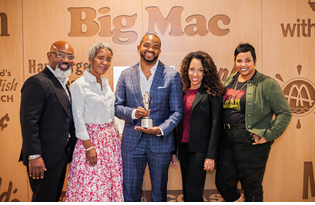 "I am thrilled to continue our partnership with One Solution to produce culturally relevant content that truly resonates with our multicultural audience. I am humbled and honored that this work is deemed best in class," says Adele Lassere, VP of Media Services at Burrell Communications Group.
"McDonald's Corporation is committed to elevating and evolving how African Americans are depicted in the media. The creation of "Money Moves" is just one of many initiatives developed by the brand that highlights the strength, beauty and courage of our multicultural consumer, said Lizette Williams, Head of Cultural Engagement and Experiences at McDonald's. Aligning with this commitment, we launched the largest African American focused campaign in 16 years, Black & Positively Golden. The movement is designed to uplift communities and inspire Black excellence through empowerment, entrepreneurship and education. We look forward to continuing our efforts."
The Telly Awards, founded in 1979, annually showcases the best work created within television and across video, for all screens. Receiving over 12,000 entries from all 50 states and five continents, Telly Award winners represent work from some of the most respected advertising agencies, television stations, production companies and publishers from around the world.
To view the full list of winners, visit the website.
I am a professional writer, web content manager, web producer and social media strategist who has worked for quite a few high profile brands as well as a few startup companies in my career.