New York Women in Film & Television (NYWIFT), which has empowered and championed women in the entertainment industry for 40 years, honored the women behind the scenes at this year's New York Women in Film & Television MUSE Awards Gala on Thursday, December 13, 2018. The 39th annual event celebrated women of outstanding vision and achievement both in front of and behind the camera in film, television and digital media.
The honorees for this year's Muse Awards are some of the most extraordinary women in the business: Sarah Jessica Parker, a New York City icon and one of the most well-known actors and producers of our time; Lisa Nishimura, Academy and Emmy Award-winning Vice President of Original Documentary and Comedy Programming at Netflix; and Ellen Burstyn, one of the few actresses with the Triple Crown of Acting after winning multiple Academy Awards, two Emmy Awards and a Tony Award. [Photo credit: Will Ringwood for NYWIFT]
Comedian, writer, producer and fierce disability activist Maysoon Zayid received the 13th Annual Loreen Arbus Changemaker Award created with the generous support of NYWIFT member Loreen Arbus, is given to an individual, organization or corporation in the entertainment industry that has helped to create and bring about significant change to benefit and aid women. [Photo credit: John Phelps for NYWIFT]
The 2nd Annual Nancy Malone Directing Award was awarded to film and television director Tricia Brock (The Walking Dead, 30 Rock, Younger, Mr. Robot) [Photo credit: Rowena Husbands for NYWIFT]
The New York City Mayor's Office of Media & Entertainment presented this year's Made in NY Award to NYWIFT's Executive Director Terry Lawler. [Photo credit: Rowena Husbands for NYWIFT]

"Now in its 39th year, the Muse Awards continues NYWIFT's long tradition and dedication to applauding the work and achievements of women in our industry, said New York Women in Film & Television Board President Simone Pero. We are thrilled to honor this year's incredible roster of accomplished women, and also look forward to toasting our beloved Terry Lawler in gratitude for all she has done not only for individual members and for the organization as a whole but also for NYWIFT's mission of equality in our industry."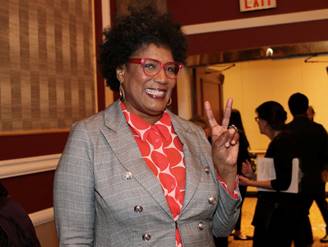 Actor and CBS Commentator Nancy Giles hosted the afternoon's festivities. [Photo credit: Rowena Husbands for NYWIFT]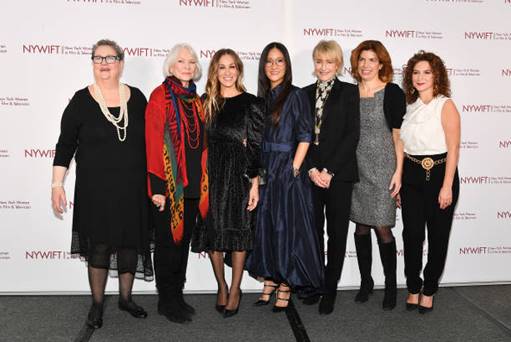 This unique showcase of extraordinary achievements by women in the film, television and digital media industries, co-presented by Variety, was attended by actors, producers, directors, writers, and industry leaders.
I am a professional writer, web content manager, web producer and social media strategist who has worked for quite a few high profile brands as well as a few startup companies in my career.