New York City is where it's at for emerging comedians. If you're not in the city to see these up-and-coming performers in action, then you may not know them until they hit it big. They are out here hustlin' to make people laugh and it's about time they get some praise for their hard work and talent. If you want to be able to say, "I followed them before they got famous." and up your hipster cred, then these are the folks to catch while they're accessible to see, performing all over the boroughs and tweeting 140-characters of pure comic gold. 
Mamoudou N'Diaye
Mamoudou N'Diaye is a stand-up, writer, published neuroscientist, former middle school teacher, and DJ. N'Diaye got his start in comedy in college, blending social activism, political satire, and pop culture in three separate hour-long performances. Although N'Diaye is Brooklyn-based, he performs stand-up all around the country, has written, directed, and performed on the web series "deadass," the live sketch shows Ryan Live and Lo-Fi, MTV's Decoded, was a video correspondent at Mic, blending the political/cultural zeitgeist and comedy. He is currently is working on his pilot about being black in Ohio, a feature film about police brutality, and a book, all tackling complex social issues using his unique brand of humor (all while taking time to watch Space Jam).
Website: mamoudoundiaye.com | Twitter: @MamoudouNDiaye
Caroline Castro
Caroline Castro is a Puerto Rican native living in the South Bronx. She writes for the Magnet Sketch team "Chico Splits", uses subway time to write jokes on Pitch, and performs parody songs and impressions on the regular. Her current parody single "Urinous Woman" is about to drop. It's about beer making you pee. Classy. Caroline founded and produced several shows for new artists under the indie company IndieShinDig including "Spectacular" a spec script showcase and "Pop Fiction" a monthly parody concert. She trained at The Magnet Theater and UCB. She travels as much as she can and her guilty pleasure is the new Queen Latifah show "Star." 
Website: carolinewashere.com | IG: @thecarolinecastro
Bag of Rocks: Jen Albanese & Ari Durnell
Jen is a writer/comedian/actor who has studied with both UCB and The Magnet Theatre. Her writing has been featured on Elite Daily.  Ari is a writer/comedian/actor who has studied with UCB and Second City. She is a writer for the satire website, Reductress. They can both be seen performing improv and sketch comedy around NYC.  Together they are Bag of  Rocks, a sketch comedy team whose sketches have been featured on Elizabeth Bank's website, Whohaha.  They also wrote and created the web series, Glamping, which can be found on Funny or Die. Check out Bag of Rocks, where new videos are posted every Wednesday.
Twitter: @jenalbs | @ari_potter7
Felipe Torres Medina
Felipe Torres Medina is a writer and performer based in New York City. He's been recently featured in the UCB Shows Campfire Kids and The Concrete Jungle, as well as stand up shows all over the city. His writing has been featured in BuzzFeed, CollegeHumor, and McSweeney's.
Website: felipetorresmedina.com | Twitter: @FelipeTorresMed
Anna Roisman
Anna Roisman is a comedian, creator, writer and actress. Anna's comedy videos that have been featured on Funny Or Die, MTV, Huffington Post, Bark, Splitsider, College Humor, Daily Dot, People, and the LA Times. She was named a finalist in the 2017 TriBeCa Film Festival Snapchat Shorts competition. Anna is the host and producer of her hit Facebook Live show, "The Unemployed Show." She is half of the comedy video team SortaKosher. Anna went to the Montreal Just For Laugh's Festival with her 30 min pilot, "This One Time @ Camp." Anna co-created a web series on Elite Daily's Artist Residency called,"There's No Place Like Home." Anna also creates parody music videos. You can catch her doing standup all over NYC & Brooklyn. 
Website: AnnaRoisman.com | Twitter: @UnemployedAnna | IG: @AnnaRoseRoisman
Perri Gross
Perri Gross is a stand-up, writer and sometimes an improviser based in New York City. She has been doing stand-up for the past 7 years, beginning at Ithaca college. She moved to NYC to work in advertising and tell sad jokes on the side. She's been in shows at The Magnet Theater, QED, The Peoples Improv Theater, Parkside Lounge and various bars and basements around NYC. Perri hosts a popular open mic that takes place in a classroom setting in Korea Town that is catered towards people that want to try stand up in a supportive diverse environment. The mic is called "Everyone is Sad" and now filters into a monthly show at the Magnet Theater. She is a contributor to Reductress, The Higgs Weldon, and has been featured in Time Out New York. She has cried on every street corner in Manhattan. 
Twitter: @perri_is_gross
Josh Nasser
Josh is an actor, writer, and comedian based in New York. He performs primarily improv/character comedy and has performed at many venues in the city including, UCB, The PIT, The Magnet, Reckless Theater, The Players Theatre, Stonestreet Studios and Under St. Marks. Recently, he was apart of the Off-Broadway musical, PharmaBro, as Kyle/Understudy for The Wu-Tang Clan. Currently, Josh co-hosts a networking variety show at the PIT entitled Seth and Josh Have to Network, which has included performers who have been on Late Night with Seth Myers, Comedy Central, and the show was recently featured in show listings for Ground Floor Comedy. He is also a proud actor/director, with the Story Pirates, an educational organization that performs hilarious stories written by kids.
Twitter: @yeshuanasser
Karen Chee
Karen Chee is a comedy writer, improviser, and performer originally from the sweet suburbs of Northern California. She contributes regularly to The New Yorker and McSweeney's, as well as writes a weekly column for Splitsider. She has also had her work featured on Reductress, CollegeHumor, Funny or Die, HuffPost Comedy, and NPR. Karen recently moved from Boston, where she hosted shows featuring performers like Viola Davis, Keegan-Michael Key, and Colin Mochrie, as well as variety nights dedicated to showcasing performers of color. You can see her doing improv and sketch comedy around New York, where she is currently working on a collection of humorous essays as well as some good zingers about cooties to impress her 5-year-old niece.
Website: karenchee.com | Twitter: @KarenCheee
Sam Morrison
Sam is a New York City-based comedian and Cornell Alum that works at the Travel Channel and hosts regularly at the Broadway Comedy Club. He has been featured on the Manhattan Neighborhood Network and just about every gay bar in town. His debut one-man show Sublime Faggotry played to sold-out crowds in Ithaca, NY.
Website: samuelmorrison.com | FB/IG/TW: @sammorrison89
Glennis LaRoe
Glennis LaRoe is a New York City-based content creator, improviser, and character actress. She is the creator of the entirely self-produced & performed Instagram character series, #EverydayPeople, in which she released 31 characters in as many days, for which she was described as "a many-faced comedy God." Glennis performs with Insignificant Other and #AksLee as a founding and touring company member at Reckless Theatre. She has performed improv and standup at colleges and festivals around the world. She can also be seen in Ask the Elders & Come Ova! both of which are monthly improvised character based shows at Reckless Theatre. On the horizon for 2018 is a one-woman show and releasing her Everyday People from their single color backdrops and into the real world, a la Sasha Baron Cohen.

Website: glennislaroe.com | IG: @glennis.the.menace | TW: @Glennis_LaRoe | Facebook
Rachael Burke
Rachael works in digital media for The Tonight Show Starring Jimmy Fallon, and her team at the show has received two Emmys, as well as Webbys and Shortys for their work. She has also worked at The Late Show with David Letterman and Late Night with Jimmy Fallon. She is a comedian in New York City and trained at Upright Citizens Brigade Theatre and Reckless Theater. She is also a contributing writer to McSweeney's and Thought Catalog. Rachael performs impressions (including Gwen Stefani, Melania Trump, Lorde, Britney Spears, Ellie Goulding, and even Julie Andrews) as well as many characters, and also performs sketch comedy throughout New York City and Brooklyn. She currently hosts an impressions show at the PIT called "2020 Vision: The Next Celebrity President," where Rachael and other professional impressionists make campaign speeches as the latest celebrity candidates for President.  
Twitter: @thatsso_rachael
Gregory Hall
Straight outta of Jersey City, Gregory Hall has been taking on the tri-state comedy scene in stand up comedy and improv. From politics to being a father of two cats, Gregory doesn't shy from any topic on stage. Gregory is also apart of two two-prov teams called "Black and white cookie" and "Bacon Jam" which perform regularly at The People's Improv Theater. Gregory can be seen in other clubs around the city such a Broadway Comedy Club, The PIT and The Creek and The Cave.
Twitter: @gregoryhall5000 | IG: @gregoryhall5000
Rebecca Caplan
Rebecca Caplan is 23-year-old sketch and satire writer living in Brooklyn, NY with all the other sketch and satire writers. Previously, she has studied at the Upright Citizens Brigade Theater and is currently a staff writer for CollegeHumor. Rebecca was also the director and writer of the short film Show Off. If you like podcasts, which you definitely do, you can listen to her on Caught in The Web, where she is a frequent guest. If you read magazines, which you definitely do if you're at the airport or dentist, you can find her contributions to the Shouts & Murmurs section of The New Yorker; her most recent piece will be featured in the October 30th issue of the magazine.
Website: rebeccacaplan.com | Twitter: @RabbiReba
Matt Grote
Matt Grote is a human apology. He once did an impression of Michael Cera that was so spot-on that he spent half an hour holding the door for everyone at The Strand. He is a standup comedian and writer/actor with the sketch group CHUMBLE, co-host of These Are Not My Words, co-creator of the webcomic The Ugliest Man Alive, and also Out of Things to Promote.
Website: MattGroteMattGrote.com | Twitter: @feMANism
Judy Lei
Judy is born and raised in Chinatown and Brooklyn. After developing a passion for social justice at Smith College and graduating in 2011, she went on to pursue community work in the government and nonprofit world with Congresswoman Nydia Velazquez, the Asian American Legal Defense and Education Fund, and Asian CineVision - Asian American International Film Festival. She studies acting at The Barrow Group Theatre and developed a solo show called The World's Greatest, a story about a Chinatown girl fucking up and growing up in a failing NYC public high school and home. The show sold out five times in New York City and traveled to Los Angeles in April 2017, and it is currently in development as a web series. She studies Improv and Sketch at the Upright Citizens Brigade Theatre, and one of her dreams is to become the first Asian American cast member on SNL.
Website: heyjudylei.com | Twitter: @heyjudylei
Stephanie Pace
Stephanie Pace is a bunch of spiders based in New York City. Before moving to New York, she was the mysterious presence at The New Movement Theater in Austin, TX, where she performed improv and sketch weekly. You can see her on the web with her dead video team, Three Weak Kids, or every Tuesday as a host of 'SUP open mic for ladies, LGBT individuals, and gender non-conforming folk at Creek and the Cave. You can also see her if you say her name in the mirror three times, but she'll be fussy about it.
Twitter: @StrepaniePace
Molly Kiernan
Molly Kiernan is a Brooklyn-based writer, performer, producer and director who loves most flavors of ice cream.  She can be seen regularly at the Magnet Theater, performing sketch and improv. She has also performed at the Upright Citizen's Brigade Theater, at the Chicago Improv Festival, and at the Boston Comedy Arts Festival. Her writing has been published by HelloGiggles and The Higgs Weldon. A lot of Molly's comedy comes out of personal experiences with mental health, which is how her variety show, Molly's Guilt Free Comedy and Ice Cream Social, was born. Inspired by her own recovery from an eating disorder, Molly produces and hosts this show (which always includes free ice cream) as a way for performers and audience members alike to take some time to celebrate and love themselves. Part of the ticket proceeds always goes to a local charity. When not on stage or hiding out in a Panera booth to get writing done, Molly works in television production. Her credits include Difficult People and Odd Mom Out.
Website: mollybkiernan.com | Twitter: @mollykiernan | IG: @mollybkiernan
Mimi Hayes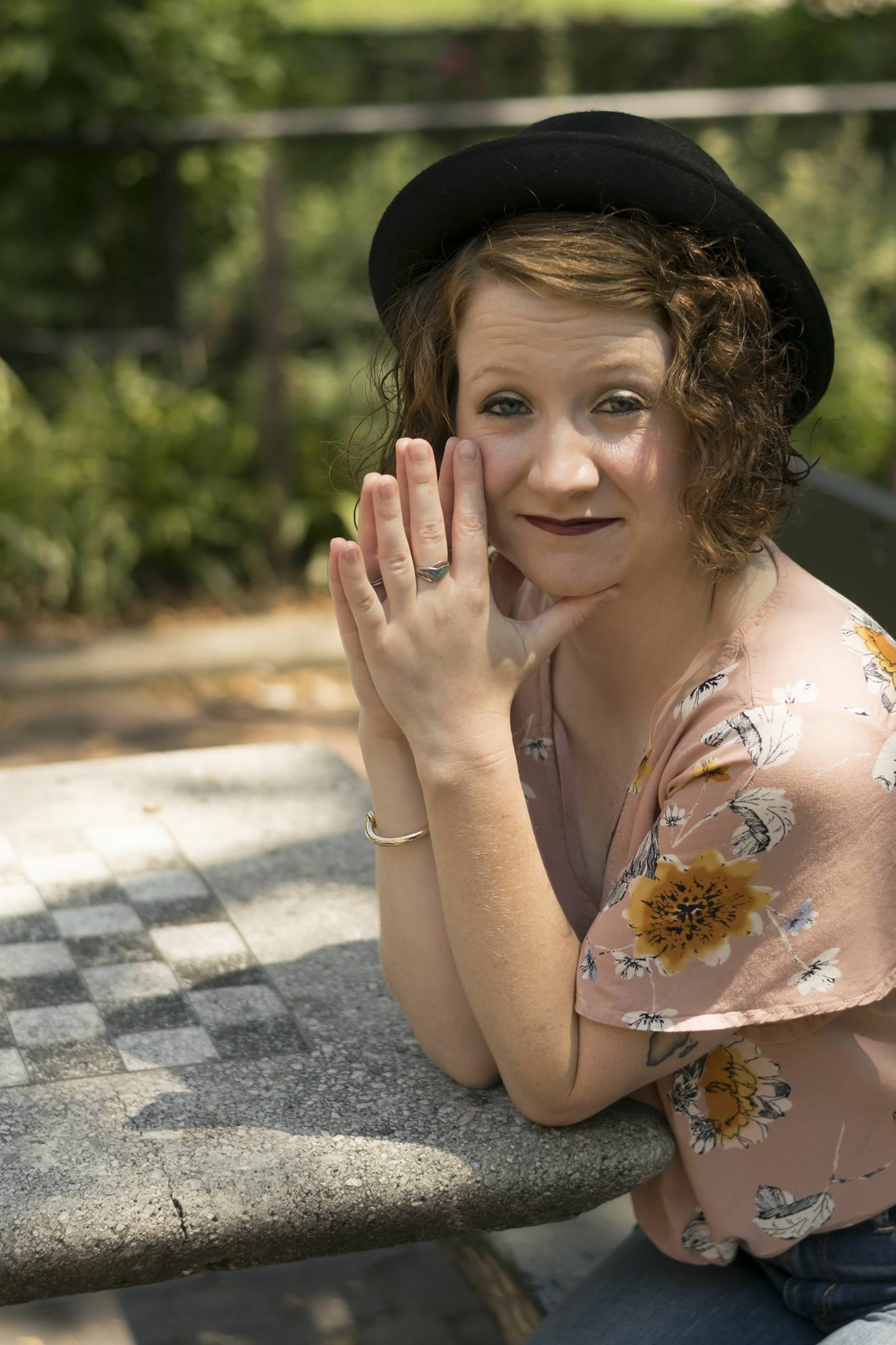 Mimi Hayes is not your average brunette. Underneath that mane of hair lies a pretty wicked scar that makes quite the impression at dinner parties. An ex-high school teacher and brain surgery survivor, Mimi spends a lot of time on stage cracking dark jokes about catheters and former students. Her unique flavor of comedy has graced the stages of Denver Comedy Works, The Broadway Comedy Club, Reckless Theater, and UCB. She is currently a member of the improv team Big Shot at Reckless performing weekly as well as a frequent at Lovecraft Comedy Cult. You'll want to make sure you pick up her debut memoir, title TBA, set to publish fall 2018, on her hilarious journey through heartbreak and head injury.
Website: mimihayesbrain.squarespace.com | Twitter: @mimihayesbrain1 | IG: @mimihayesbrain
Simone Norman
Simone Norman is an actress, comedian, and writer based in Brooklyn, New York. She is a trained improviser and sketch comedian and has performed stand up, sketch, and improv in venues and festivals across NYC. She also has extensive training in dramatic performance and on-camera technique. She is an ensemble cast member of the monthly improvised adventure show, "Sh*t Scaredless" at the People's Improv Theatre and hosts the monthly show "Branded Content™: A Corporate Variety Hour." You can catch her most nights of the week telling stories and jokes onstage, or making stuff up with the all-female long-form indie team, Honey Nut Improv.
Website: simonenorman.com | Twitter: @whysimonewhy | IG: @localhunny
Kelley Lord
Kelley Lord is a comedian creating a unique space in the NYC web series scene. From her near 4 years at Elite Daily Kelley carved out a voice for female comedians as the first woman on their video team. Producing the last eight seasons of the weekly comedy show Gen Why, the bicoastal series was recognized by several organizations this year including The Webby Awards. As a comedic writer, producer, director, and actor Kelley is currently selling web series to startups and diving into film, TV and commercial work. Her next scripted series, Modern Day Namaste is set to co-star with comedian Maya Klausner next month. If you see her at a comedy show she is either filming it or out to cast talent for her next script. With a production background from NBC, iHeartRadio, PBS and NPR this up and coming content creator is someone you'll want on your team to make your funny dreams come true.
Website: KelleyLord.com | Twitter: @PBandKelley | Instagram: @Kelley_Lord | Facebook
Jorja Hudson
Jorja Hudson is a Brooklyn-based writer and video producer originally from
London. She created the indie web series "Low Budget Sketch Show," which ran for two seasons, a Christmas special and a CollegeHumor collaboration. She's spent the last two years writing, producing and starring in comedy mini-series "Myrtle & Willoughby", about two Bushwick cops working in the Millennial Crimes Unit, which is set to release in early 2018. Jorja is a comedy producer at Bustle by day, part of sketch comedy duo Brit & Brit, and also does stand-up.
Website: jorjahudsonportfolio.com |  Twitter: @jorjasmic
Denae Hannah

Denae Hannah is a comedic writer and performer that makes money funny. Her financial literacy persona Debt-Free Denae is your #bestfinancefriend committed to helping you get your coins together. She studied at The Peoples Improv Theatre, Upright Citizens Brigade, and received her B.A. from Stanford University. Denae was awarded the 2016 NBC Inclusion Scholarship and is the 2017 Milton Sterns Scholar in Financial Planning. Her original comedy shows have been performed at NYC SketchFest, SOLOCOM, Brooklyn Museum, and DaF Comedy Festival. She is currently writing her first book about the crazy things she did to become debt-free and you should join her #foodprep challenge! Follow her for hilarious debt-free tips!
Twitter: @debtfreedenae | IG: @debtfreedenae | Facebook
I'm Samantha, my friends call me Sam and baristas mistake me as "Sim." I live in New York City, work in social media, write and photograph for various sites, and do comedy and improv on the side. I have an affinity for traveling the world, watching British comedy, making people laugh, dancing alone [...]