The NYC Web Fest has brought together a multifaceted diverse group of people from around the world to showcase the best of the web. Our goal is to make this festival the premier home for digital producers on an international level. An organic space where creators can showcase their talent, network with other artists, and learn from industry insiders. For the first time in our history, we are accepting pilot episodes into the festival.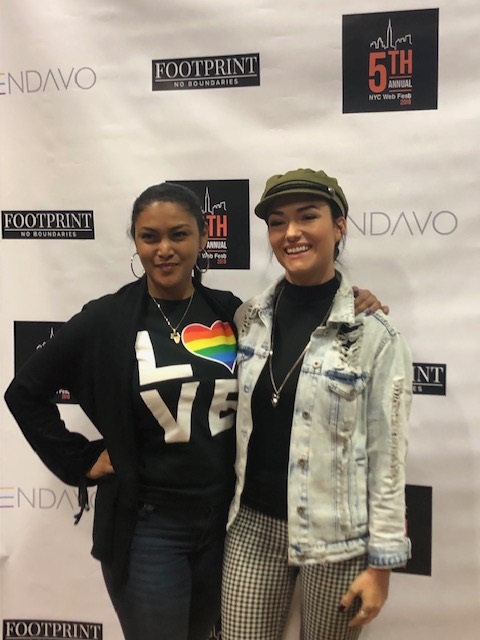 NYC Webfest Founder, Lauren Atkins and Clairevoyant Co-Creator Natasha Negovanlis
On Saturday, November 10, 2018, audience members were in for a treat to hear from Natasha Negovanlis, the co-creator of the web series Clairevoyant. The series is currently on Kinda TV and YouTube.  
NYC Webfest Founder, Lauren Atkins introduces Clairevoyant Co-Creator Natasha Negovanlis
The story of Clairevoyant begins when after receiving an eviction warning on her 25th birthday, Claire and her roommate/best friend Ruby need to make back payments on their rent money and fast. Free-spirited Ruby convinces the responsible Claire that they can con their way into rent-making riches by posing as online fortune tellers called "The Seeing Sisters". Their fraud seems simple enough until non-believer Claire discovers she has real clairvoyant abilities and things only get weirder from there.
 Clairevoyant Co-Creator Natasha Negovanlis
Natasha is currently living in Canada and vigorously working for the next season of Clairevoyant.  Check out the series on YouTube and stay up to date with Natasha on Facebook, Instagram, and Twitter.
Moderator and TV Host Orda Ocal interviews Clairevoyant Co-Creator Natasha Negovanlis
I am a professional writer, web content manager, web producer and social media strategist who has worked for quite a few high profile brands as well as a few startup companies in my career.