Mogul Interviews is thrilled to welcome our next guest, Samantha Brown. Samantha is the most recognized woman in travel television. You may know her from Passport to Europe, Great Weekends, and other Travel Channel shows. The second season of her new show, Samantha Brown's Places to Love, can be seen now on PBS.
What are Samantha's best Budget Travel tips? What advice does she have for female travelers? What two items should everyone pack in a carry-on? How does Samantha beat jet-lag? Learn the answers to these and more questions:
Jessica Lipps (JL,) Mogul Interviews Host: With all of our guests, I like to start at the beginning. Where were you born? 
Samantha Brown (SB,) Guest: I was born in Dallas, Texas. My family eventually moved to New Hampshire.
JL: Did you travel while growing up?
SB: Not really! We would pack the station wagon with the dog and a cooler filled with bologna sandwiches and set out for 8 hours. 
-I didn't travel by plane until age 13 and then not again until I started my job. 
JL: So, when did the travel bug hit? 
SB: There wasn't really a 'bug' at first. 
JL: What then led to this work?
SB: I moved to New York to pursue acting and received an audition to host a Travel Channel show. Needing something for my reel, I took the job. It was supposed to be for one summer but that show did well, which led to more opportunities.
-15 years ago, I traveled to Latin America to shoot a series. At the end of each day, I would take walks to visit neighborhoods and eat at restaurants where the locals would go. 
-I loved being in those people's everyday lives! At that point, I realized that travel isn't about seeing things - it's about connecting with people and cultures. I've had the travel bug since!
JL: So much so that you now have your own show, Samantha Brown's Places to Love, which airs on PBS. How did this show come up?
SB: I was let go by the Travel Channel. At that time, they didn't want female hosts. I was shocked by the decision and yet, with TV, those things happen. 
-During my time off, I was fortunate to start a family and now have 6 year old twins.
-After a few years focusing on motherhood, I realized that I wanted to return to TV and do it on my own. 
-I thought: I'm going to give it one shot, aim for the moon, and hopefully hit it! I was fortunate to find generous funders who believe in a female traveler and my vision. We produce 13 episodes per season and give the show to public television for free. 
JL: How do you choose the cities to include on your show?
SB: We choose places that I love and want to return to, big ticket items that people dream about - like New Zealand or Asia, and what I call B-side cities, which are some of my favorite! 
-Records used to have an A-side and a B-side: A-sides featured the greatest hits and B-sides contained the little known gems. 
-A-side cities are Paris and Rome; B-side cities are France's Lyon and Italy's Florence. 
-The B-sides have more to offer because you can relax in them, experience people's lives there, and not feel overwhelmed by a major city.
-This season, we filmed the B-side city Baltimore, Maryland. 
-Lafayette, Louisiana is another wonderful B-side city from this season. 
JL: How do you find particular people and places to include in an episode?
SB: I read local newspapers. They follow what's happening in their communities and know the people better than anyone else. 
-We then filter by asking three questions: 'Is this person or experience changing, challenging, or strengthening a destination?' 
-These important questions put you in the NOW. Historical monuments are great but I want to know what effort it took to create the places (that business, coffee shop, or church) that we get to enjoy. That's when travel becomes deeply personal. 
JL: There are so many places to see in the world. In fact, thinking about it can be overwhelming! Where should one start?
SB: If you are young and have time to travel, go the farthest that you can - to a place like Vietnam or New Zealand. 
-At some point, a career will start to take over, marriage will happen, and children will come, and the times that you can just take off and go will become fewer and farther between. So, take off and go!
JL: What if you are traveling on a budget?
SB: Travel doesn't have to be bucket list big, you don't need a lot of money to travel, and a trip doesn't have to be 10,000 miles away to count in your life. You can take day trips. You can visit the next state over and it still has that affect.
-Travel in the off-season or a shoulder season. Now is the perfect time to go to Paris! Airfare is much reduced, clothing and other sales are taking place, and you won't be overwhelmed by a deluge of tourists. 
-Travel during the week and not the weekends.
-Travel during restaurant weeks. Every city has them! These weeks represent the lowest point in tourism for a city. They are trying to bring in people and fill up hotels, which means that everything is less expensive. 
JL: What's advice do you have for female travelers?
SB: I've only had good experiences as a female traveler but the one time that I was worried, the hairs on the back of my neck stood up 20 minutes before anything happened. I knew that something was wrong. In the end, everything was fine and I was safe. It's an important reminder to trust your gut. As soon as something doesn't feel right, get out.
-I often strike up conversations with people. If someone strikes up a conversation with me, I have that in the back of my head. If questions start to get more personal, that's on my radar. Nothing has ever happened and every conversation has been wonderful but it's important to be mindful.
-What I love about being a solo female traveler is that people take you under their wing. They look out for you and, without a partner, you open yourself up to others as well. 
-As a young woman, travel as much as you can. The world is actually a really friendly place! 
JL: What's a favorite place that you've traveled?
SB: Cambodia. The people are lovely. Seeing the great city of Siem Reap, the historic Angkor Wat monument, and all of the temples was amazing! It was a great balance of being in the past and the present. 
JL: Are there cities that you'd still like to visit?
SB: I'd love to visit Egypt and Cape Town and to see the Northern Lights from Finland. The world just gets bigger!
JL: Some people have a travel philosophy to never return to a location.
SB: I don't believe in it! This might be different if I didn't have the means, but I'm fortunate to have a job that allows me to engage in repeat travel. 
-When you are in a city for the first or third time, create a ritual. Do one thing every day at the same hour. 
-I begin each morning at the same coffee shop around the corner from my hotel (I purposely leave the hotel to get into the local scene.) 
-This ritual combats the attitude that you must do 10 things a day and 'never go down the same road twice.' 
-Going to the same place allows me to relax and be comfortable. I see the same people every day and get to know them. There is something wonderful about being familiar in a place that's very foreign or different than your own.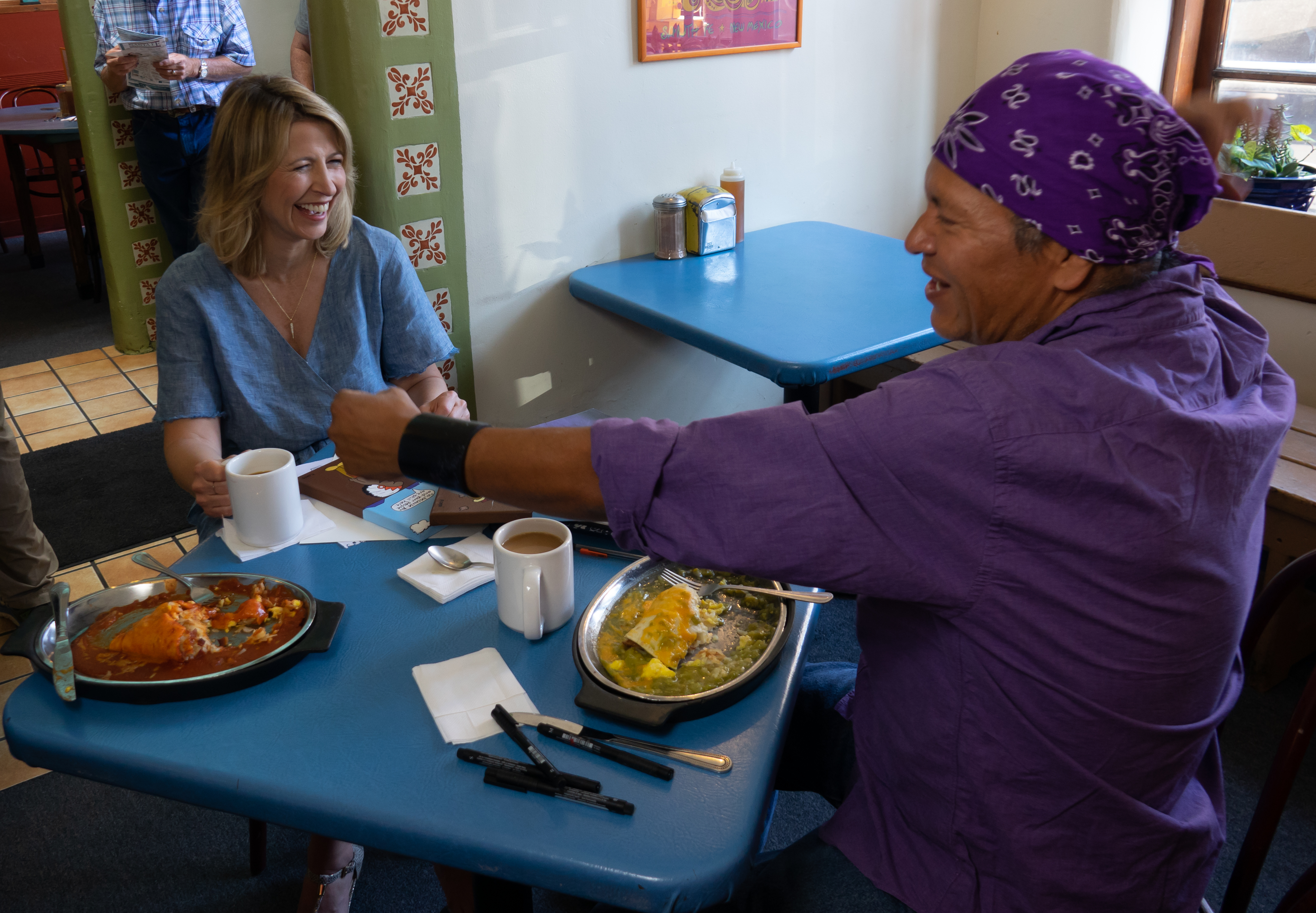 JL: I love that! How do you balance motherhood with career?
SB: I don't. There are some good days but also days when it's hard. 
-I sometimes travel for 12 days at a time for work. That's tough, but I never apologize for leaving or say that mommy wishes she could stay. Instead I say: "Mommy has a really good job. I've worked really hard for this job. I love this job and, one day, you're going to love your job." Also, "I'll be back, and I'll have presents!" (laughter)
JL: You must miss them when you're gone!
SB: I think that loneliness is a part of travel that people don't talk about. You go to a hotel alone and wake up alone. Loneliness happens but is a good thing because it motivates you to go out and meet people. Saying 'hi' and having a great interaction with someone doesn't take much effort and is really helpful. 
- You don't have to know how to conjugate verbs or speak in full sentences - no one expects that! I learn to say: hello, please, and thank you. Those are the three most important words to know! 
JL: You live in New York where Mogul is based. Do you spend time in your own backyard and have suggestions for great things to do in New York?
SB: There is no place like New York! It's the most diverse city in the world. 
-Some of my favorite places include Smorgasburg in Brooklyn, Brooklyn Navy Pier, and public spaces including the High Line, Central Park, and Prospect Park.  
JL: When you're not traveling, what do you do for fun? 
SB: I love going for walks and jogs to clear my head, being with my kids and taking them to the playground, and watching TV and comedies (nothing scary.) I eat cereal and takeout for dinner. 
-I'm pretty normal! Because my career is so extraordinary, I even it out with relaxation and everyday activities at home.
JL: What's on the horizon for you career-wise?
SB: I'm hosting my first cruise! It'll be a river cruise going down the Danube for 7 nights, stopping at Vienna, Budapest, and other exclamation point cities. I'm really looking forward to it!
-I've had a luggage line for seven years and sell it on HSN. It's luggage based on my travels and I personally test every piece. 
-Last year alone, I was on 40 flights, went through 48 airports, and checked in and out of 26 hotels. So I can test a bag's life expectancy in a month! 
-I love this luggage because it's really well-priced and I'm all about what's accessible. I'm really proud of this product.
JL: You just talked about the number of cities that you visit each year. Wow! How do you deal with jet lag? 
SB: It's a muscle that you develop.
-Here's one of my tactics: A few days before traveling to a city with a big time change, I don't drink caffeine. I arrive at that destination at 6:00 or 7:00am but don't drink coffee. I take a walk to get lots of sunshine and pass lots of cafes along the way, but no coffee. I wait until I'm about to pass out because my bones feel like cement. That is when I allow myself a double espresso. Then I'm good for the rest of the day and I go to bed at their time. 
JL: With all of these travels, there must have been some mishaps along the way. Do you have any good stories?
SB: A misconception about travel that it should always be perfect. But it's never going to be perfect! It's always about the Plan B, and you have to go with it. That's a good life lesson as well!
-Two summers ago, 22 cases of our gear didn't show up in Switzerland. It made me realize that the most important items to bring in your carry-on are underwear and a toothbrush! So I know all my crew members' underwear size and preference (laughter.)  
-In 20 years, that had never happened to me! One of my tips is to use Twitter for customer service. We Tweeted United and they found our bags! I've reached out through Twitter many times and we've gotten great customer service because of it. 
JL: What's the one piece of advice that you'd give to your younger traveling self?
SB: It's OK to feel that you don't know what you're doing! 
-In my early 20s, I I had a misconception that if I wasn't naturally good at something, I must not be right for it. That's so not true! 
-You work really hard to do what you love. So many people make it look effortless and cause you to wonder - why can't it be effortless for me? It must mean that I don't deserve it and shouldn't be here. That's not true!  
-If you want to do something, you go for it! You fall flat on your face and fail again and again and again and, slowly but surely, you start to stand up, and stand up, and stand even taller, and you just go with it! 
JL: Well, Samantha Brown, you are certainly standing tall! May you continue to experience success with your own show and upcoming travels, and we wish you only the best for moving forward. Thank you for your time and insights today, and for sharing so many wonderful tips and advice!
SB: Thank you!
Find & Follow:
Facebook: @RealSamanthaBrown, @JessicaALipps
Instagram: @SamanthaBrownTravels, @Jessica_Lipps
Twitter: @SamanthaBrown, @JessicaALipps 
Jessica hosts Mogul Interviews: Inspirational Interviews with Celebrities and Industry Leaders