Welcome to Mogul's new interview featuring Gretchen Rubin, the New York Times bestselling author of books including The Happiness Project, Happier at Home, Better Than Before, and The Four Tendencies. Gretchen's new book, Outer Order, Inner Calm, releases today!
We loved speaking with Gretchen and hearing her tips for decluttering and creating and maintaining order. With spring just a few weeks away, this is a perfect time to start cleaning and get organized! We hope that you enjoy learning from Gretchen as much as we did:
Jessica Lipps (JL,) Mogul Interviews Host: With all of our guests, I like to start at the beginning. Where were you born? 
Gretchen Rubin (GR,) Guest: I was born in Kansas City, Missouri.
JL: Did you always know that you wanted to be a writer?
GR: No! I didn't realize that I wanted to be a writer until I was out of law school and clerking for Justice Sandra Day O'Connor.  
JL: How did you come to that decision?
GR: When I was clerking, I wondered: What am I interested in that everyone is interested in? I thought: Power, money, fame, and success!
-I become preoccupied with researching and taking notes on those subjects. I finally realized: this is what someone would do if they were writing a book! 
-I went to the bookstore, bought a book on how to write and sell a non-fiction book proposal, and followed the directions. That indeed was my first book! It was called Power Money Fame Success: A User's Guide.
JL: You've had great success since then and just released your latest book, Outer Order, Inner Calm. Why this book and why now?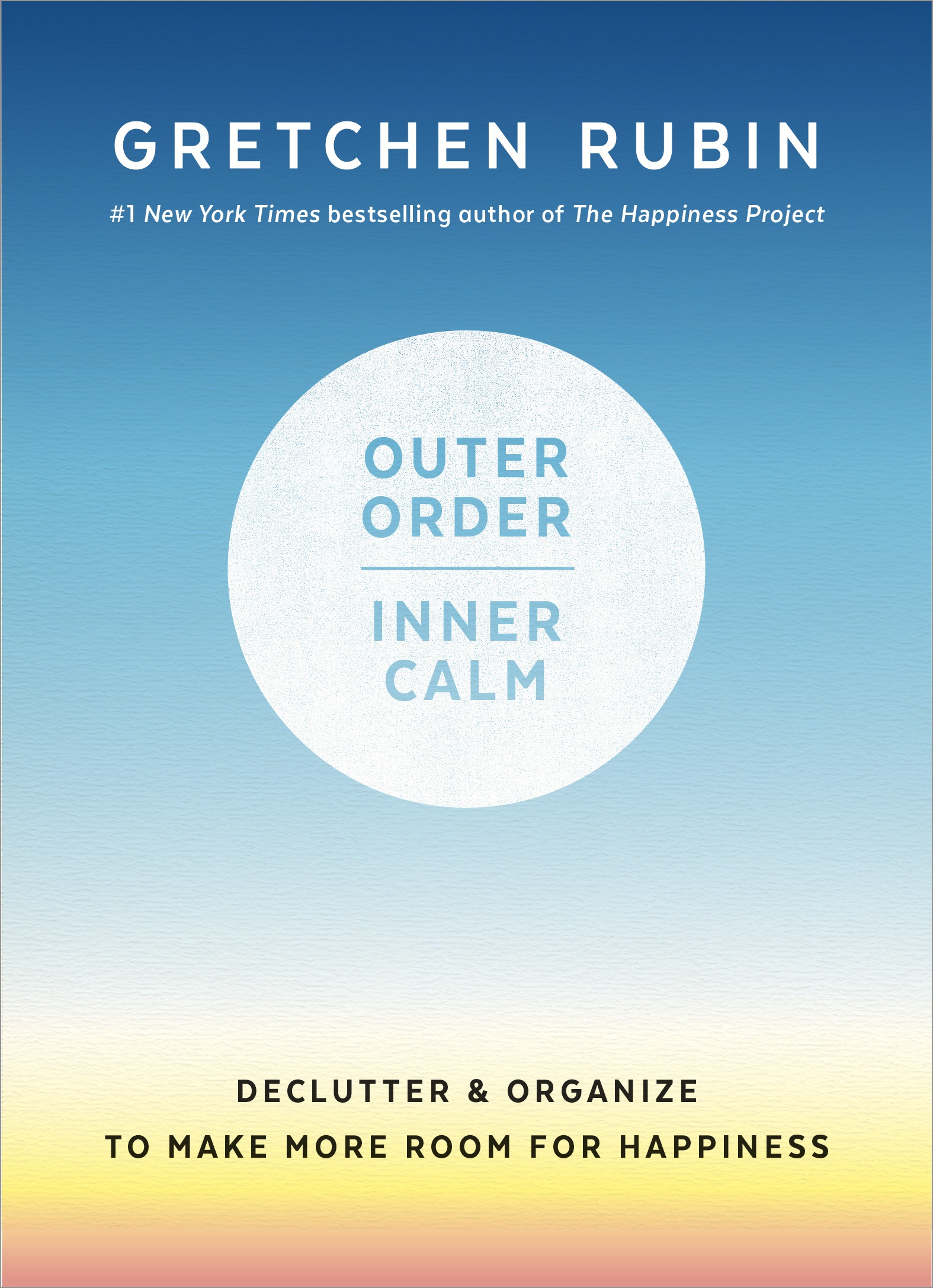 GR: There is something about achieving outer order that makes people feel calmer and more energetic, more focused, more optimistic, and better able to tackle big tasks. 
-I wanted to write about why we feel this way, how to clear clutter, and how to maintain that order once we've created it. 
JL: When we have a space that needs to be decluttered, where do we start?
GR: First, get rid of things! A good test is: do I need it, use it or love it? 
-Sometimes we have items that we just love! We don't need or use them, but we love them! 
-If you don't need it, use it, or love it, why do you have it? Go through your possessions with those questions in mind and get rid of everything that doesn't satisfy those standards.
JL: What if I have an emotional attachment to items like pictures, college memorabilia, or childhood mementos?
GR: The longer that you've had an item - childhood toys especially - it becomes very symbolic of childhood and the past. This is called the Duration Effect. Do you want to keep every Lego set that your child ever used? Instead, keep one box of the best or favorite toys and donate the rest to a family that can enjoy them. 
-It's about making selections and mindfully choosing instead of keeping everything. 
JL: After getting rid of everything, what next?
GR: Make decisions about where things should go and how to put them away. 
-You don't just want to put something down; you want to put something away in a dedicated place that makes sense. 
JL: Great! Then what?
GR: One of the most fun things to consider is how to add beauty to a space. 
-The point of clutter clearing is to make ourselves happier. Adding beauty can make our surroundings much more pleasant. 
-You can buy an ordinary scratch pad or spend a bit more money to have your name monogrammed onto it, or purchase a notepad in a color that makes you smile every time that you look at it. 
-Adding beauty makes our environment feel more rich and like a better representation of ourselves.
JL: After bringing in beauty, what do I do? 
GR: It's important to cultivate habits that help you stay on top of clutter. 
Here are a few ideas:
-The 1-minute rule. Anything that you can do in less than a minute, do without delay. If you can print something out and stick it in a folder where it belongs, do it. If you can take a dirty cup and put it in the dishwasher, do it. If you can put your coat on a hook, do it. That gets rid of the minor tasks that aren't hard in and of themselves but accumulate and make us feel weighed down.
-Take things with you! Don't feel like you need to put something all the way away. Let's say that you wear your hat into your bedroom. You don't have to walk it back to the coat closet but if you're on your way towards the  coat closet, take it as far as you can and leave it there. What it does - to a remarkable degree - is allow things to get put away much faster. So take one thing with you, move it along its way, and then you don't have to run around your house cleaning-up - it just happens as you move around the house naturally.
-Power Hour: Take an hour on the weekend and blast through a bunch of things: run to the hardware store and get a special lightbulb or pick-up everything in your home all at once. Have a place where your clothes go (if you can't put them back during the week) and then deal with them during Power Hour. When you can spend some time, get rid of the items that you don't need, which makes cleaning-up easier during the week. Everyone should do what's right for them - there's no one standard.
-Clutter Clear First Thing in the Morning - It's quiet, there's no one else around, and you have more energy. At the end of the day, that energy has usually been zapped.
JL: What if you are the kind of person whose office is neat but home is cluttered, or vice versa?
GR: Ask yourself - what's different that allows me to succeed in one environment? 
-For example, did you inherit a work space where every object has a place but at home there is no place for anything? To fix this: find a place for everything at home. 
-Or let's say that at home you're in charge and feel that you need order to keep things going but at work you can let things hang a bit more loose. The idea is: look to other circumstances to see what you can learn!
JL: Many of us have roommates or live with spouses or children. What happens when different people have different tolerances for clutter?
GR: Part of it is understanding the root of why someone feels the way that they do. People are different in what challenges they face and what kind of environment they want to end up in. 
-There are abundance lovers and simplicity lovers. Some people are counter clearers and some are counter fillers (here is the bagel cutter, paper towel holder, and spoon rest, and I like seeing all of these items on my counter.) Those are preferences. If we are using the items, it's not clutter. If we never use an item, then no one benefits.
-Some people are truly clutter blind. That person doesn't want to annoy you, they just don't register it. Sometimes you need to say - this is the person that I'm with. If you have the money to pay for cleaning, perhaps you can outsource it. The question is always: is this cheaper than marriage counseling? 
-You might say - I am picking up a pair of dirty socks every day. The question is: do you care and is it really what you want to pick a fight over? 
-You can always choose to do something out of love. Even if you don't feel that you have to or should you can choose to, for example, load the dishwasher in a particular way, because you know that it's important to the person with whom you live. You can choose to do it their way out of love.
JL: How can you stay organized when you travel? 
GR: When you travel, create a bowl of requirement. This idea is inspired by Harry Potter. I pick a bowl or tray from the hotel and everything that I need to keep track of - earbuds, sunglasses, and my wallet - goes in there. 
-When I'm at home, I know where everything goes. But at a hotel I don't have a routine, so this keeps me from misplacing things.
JL: Since reading your book, some of my habits have started to change! 
GR: Oooh - how exciting! Tell me more!
JL: I've started putting items away as soon as I'm done with them. I love the idea of having a hook or separate drawer for half-used clothes.
GR: Clothes that are neither dirty nor clean. Like the blouse that you wore for three hours, the denim shorts, or barely used gym clothes.
JL: Yes! And I loved the idea of waving a magic wand!
GR: If you could do something magically, what would you do? If you had an extra room in your house, would you create a yoga room, meditation room, arts and crafts room, music room, an office, or other? 
-Often, people have spaces that are not being used for anything in particular. With the magic wand, they often realize that they have a giant walk-in closet in a guest bedroom that no one is using or a weird space off of the living room that they never knew what to do with - put bookshelves and a cozy chair in there and, hey, it's a library!
-If you could wave a magic wand, what would be done? The laundry would be done or the kitchen would be organized. This trick frees your mind to wonder - are there other ways that something could get done? Maybe I could hire someone to do it.  
-The magic wand can help you have these ideas and see these possibilities that are otherwise invisible when you are locked in a certain mindset.
JL: I also liked the trick to take a photo of your home to view it from a different perspective.
GR: A lot of times, we feel comfortable in our environment. But if we see a picture, we can recognize that it's not right. For example, seeing a picture of your bookshelf looking junky and messed-up helps you realize that you can make it look better.
JL: Those are some of my favorite tips. How about yours? 
GR: One thing that works for me is use hooks instead of hangers. We are far more likely to do things that are even slightly more convenient. It's more convenient to use a hook than a hanger. I have a hook for my scarf, for my jacket - it's made a huge difference! 
-Also, don't have too many hangers. When I go to a friend's house, the first thing that I do is take out the extra hangers. It's amazing how much space you free up! Each closet should have no more than 5 extra hangers. If in some drawer you want to keep backups, you can do that but they take up a surprising amount of room and removing them from the closet makes a huge difference.
-Respect high value real estate from low value real estate. Your desk and clothes closet are high value real estate. If you have a costume, then create a costume box and put it in a low value place. Your sentimental items of college t-shirts - put them somewhere else. 
-If you have a tower of 15 books on your desk, they don't need to be there. They are taking up so much room. Get rid of anything that's there unless you are using it in that space. You might say that you love having 15 files out because it gives you creative juxtaposition. Then fine, leave them there - but not the old vase.
JL: Even though you have always been a neat person, did writing this book have an impact?
GR: Yes. I've always been focused on the relationship between outer order and inner calm but writing this book got me really focused. In my home, I know everything that is there and where it is. That is a great feeling - to feel like you know where everything is. 
-Our umbrellas were in a container but overflowing. Finally, I said: I'm going to do something about the umbrellas! I put the small umbrellas in a drawer, leaving the full length umbrellas only for the stand. Now I look at them and love it! 
-I took 10 minutes and came up with a better system. Now I get a sense of satisfaction every time that I look at the umbrellas.
JL: I hope that this is the feeling that everyone has when they read your book and start following your advice! What's next for you?
GR: I think that I'm going to write a book called My Ten Senses about the five traditional senses but also arguing that there are additional senses. I'll discuss getting into your body and the physical experience. 
JL: We look forward to it! Gretchen Rubin, thanks so much for being here today and sharing such great insights and tips.
GR: Thank You!
Find & Follow:
Facebook: @GretchenRubin, @JessicaALipps
Instagram: @GretchenRubin, @Jessica_Lipps
Twitter: @GretchenRubin, @JessicaALipps 
Jessica hosts Mogul Interviews: Inspirational Interviews with Celebrities and Industry Leaders