We are thrilled to welcome Yotam Ottolenghi, celebrated chef and restaurateur, to Mogul Interviews. Yotam's latest cookbook, SIMPLE, has just been released. If you're lacking time, daunted by long ingredient lists or just want to make something easy, this cookbook is for you! Sample recipes (along with easy explanations!) are below. 
What are Yotam's go-to recipes? What advice does he have for aspiring chefs? How did Lin-Manuel Miranda fit into our conversation and what's one of Yotam's funniest moments as a cook? Learn the answers to these and more questions in the video above and audio file and article below:
Photo Credit: Jonathan Lovekin © 2018
Jessica Lipps (JL,) Interview Series Host: Where were you born? 
Yotam Ottolenghi (YO,) Guest: I was born in Jerusalem, Israel.
JL: Did you always know that you wanted to be a chef? 
YO: I had no idea what I wanted to do! I studied philosophy and comparative literature in university. While studying, I worked for a newspaper. 
-In my late 20's, I reflected on whether I wanted to be a journalist for the rest of my life. The answer was no. I went to London, took a course at the Cordon Bleu culinary school and became a chef. 
-I liked cooking and eating but never thought about it as a career option. As soon as I started working, I loved it! 
JL: What do you love about it?
YO: I enjoy all aspects of cooking but especially love seeing people's reactions when you've fed them something delicious. It's like watching fireworks of emotions. It's very gratifying.

JL: How did you go from taking classes at the Cordon Bleu to opening your first restaurant? 
YO: For the first few years, I worked as a pastry chef in various bakeries, cafes and restaurants. I then started cooking savory food as well.
-In 2002, I set up a business with three partners and we opened a small cafe called Ottolenghi in Notting Hill. The ethos was to create delicious food fresh and sell it to the public. 
JL: You now have six successful restaurants in London. Where do cookbooks come into the picture?
YO: I published my first cookbook, Ottolenghi, about 10 years ago. The idea was to capture recipes from the restaurant so that diners could cook them at home. 
-I thought that it would be a one-off thing. When the cookbook was a success, my publishers suggested that I write another one. 
-Now the books have a life of their own: they are parallel to the lives of the restaurants. 
-I spend most of my time developing recipes in our West London test kitchen, which is a great way to spend the day!

JL: Let's talk about your new cookbook, SIMPLE.
YO: I'm proud of this particular book because we sought to understand how people cook and tried to remove the issues, difficulties and anxieties that hold them back from cooking. 
-We soon realized that what is simple for me isn't simple for you and that people have different expectations of recipes that call themselves simple. 
-So we developed a system whereby each letter of the word SIMPLE signifies a different way that a recipe is simple:
S = Short on Time (recipes that take 30 minutes or less)
I = Less Than 10 Ingredients
M = Make Ahead
P = Pantry (recipes involving items already in your cupboard) 
L = Lazy (stews and roasts)  
E = Easier Than You Think 
-Every recipe has at least one of the above icons stating how it is simple and, technically, all of the recipes are for beginners.
JL: If I am not a cook, what is the easiest recipe?
YO: One of the dishes that I really like is Eggs with Leeks.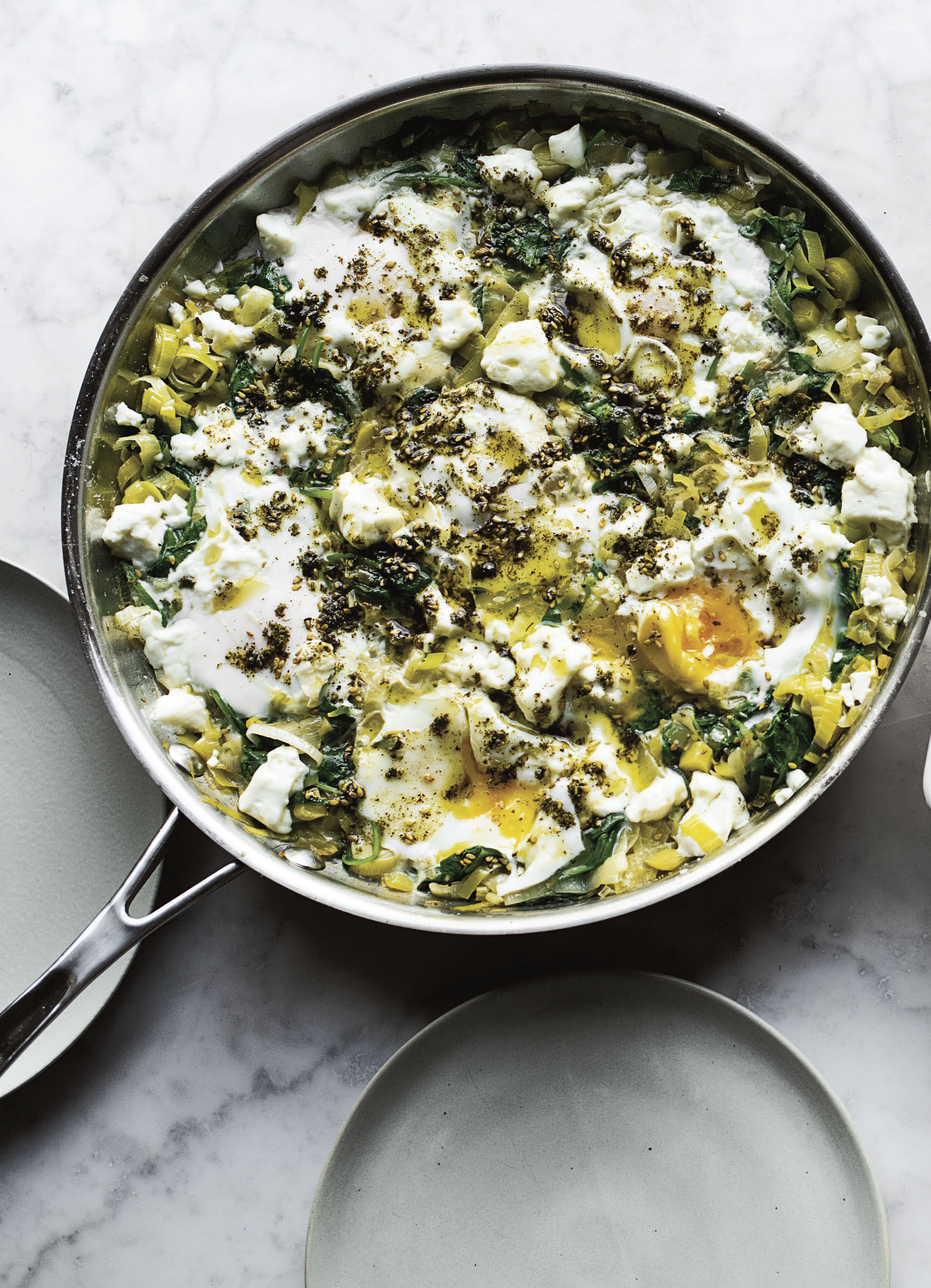 -To make this: chop up some leeks and sauté them in a pan with oil and butter. Once soft, add stock or water and allow the leeks to bubble away. Crack six eggs into the pan and add feta cheese. Within 10 minutes, you'll have beautifully braised eggs in a nice leek sauce that is great for breakfast. (Recipe Below.)

JL: How about an easy recipe for dessert?
YO: We have a recipe for custard with the E icon for Easier Than You think! 
-Whisk cream, egg yolks, corn starch, sugar and vanilla in a bowl. Pour the mixture into a baking dish and place it into another baking dish with a bit of water inside. Put it in the oven for about 40 minutes. Let it set in the fridge and then serve with strawberries, cooked rhubarb or any fruit and you won't believe that you made it because it tastes so good! (Recipe Below.)
JL: Do you have a favorite recipe from the book?
YO: It changes depending on what I'm in the mood to eat. 
-Today I feel like Chicken Marbella, which is a take on an old American recipe from the Silver Spoon cookbook from the 1980's. 
-Combine chicken with olives, capers, dates, date syrup, some vinegar and oregano. Let it marinate for 24 hours and throw it on a roasting tray. It tastes sweet and sour and the herbs give it earthy flavors. It's super easy and delicious. (Recipe Below.)
JL: Where do you get inspiration for recipes? 
YO: I always enjoy going to restaurants and exposing myself to different cuisines. 
-I don't like going to high-end restaurants but rather to those of a particular food culture. 
-Recently, I dined at a a Spanish restaurant in London called Sabor that had delicious tapas. As soon as I left the restaurant, I knew that I had to do a Middle Eastern version of a croquette dish.

JL: With your busy schedule, do you have time for fun?
YO: I make time. I don't work on the weekends as they are for family. I try to be with my children in the mornings and evenings, before and after school, unless I'm traveling. 
-I find that if you're happy to work with a group and divide the responsibilities, it works.

JL: How do you relax?  
YO: I read. I also do pilates, which takes my head off of things and puts me in the moment. It's the same feeling that I get when I cook.
JL: Is that still how you feel about cooking? 
YO: When I cook at home, definitely. When I'm in the kitchen by myself, I turn the music on, which I find relaxing. It's my way to de-stress.
JL: Do you have a go-to recipe? 
YO: On a Sunday night, I love to cook foods that I can give my kids during the week. 
-I do lots of sauces like tomato for pasta. I also make soups and lentil stews and freeze them in containers. 
-Helen Goh, my Sweet: Desserts co-author,  taught me to make crepes. I make about 60 and freeze them. When we want to be lazy for breakfast, I spread nutella or maple syrup on the crepes. Our children love that!
JL: For readers who want to be chefs or own restaurant, what advice do you have? 
YO: Follow your heart because it's possible. It's also a lot of hard work so you need to make sure that that's what you want. 
-The difference between cooking at home and cooking in a professional kitchen is like night and day. If you enjoy cooking for friends, that's great but it has nothing to do with restaurant cooking, which is about preparing huge quantities and pumping out food in a short amount of time. You need to make sure that you like that too if you are going to be a chef. Get kitchen experience before committing to it as a career. 
-If you work in a restaurant, it's important to work in an environment that you like. Many people survive in places that are awful and think that they need it for their experience or to rough it for a while before they become good. You can find a great place that will teach you everything you need without hating it. If you wake up in the morning and don't like going to that job, move on and work somewhere else. 
-People are always needed in restaurants, so find a place where you really love working and are appreciated. Then you can grow and become a great cook or great front of house person.

JL: People look at you and see great success. I wonder if you've had challenges along the way?
YO: I have experienced a lot of failures in my life and moments when I felt that things weren't going anywhere. 
-At age 30, I had a junior job at a kitchen and remember feeling lost and wondering where my life was headed.  Things turned well after that: I was promoted and then my friend suggested that we start a business together. But for a while it looked like things weren't going anywhere. 
-In times like this, we need to remember that life is made up of moments where you're at the bottom but it doesn't mean that you're not going to come back up and find something else.
-Also, I had businesses that didn't work out. A couple of years ago, we tried setting up a place that was less formal and more fast food and spent a lot of money, time and energy opening it. We had to close after six months. It was a really difficult decision. 
-When you fail, it doesn't mean you won't succeed next time. From failure to success to small failure to more success. That's how life is built.

JL: Great advice! What's next for you? 
YO: I recently started a podcast. It's called Simple Pleasures and we talk about cooking and life.
-Lin-Manuel Miranda and his wife Vanessa were early guests. I also spoke with Michael Palin, a legendary British comedian from Monty Python who became a travel writer, and Nigella Lawson who is an incredible food writer. 
-It's great fun! I love the conversations - a bit like the one that we're having now but I like asking the questions rather than giving the answers (laughter.)
JL: Well, you're very good at giving the answers! We're doing this interview in New York. Where do you dine when in town?
YO: My memory stretches to my last meal. I went to il Buco Alimentary & Vineria yesterday. We had fried arctichokes hearts that were to die for and a porchetta sandwich that I will never forget. Also, their breads are so good. It's a place that I like because it's really good but also informal.

JL: As a final question, I have to ask: do you have any behind-the-scenes or funny stories from your time in the kitchen?
YO: The first time that I was in front of a camera, I was working in a bakery. They came to shoot me cooking a devil's food cake. I made it and said something that you should never say in front of the camera. I said: "that's super easy." When I removed the cake from the oven, it sank like a souffle in front of the camera. I'm still mortified because as soon as I said that it was super easy, the cake sank ceremonially and dramatically. That's one of life's lessons: when you feel confident, ask yourself twice before you express it (laughter.)
JL: That was a fun note to end on. Yotam, it was amazing getting to know and learning from you today. Congratulations on your new cookbook and thank you for your time.
YO: Thank you!
Find & Follow:
Facebook: @OttolenghiUK, @JessicaALipps
Instagram: @Ottolenghi, @Jessica_Lipps
Twitter: @Ottolenghi, @JessicaALipps 
Link to Purchase SIMPLE: https://amzn.to/2Dg2SVr
Recipes (reprinted with permission from Ottolenghi Simple: A Cookbook by Yotam Ottolenghi, copyright © 2018. Published by Ten Speed Press, an imprint of Penguin Random House:)
Braised Eggs with Leek and Za'atar
S I M L
This is a quick way to get a very comforting meal on the table in a wonderfully short amount of time. It's a dish as happily eaten for brunch, with coffee, as it is for a light supper with some crusty white bread and a glass of wine. The leeks and spinach can be made up to 1 day ahead and kept in the fridge, ready for the eggs to be cracked in and braised. 
Serves six 
2 tbsp unsalted butter 
2 tbsp olive oil 
2 extra-large leeks (or 4 smaller), trimmed and cut into ¼-inch/½ cm slices (6 cups/530g) 
Salt and black pepper 
1 tsp cumin seeds, toasted and lightly crushed 
½ small preserved lemon, seeds discarded, skin and flesh finely chopped (2½ tbsp) 
1¼ cups/300ml vegetable stock 
7 oz/200g baby spinach leaves 
6 large eggs 
3¼ oz/90g feta, broken into ¾-inch/2cm pieces 
1 tbsp za'atar 
1. Put the butter and 1 tbsp of the oil into a large sauté pan with a lid and place over medium-high heat. Once the butter starts to foam, add the leeks, ½ tsp of salt, and plenty of pepper. Fry for 3 minutes, stirring frequently, until the leeks are soft. Add the cumin, lemon, and vegetable stock and boil rapidly for 4–5 minutes, until most of the stock has evaporated. Fold in the spinach and cook for 1 minute, until wilted, then decrease the heat to medium. 
2. Use a large spoon to make 6 indentations in the mixture and break 1 egg into each space. Sprinkle the eggs with a pinch of salt, dot the feta around the eggs, then cover the pan. Simmer for 4–5 minutes, until the egg whites are cooked but the yolks are still runny. 
3. Mix the za'atar with the remaining 1 tbsp of oil and brush over the eggs. Serve at once, straight from the pan. 
Vanilla Custard with Roasted Strawberries and Rhubarb
I M E
If it's in season, use forced rhubarb here: the hot-pink color of theslender stalks looks stunning once cooked. Regular eld-grown rhubarb,though, is also great. The custard and fruit mixtures can be made a day in advance and kept in the fridge until ready to assemble. Serve this with some shortbread alongside, if you're looking for crunch.
Serves eight to ten
7 oz/200g rhubarb, cut into 1 1/4 -inch/3cm chunks
7 oz/200g strawberries, hulled and halved lengthwise
7 tbsp/90g granulated sugar
CUSTARD
4 large egg yolks
1 tsp cornstarch rounded 1/4 cup/60g
granulated sugar
2 tsp vanilla extract 2 1/2 cups/600ml heavy
cream
1. Preheat the oven to 425°F.
2. Mix the rhubarb and strawberries with the sugar and arrange in a medium ovenproof dish; you want the fruit to fit snugly. Bake for 12–13 minutes, until the fruit has softened but still retains its shape and the sugar has melted. Don't worry if there is a tiny amount of sugar that hasn't melted; just give the fruit a gentle stir and the sugar will dissolve. Set aside to cool.
3.  Decrease the oven temperature to 375°F.
4. For the custard, place the egg yolks, cornstarch, sugar, and vanilla in a large bowl and whisk until smooth. Gradually pour in the cream and whisk until combined. Pour the custard into a 10-inch/25cm high-sided ovenproof dish. Place the dish inside a larger ovenproof dish and fill the larger dish with boiling waterso it rises about 1/2-inch/1cm up the sides. Bake for 25 minutes, until the custard has set and is starting to brown on top. Remove from the oven, set aside to cool, then transfer to the fridge to chill.
5. Once chilled, spoon half of the fruit and juice on top and serve with the remaining                  fruit and juice alongside.
Chicken Marbella 
I – M – L
This is a dish I regularly cook for friends. All the work is done in advance—you can marinate it for up to 2 days in the fridge—and then it's just into the baking pan and into the oven when you're ready. The chicken loves the long marination but it can also be cooked straightaway, if you don't have the time. If you're going to do this, just season the chicken with the 1 tsp of salt and pepper (which would otherwise go into the marinade), rubbing it thoroughly into the skin before combining it with the rest of the marinade ingredients (no more salt required) and bake according to the recipe. I like to use chicken legs but others prefer chicken supremes (chicken breasts with the wing bone attached), which also work very well. Thanks to Julee Rosso and Sheila Lukins's The Silver Palate, whose recipe for Chicken Marbella inspired this recipe. 
Serves four generously 
8 chicken legs (skin on and bone in) skin scored a few times (3 lb/1.4g) 
5 garlic cloves, crushed 
¾ cup/15g fresh oregano leaves, plus extra to serve 
3 tbsp red wine vinegar 
3 tbsp olive oil 
1 cup/100g pitted green olives 
6 tbsp/60g capers, plus 2 tbsp of their brine 
4¼ oz/120g Medjool dates, pitted and quartered lengthwise 
2 bay leaves 
salt and black pepper 
½ cup/120ml dry white wine 
1 tbsp date molasses (or standard molasses) 
Place the chicken in a large nonreactive bowl and add the garlic, oregano, vinegar, oil, olives, capers, dates, and bay leaves, along with 1 tsp salt and a good grind of black pepper. Gently mix everything together, cover the bowl, and leave in the fridge to marinate for 1–2 days, stirring the ingredients a few times during the process. 
Preheat the oven to 400°F. 
Spread out the chicken legs on a medium high-sided baking pan, along with all the marinade ingredients. Whisk together the wine and molasses and pour over the meat. Place in the oven and cook for 50 minutes, basting two or three times, until the meat is golden brown on top and cooked through. 
Remove from the oven, transfer everything to a large platter, sprinkle with some oregano, and serve. 
Jessica hosts Mogul Interviews: Inspirational Interviews with Celebrities and Industry Leaders