Mogul Courses set out to find the top 30 women all over the world, the brightest stars of today and tomorrow in fitness & health. We scoured the web and researched high and low. Here is the creme de la creme in fitness today that will keep you going and inspired through tomorrow. Prepare to be impressed & inspired by these kick-ass women!
TOP 30 FITNESS #MOGULSTARS OF 2016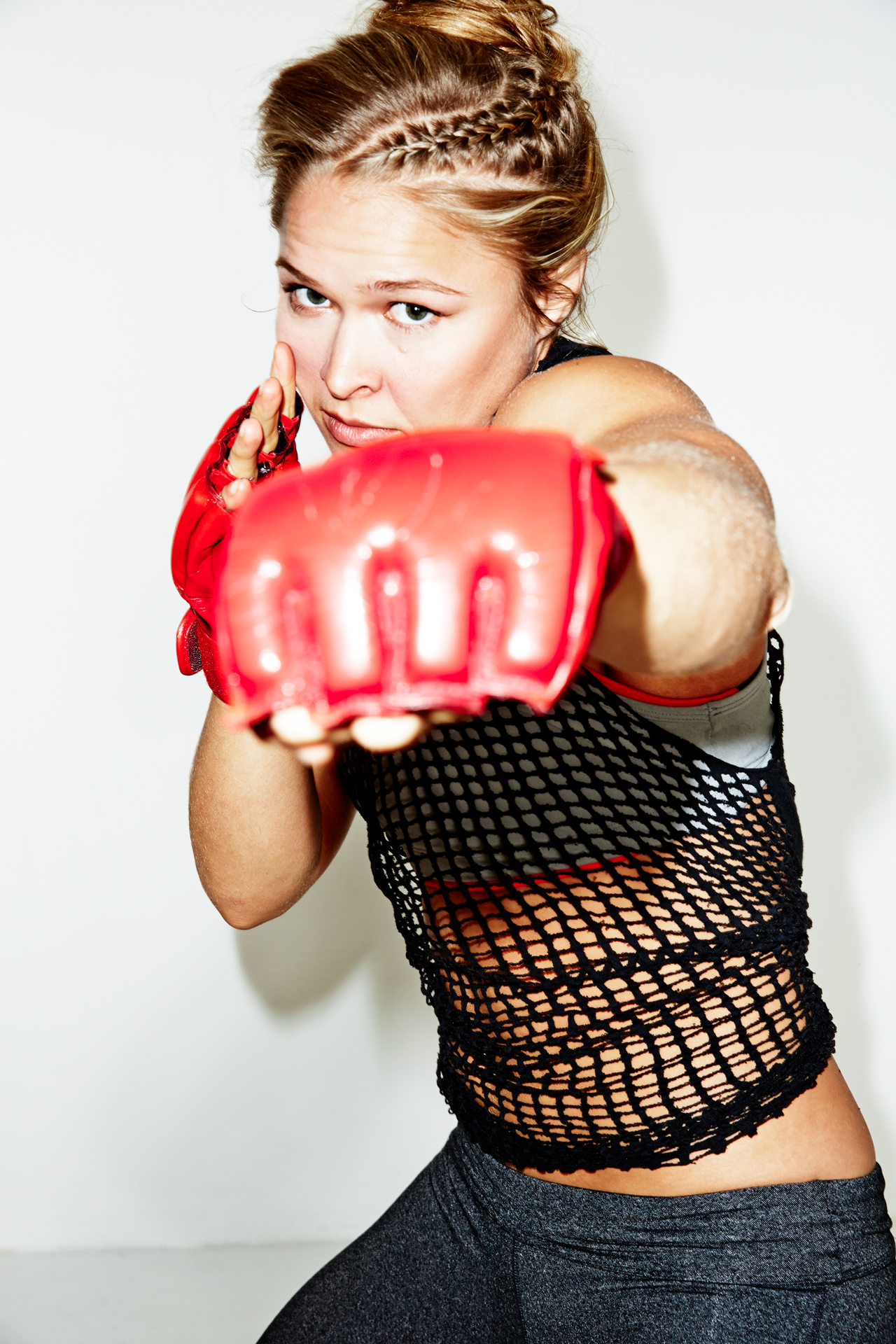 #1: RONDA ROUSEY
Rousey is an American mixed martial artist and judoka. She is the first and current UFC Women's Bantamweight Champion. She became the first American woman to earn an Olympic medal in Judo at the Summer Olympics in Beijing in 2008. She is the consensus #1 pound-for-pound female MMA fighter in the world, according to MMARising. She is also ranked #1 at 135 pounds according to the Unified Women's MMA Rankings.
Follow her on Instagram and Twitter @RondaRousey.
#2: KAYLA ITSINES
Kayla is a certified fitness trainer from Australia. Her Bikini Body Guides, which include a 12-week exercise plan made up of 28-minute workouts, have a cult-like following, and her Instagram account, which is full of before-and-after photos of women who've followed her program, has more than 4.6 million followers.
Follow her on Instagram and Twitter @Kayla_Itsines.
#3: SVETLANA BILYALOVA
Though Svetlana has over 3.1 million Instagram followers, she isn't a household name in the US yet. A Russian model, she hit the scene back in 2012 and has since hit the social media spotlight many times over. Her gym selfies serve as inspiration for girls everywhere.
Follow her on Instagram and Twitter @Svetabily.
#4: RACHEL BRATHEN
Rachel is an author, a speaker & yoga teacher. She spent years studying yoga practices in Central America & now teaches dynamic Vinyasa Flow in Aruba. She shares her life with the world every day on social media and through her book. Yoga Girl is the journey that took her from Sweden and her self-destructive teenage years to the life she's built through yoga & meditation.
Follow her on Instagram and Twitter @Yoga_Girl.
#5: EMILY SKYE
Emily is an Australian fitness guru and a former model. She's revealed that she used to have terrible eating habits and rarely exercised and then turned her life around leaving the modeling industry and pursuing a healthier, fitter and happier lifestyle for her. The model turned personal trainer now has 70,000 girls around the world who follow her eating and fitness programs.
Follow her on Instagram and Twitter @EmilySkyeFit.
#6: MISTY COPELAND
Misty became the American Ballet Theater's 2nd African American female Soloist & the 1st in two decades. Misty was promoted to principal dancer in 2015, making her the 1st African American woman to be promoted to the position in history. Misty dedicates her time to working with & mentoring youth. In 2014, Misty was appointed to the President's Council on Fitness, Sports & Nutrition.
Follow her on Instagram and Twitter @MistyOnPointe.
#7: AMANDA BISK
A former elite pole vaulter, Bisk competed until Chronic Fatigue Syndrome crippled her career. After the life changing diagnosis, she decided to immerse herself in yoga & fitness. She posts pictures & videos online chronicling her daily exercise & fitness regime. Since, she's started her own fitness program and teaches yoga.
Follow her on Instagram and Twitter @AmandaBisk.
#8: CHRISTMAS ABBOTT
The CrossFit and Olympic weightlifting competitor, Nascar pit crew member, and author of The Badass Body Diet got into fitness while in Iraq as stress relief. Abbott believes that being strong takes discipline, practice & dedication. It's not built overnight. She wants her body to help women see that you can be feminine & strong & beautiful all at the same time.
Follow her on Instagram and Twitter @ChristmasAbbott.
#9: HEIDI SOMERS
Heidi is a fitness coach who puts together customized meal plans, workout plans and home workout plans. She started uploading videos on YouTube to allow everyone affordable access to fitness programs. Her videos are fun, relatable and educational. Heidi shares her own experiences as she believes it further helps people reach their own goals and also try new things.
Follow her on Instagram and Twitter @HeidiSomersFit.
#10: KELSEY WELLS
Kelsey didn't recognize her body post-pregnancy and began experiencing anxiety. To help overcome her post-partum, she started exercising daily & learned to set goals & work towards them & fell in love with fitness. She created a site to further share with other women what she wishes others would have told her. Kelsey loves to get her sweat on & to encourage others also.
Follow her on Instagram and Twitter @MySweatLife.
#11: NATALIE BOWER
Natalie, a personal trainer & certified nutritionist met Ash online while discovering their shared passions for health & wellbeing. They now spend their time encouraging & supporting each other to achieve their dreams. They began hands-on research & wrote an ebook together to help other women understand the importance of healthy eating.
Follow her on Instagram and Twitter @0403Natalie.
#12: ALENA ELIZABETH
Alena is a Certified Personal Trainer through ACE (American Council of Exercise) & dedicates herself to showcasing a healthy way of living. Her site is a collection of her research, opinions & experiences that she wants to share with others to help motivate, inspire & encourage them to change their lives for the better. Originally from Oregon, she currently resides in Germany promoting a balanced life through exercise, self-acceptance & proper nutrition. She also is coming out with a Women's Lifting Guide.
Follow her on Instagram and Twitter @HealthyLivingDreams.
#13: AMANDA RUSSELL
Hollywood's celebrity fitness expert, writer and founder of FitStrongandSexy.com Training System, Amanda is one of the most sought after fitness professionals in the US. Amanda is known as the 'Carrie Bradshaw of Fitness' for creating high-intensity, short, results-driven workouts that allow people to achieve a 'runner's body' without running. Amanda began her career as a full scholarship track star bound for the Olympics. When an injury took away her ability to run, she turned her knowledge and passion for all things fitness to helping others achieve their goals, focusing not only on the physical side of fitness but also its psychological and motivational aspects.
Follow her on Instagram and Twitter @AmandaRussellFSS.
#14: JEN GROOVER
Jen's entrepreneurial experience began in 1995 when she followed her passion in the fitness industry and her journey to become a master trainer, National level fitness competitor & partner in a fitness company. Her experience in the fitness industry, along with her background in education & psychology, was the springboard to what currently drives Jen's mission of empowering millions to maximize their human potential--mentally, physically, emotionally and spiritually. Her core focus that currently impacts the world of wellness is her thought leadership in emotional intelligence, and teaching people to become more emotionally fit, therefore optimizing their physical well-being, moving from a motivation mindset to a transformational lifestyle. Jen also mentors many other high-level fitness industry personalties and brands to scale their businesses to create greater impact.
Follow her on Facebook and Twitter @JenGroover.
#15: NICOLE WINHOFFER
Nicole is the creator of The NW™ Method – an original, innovative and unconventional workout that combines her knowledge of the body, dance, sports science & eastern practices that focus on the chakras, acupuncture points & energy work for a full work out to the mind, body & soul. She is the only fitness artist signed by Roc Nation & the 1st Global Ambassador for Adidas x Stella McCartney. Her individualistic approach allows each student to not only discover, but embrace their own personal strength & passion. Through a continuous curiosity for the unknown, she's inspired to create a new way to combine fact, science, art & energy. 
Follow her on Instagram and Twitter @NicoleWinhoffer.
#16: REMI ISHIZUKA
Remi is a health & fitness blogger & student health coach living in LA. She grew up in a healthy household but always craved what she couldn't have...junk food, coke and sweets. She started on a healthy eating path by making one meal a day: a breakfast bowl. One led to another & along with a newly found fitness routine, she found balance that gave her the energy to train the hardest she ever has. She passes her learnings through social media & hopes her passion inspires others.
Follow her on Instagram and Twitter @Rrayyme.
#17: LEAH SUTER
Leah is an aspiring personal trainer from Knoxville, TN and a certified nursing assistant. Her passions are health and fitness.
Follow her on Instagram and Twitter @MyFitJourney_Las.
#18: CHINAE ALEXANDER
When Chinae isn't creating the next biggest party with her event planning business, you'll find her on a mission to help people find their inner badass. She uses social influence to create real, lasting change in the lives of people across the globe. Chinae believes in the power to change lives with belief, positive thinking, and bold risk taking.
Follow her on Instagram and Twitter @GetFitBrooklyn.
#19: ZANNA VAN DIJK
The established British fitness, lifestyle & travel influencer has developed a large following which has allowed her to travel the world & collaborate with huge brands such as Nike, Tommy Hilfiger & Nutribullet. She has been on the cover of the Sunday Times Style magazine & been featured in top publications including Women's Health & Elle. Zanna uses her platforms to share her experiences, recommendations & her knowledge of fitness & nutrition. She loves to spread positive messages & encourages her followers to be healthy, confident & happy. She is one of the co-founders of the #girlgains movement which empowers women to make "gains" in every aspect of their lives from physical strength to self-love & business.
Follow her on Instagram and Twitter @ZannavanDijk.
#20: JESS PACK
Jess started her fitness journey by creating an Instagram account & it became one of the most meaningful aspects of her life. She has met many incredibly beautiful & inspiring women that have translated into lifelong friendships. This is not a hobby for Jess. It is her life. She loves how powerful & strong exercise makes her feel. She found a new passion for life & it led her to fall in love with herself.
Follow her on Instagram and Twitter @PlankingforPizza.
#21: JERA FOSTER-FELL
After working as a graphic designer for several years, Jera discovered her passion for fitness, health, and motivating others to be the best versions of themselves. Whether she's powering through a spin class, downward dogging in yoga, or pushing through one more rep in the weight room, Jera aspires to inspire while remembering to laugh at herself along the way. Recently certified as a personal trainer, Jera is ready to empower others through movement, sweat, and positive energy. Her personal mantra that she shares with others is "trust your dopeness", which means to believe in who you are, and to know that what you're seeking is within yourself.
Follow her on Instagram and Twitter @WorkoutBean.
#22: CINDY GOMEZ
Cindy loves fitness with a major side of fun & killer music. She discovered her love for working out a year ago & has become addicted to high intensity circuit training & SoulCycle. Her favorite part is connecting with others who are working towards their goals. She holds a health coaching certification from the Institute of Integrative Nutrition, is a NASM-certified personal trainer & is creating her own circuit training classes in the Hudson Valley of New York.  
Follow her on Instagram and Twitter @Cindy_Fitness.
#23: MEGAN TAYLOR
Megan started her fitness journey because she  was extremely out of shape & unhealthy. She now has found a routine she loves and looks forward to doing everyday.
Follow her on Instagram and Twitter @Bbg_mnt.
#24: CARA MORRELL
Cara radiates positivity and is rich with health and wellness knowledge. For motivation, she thinks about how she will feel if she DOESN'T workout. She tells herself that the hardest part is getting out of bed. Cara promotes a balanced life through exercise, self-acceptance and proper nutrition.
Follow her on Instagram and Twitter @CarasFitCode.
#25: CHRISTINA KRYSZAN
Christina is a fitness up & comer and a Columbus, Ohio native. She is completing her doctor of dental surgery degree and will become a dentist next month. Her Instagram feed is focused on empowering women to embark on their own fitness journey and learn how to stay healthy with their busy lives.
Follow her on Instagram and Twitter @FitGirlXtina.
#26: SHARA SWANSON
Her fitness journey started in May of 2014 and now Shara does a variety of styles of training (strength, plyometrics, cardio) to keep progressing her fitness level. She also attends school at Focus Personal Training Institute in New York City, following her dream to become a highly educated personal trainer. She loves fitness because "you are only competing against yourself to better yourself." She aspires to motivate people to chase their goals by helping them believe that they are capable of achieving their goals.
Follow her on Instagram and Twitter @SS.Fitness.Health.
#27: ARIANNA McCHESNEY-CLARK
Arianna is studying to be a Master Trainer at the Australian College of Sport and Fitness. She is also a sponsored athlete by Division Supply Co. She found her passion for fitness after having her son and exercises to be able to have enough energy to keep up with her boys, for her health and to build physical & mental strength. Arianna believes her purpose is to help women feel confident about themselves physically & mentally.
Follow her on Instagram and Twitter @AriannaLassig.
#28: CHI PHAM
Chi has been active her entire life as a competitive swimmer. After graduating, Chi spent the past couple of years discovering her passion for fitness and health beyond competition in the pool. An aspiring yogi, Ironman triathlete & self-diagnosed peanut butter addict, she hopes to help spread her passion for health, clean eating & fitness to her community!
Follow her on Instagram @Fit_Pham.
#29: MARIAM CHUBINIDZHE
Mariam, a wanna-be yogi, an avid world traveler & food enthusiast hails all the way from the Big Apple. Check out her Instagram account for inspiration of all sorts. Oh, did we also mention she's a full time student, is studying for her LSATs, works and manages to make time for fitness? Talk about #goals.
Follow her on Instagram @NewYorkFittie.
#30: KAITLYNN FERRARO
Kaitlynn is a graduate student who started her fitness journey in 2013. She's used running, lifting and other forms of exercise to help cope with anxiety. Keeping a positive attitude and staying determined has helped her reach and surpass many goals in the past year to better herself. She uses her fitness account as a way to not only help herself but to benefit others, empower women and help them to see that we're all going through similar experiences.
Follow her on Instagram and Twitter @Fitness_Kait.
ARE YOU READY TO GET INTO THE BEST SHAPE OF YOUR LIFE?
Get your very own personalized fitness regimen for FREE, NOW.