Ameris Jimenez (President)
Hey everyone! I'm Ameris and currently a junior at UIUC. I study economics with a major in Economics and a concentration in Communications. One of my passions is music and I love everything from classical music to jazz. My dream place to visit is Monaco <3 I founded the UIUC Hub for Mogul because of its mission to empower women on campus and showcase many of their unique talents. Before Mogul, I was lost and didn't have the confidence to go above my potential and seek ambition but when I accepted this presidency, so many doors have opened for me in terms of opportunities. I am very dedicated to helping young women by turning them into successful leaders in the world. I also love the women that are apart of the hub because they are so genuine and down to earth. I love that I can share the same passion with other women on campus where we can truly be ourselves but also serve as a support network to build up our professionalism.
Nora McMahon (Vice-President) 
Hi, I'm Nora. I'm a recent graduate of the University of Illinois, with a degree in Political Science and Psychology. I'm taking some time off to work before continuing my education with a law degree. All my life I've had dreams of moving to a city, and I want to make those dreams come true by becoming a lawyer in New York or Chicago. Beyond my professional goals, I have many causes I care deeply about. I am very political, and consider myself an informed citizen. I'm a proud voter, and a progressive independent. I'm a feminist, and I support the fight for equality for all people. I'm a vegan for animals and for the environment. I will not stop fighting for universal healthcare, gun control, and personal freedoms. To lighten things up a bit, I'm a mom to a beautiful Netherlands dwarf rabbit. His name is Ted, and he's the cutest bunny in the world. I'm very into movies, and I make it a goal to see every best picture nominee for the academy awards each year. My all time favorite movies are The Departed, Shame, and Requiem for a Dream. I love getting movie recommendations! Lastly, I want to touch on why mogul is important to me. I used to be a very shy person with very little confidence. It took a lot for me to come out of my shell, but in college I met some great people who helped me to be the bold, confident person I am today. I believe that I can help provide that confidence to other women through mogul. I think that sometimes all it takes is one voice to say "you're not alone" to make someone feel more confident, which is why I write about things that really matter to me.
Moumita Sahoo (Social Media Manager)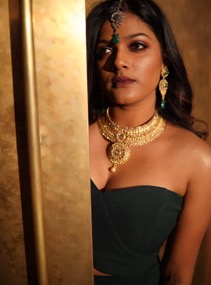 Hello everyone! My name is Moumita Sahoo and I'm a senior at the University of Illinois at Urbana-Champaign studying Finance and I.T. I serve on the Mogul Executive Board as the Social Media Manager. I joined Mogul because I loved the idea of being able to surround myself with other bright women who have different goals and interests, but all work towards building a better world for women. Mogul gives me the opportunity to network, learn more about fashion and culture, and meet new people. It is an exciting platform where you don't feel judged for what you feel and can ask other women for advice on anything from clothes to your job search!
Deimante aka Dia (Event Coordinator)
Hi, so my name is Deimante. You can also call me Dia. Sorry to confuse you, but I guess that's part of what I like to do. Actually, it just makes it easier on my ears when people don't try to pronounce my Lithuanian name. Moving on from my name, I became Mogul event coordinator this semester and it's been great to be engaged in the Mogul community. I always have loved writing and I love that Mogul online platform and UIUC hub go together. It helps me to put my thought my thoughts down, and reach many people outside of my campus. I always love to encourage people to seek their best, and my posts have been a way to do so. Also, because we have UIUC hub, I was able to meet amazing people who I like to spend time with and we lift each other up. One of exec has helped quite a lot with preparation with my interview right after meeting me and I am really grateful for it. Also, I am involved with Phi Beta Lambda which is business professional organization. It's less writing, but I also have been blessed to meet nice people. Funny story, but I found out about Mogul though PBL member Nora. One thing you should know about myself that I am a little bit of nerd, but I hope that determination will lead to real-life success as well. Right now I am studying business management with general concentration and I am a junior. However, I still do have interests outside of school. Every single moment I have free during the semester I use to be a social human-being. So, friends is really important to me. When I am not working or studying, you either will find me attached to my sofa watching Netflix or somewhere in a far-away travelling. However, I do tend to enjoy the travelling part more, and my goal for my after-graduation is to balance travel and work. My love for travel started when I moved to the United States and my eyes opened about all the cultures that I never knew about. To be fair, up until now I have gave myself excuses why I can't travel a lot, to usual ones as lack of time or money. But I have seen quite a lot of the United States and Europe and the list of places visited will grow soon.
Ami Nakrani (Engagement Editor)
Hey, there! My name is Ami--I'm a Senior studying Community Health with a minor in Business at the University of Illinois at Urbana-Champaign. I'm an ambitious, loud, loving, and fun-spirited young woman who is just figuring out life one day at a time. I aspire to work in health care after I graduate, but also have so many other dreams and aspirations that I hope to accomplish in my lifetime. I love to spend time with my family and friends, volunteer, go on runs, eat copious amounts of pizza, and most importantly, I love Mogul and being UIUC's Engagement Editor. I joined Mogul because I wanted to be a part of a platform that helped me engage with women of different backgrounds from all over the world, and to have a support system that empowers us women.
I love bright pretty colors, Audrey Hepburn, and offering my words of wisdom. When I'm not showing my Illini pride, you can see me cheering for the cubbies :)