On Saturday, June 9, 2018, the first ever POPSUGAR Play/Ground kicked off at Pier 94 in NYC with captivating panels from Mindy Kaling, Kate Hudson, Yara Shahidi and more. The two-day festival featured provocative panel conversations, energetic workout classes, brand activations, a large shopping bazaar, and eight rainbow-colored slides leading into an adult size ball pit filled with 208,000 balls where even Mindy and Yara got in on the ball pit action.

The morning kicked off with an energetic workout lead by world famous fitness influencer Kayla Itsines. It was a packed house with festival organizers having to pull additional yoga mats to accommodate everyone who wanted to participate. Later in the day, barre3 founder Sadie Lincoln had VIP guests clamoring to get a coveted spot in her class with a line wrapped around the corner.
Photo Credit: Getty for Popsugar
The main stage featured panel conversations with Kate Hudson who spoke to the crowd on Redefining the Pursuit of Happiness, Mindy Kaling who discussed Why Smart Girls Win, Kayla Itsines, Katie Stevens (The Bold Type), Martha Hunt (Model) who addressed the topic of how to Power Your Happy details, a conversation on The Power of Beauty with beauty mogul Charlotte Tilbury and POPSUGAR Founder Lisa Sugar and finally Passion to Action with Yara Shahidi and Essence's Cori Murray. After a day of inspirational speeches and intense workouts, the day wrapped with a phenomenal performance from musical artist Tinashe. The full line-up can be found here and soundbites from the panel are included below.

Participating talent included: Mindy Kaling, Kate Hudson, Yara Shahidi, Tinashe, Kayla Itsines, Martha Hunt, Rebecca Minkoff, Erin + Sara Foster, Lisa Sugar, The Bold Type's Katie Stevens, Charlotte Tilbury, Michelle Collins, Sasheer Zamata, Elaine Welteroth, Jamie Lee, Amanda Chantal Bacon, Ukonwa Ojo, Stephanie Mark, Sadie Lincoln, Sarah Robb O'Hagan, Carolyn DeWitt, Karen Cahn, Jess Morales Rocketto,  Eden Grinshpan, Samantha Wasser, Melissa Ben-Ishay, Taylor Jenkins Reed, Georgia Clark, Kendare Blake, Sara Shepard, Tomi Adeyemi, Megan Abbot, Camille Perri and DJ Nikki Pennie.
Photo Credit: Getty for Popsugar
Mindy Kaling spoke with Elaine Welteroth on Why Smart Girls Win. When asked about crafting female characters, she responded "I wanted to write roles for FUNNY characters who weren't necessarily a size zero white woman. No woman wants to just be the arm candy for a guy who has a much funnier better part...I love Yara (Shahidi) in Blackish, she is so beautiful and stylish yet also so authentic."

Later when talking about women downplaying their intelligence, she said "I do feel like that is an epidemic in a way. Being smart was the only thing I really had going for me. I wasn't cute or attractive to boys, being smart was my only choice to make an impression."

She went on to talk about how at 19 she was incredibly organized and that was a defining quality that helped shape her ambition. "I would go into any situation and make a checklist 'married by 24, have all my babies by 30… but now I am a 38 yr old single mom. And recently, I realized I just had to let all that go."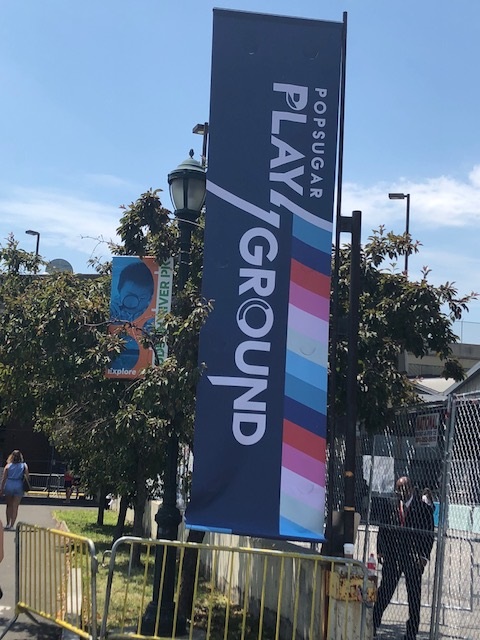 Kate Hudson did a panel with longtime best friends and Bumble co-founders Erin and Sara Foster on Redefining the Pursuit of Happiness. Early on she addressed the recent wave of loss that has hit Hollywood, saying "something that we have seen especially in the past week or week and a half, we have seen that unhappiness and feelings of hopelessness don't discriminate. It is a subjective experience and it exists for people differently."

On a lighter note, when asked about women being competitive with each other, she said "we are not naturally competitive. We are programmed to be competitive with other women." Which was a great segue into advice for her unborn daughter, saying "I want the same thing my mom wanted for her kids, it's a genderless want, just for your kids to be happy."
During the panel, Kate shared that her baby girl was "MASSIVELY kicking her" all throughout. At one point she quipped that she loves Chanel, but "POPSUGAR Beauty gave me some of their new line and that lip gloss hasn't left my purse since."

One of the dangers of being on a panel with your besties...they know all your darkest secrets and aren't afraid to put you on blast. They grilled her on everything from which one of her co-stars she slept with, "my dad told me never sleep with your co-stars, so I only had sex with one," and later asking what was the worst thing she ever did while wasted to which she coyly replied, "Ibiza! I face timed every man from my past at 3 am. One guy, I facetimed 15 times, honestly, it was liberating because I had never done anything like that. I was the person that you couldn't get drunk, as soon as I felt anything, tipsy, anything I would go home"
Yara Shahidi spoke with Essence's Cori Murray on a panel titled Passion to Action. She spoke beautifully about how important it is for young people to get involved in their communities, telling the audience that they should "wonder what you can learn from others who you admire. In the age of social media, you should be reaching out to people who you look up to but might not know."

She went on to say that people need to "make sure you take on larger issues with every person in mind. Don't force people to split their identity in order to support something good."

She also proudly shared how she voted for the first time a week ago during the California midterms. She even created a sample ballot with notes so that she would be prepared. She spent hours doing research and going through her notes before going to the polls.
The attendees were engaged and very excited for the first day and there will be even more excited for the second and final day.


I am a professional writer, web content manager, web producer and social media strategist who has worked for quite a few high profile brands as well as a few startup companies in my career.