Sleek cabinetry, neutral colors, and natural stone and metallic accents are all markers of a contemporary kitchen. Contemporary is a popular kitchen style because it blends the best aspects of other décor styles. You can have elements of mid-century modern with minimalist cabinets and a pop of color on a backsplash or floor tiles. I list a few of the ways you can turn any kitchen into a cutting-edge contemporary kitchen everyone will love.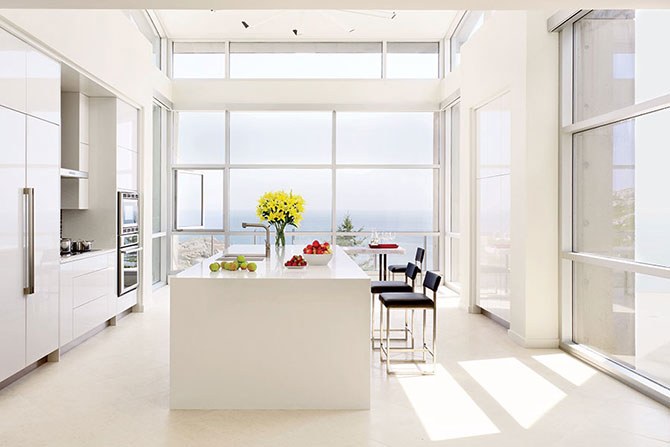 Go with crisp white cabinets and countertops
White makes everything look sleek and clean. It also opens up your kitchen and makes it look larger.
Stainless steel appliances are a must
Stainless steel appliances can instantly make your kitchen go from outdated to cutting-edge. Add stainless-steel decorative accents to tie everything together.
Small changes make all of the difference
Cabinet hardware, kitchen ceiling fans, and back splashes are simple ways to elevate your kitchen to a contemporary style. Not only are these small changes an easy way to update your kitchen to a contemporary style, but it's also one the most cost effective. Kitchen hardware can completely change the look of your cabinets while some of the best kitchen ceiling fans are designed specifically for contemporary kitchens and can add a touch of style to an ordinarily boring light fixture. Changing the small things can make all of the difference.
Add natural elements 
Adding earth-found materials such as stone countertops or wood grain cabinets will give your kitchen a classy yet natural look. A popular décor trend in this vein is the use of marble on surfaces such as countertops or islands and backsplashes. Walnut is also a popular option for seating and tables.
Add a touch of art
Don't be afraid to add some expression to your kitchen walls. Framed art is a great way to add character to a kitchen and tie themes together. Art is also an easy way to lean towards your favorite kitchen styles. Want to add a touch of farmhouse chic to your contemporary kitchen? Hang some farmhouse inspired art for an instant change in vibe.
Adventure seeker. Avid reader. Movie lover. Believes in changing the world for the better.