It was 2001, and as I was reaching mid-life, I was starting to pay the price for my impish youth.
Aches and pains started affecting my daily routines, but nothing changed my life more than the not being able to sleep well. It started slow, with prolonging the time it takes for my racing brain to calm down and progressed over the course of 2001.
Come 2002, I getting only a few hours of sleep every few days. I've battled the problem for 15 years.
This story goes out to my fellow insomniacs left and right
A year ago I decided to stop taking meds that were making me useless through the day and killing my libido, which became a serious issue in my marriage.
I took a step back, regrouped and made a plan to beat this thing that was ruining my life.
Below is my action plan, I'll define it as clearly as I can, hoping someone out there finds it useful.
My 5 Point Action Plan
Point ZERO: Research
You have to start somewhere, and I started with reading. I read and listened to everything there was worthy, both about sleep in general and specific to insomnia.
I started from the basics, reading everything there was on Insomnia on websites like WebMD and moved on from there.
Day 1 I understood just how little I understand sleep.
I even got one of those Audible accounts to save time and listened to audio books about sleep.
The irony is that often, it's listening to these books that got me to sleep :)
But the one book that helped me the most was Sleep Smarter by Shawn Stevenson.
Point ZERO-a: Crafting the rules
That wasn't the first time I tried to solve my sleeping problem, but each and every time before that I would just break down, make one exception to the rules and it would all come tumbling down.
This time was going to be different
Just as pretty much every book I read on the subject advised, I put it all down on paper... every detail, every rule to follow, every situation to avoid, every habit to nourish.
It was all in there, in what I refered to as "My Sleeping Book".
After I was done and I had my PLAN, I realized the simple truth that there's no magic bullet, that the solution to my problem will have to come through
For some reason, writing things down really worked for me. It was like I was more aware of the mistakes I'm making and far less likely to break my own rules.
Point ONE: Imposing a caffeine curfew
I love coffee, the smell, the taste, the ritual...love it to death.
I never made the connection between my sleeping problems and my coffee habits because I thought it was enough not to drink it after 3 or 4 PM.
How wrong I was
There's this study I read in the Journal of Clinical medicine that researched the effects of caffeine on sleep, specifically the differences in effects when it's taken 3 and 6 hours before sleep.
My in-depth research of how caffeine acts in our bodies.
Long story short - caffeine's half-life is 5 to 7 hours which means that two cups of coffee at 3 PM equal one cup at 8, 9 or 10 PM.
The Rule: There was no way I was completely cutting coffee out of my life, so I just stuck with the one morning cup. I made an extra big deal about my morning coffee, but that was it, no quick runs to Starbucks.
Point TWO: I lost weight and didn't find it yet
I started exercising daily, even it was a half an hour walk on the treadmill. As a "side-effect" I started losing weight, and some of my sleep problems disappeared with it.
First of all, my acid reflux that would wake me up and cause the night-sweats.
With the first 10 pound gone, I started getting decent hours of sleep.
Point THREE: My diet - back to the drawing board
It was clear from the first day that I'm not going to be "adjusting" my diet but planning it from scratch.
Today, my eating habits revolve around two goals:
minimize the inflammation in my body
fix my digestion problems
keeping the weight I lost off
get enough sleep-promoting  nutrients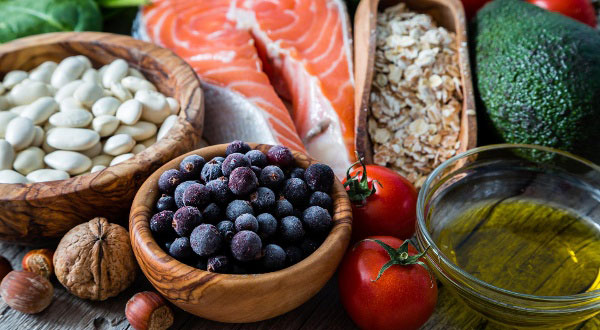 When you start researching and reading, your mind boggles - you can't eat A because of B, you can't eat C because of D.
It got more complicated before it got simple
I probably spent months only planning my new diet, it felt like I was never going to get it right with all these different goals I've set and the criteria my foods needs to meet regarding the nutrients.
The list become massive before I saw starting to see patterns - a number of foods that were right for everything I wanted to do. I started what I now call cross-section foods that are good for all three of my goals.
Instead of getting into the talk about chemicals just to sound like an expert I did become , I'll simply list the staple foods of my diet today.
Meat: chicken, turkey, salmon, halibut and sardines
Nuts and seeds: sesame, sunflower, flax, almonds, pumpkin
Eggs
Fruits: bananas, avocado, apples and citrus fruits (especially kiwi)
Oils: only cold-pressed like krill, olive or flax
Leafy greens - lots of them
All vegetables except tomato and alfa-alfa sprouts
Point FOUR: Changed my mattress
I already had a mattress that we paid and arm and a leg for so it must be good, right?
No.
I never attributed my back pain problems to my mattress, I had the best one out there...I always thought.
But it all changed after a visit to a chiropractor who told me that the way my spine is curved is probably due to my mattress being too soft.
But it felt right to me while I was awake
This one was a doozy, how do I choose a new mattress that would fit my needs best in terms of firmness.
It was again my chiropractor who recommended I get one of those adjustable luxury air mattresses that allows you to change the firmness as you please. It's now my permanent bed.
Is sleeping on an air mattress long-term and every day smart?
We're not talking about the plastic lilo air mattresses here - I got one of those high-end models that has the air chambers tucked inside a soft foam encasement.
That changed my life - I replaced my bed of 5+ years with an adjustable air mattress and experimented with the firmness settings until I got it just right.
The change was too big to believe, my energy sky-rocketed and ,for the first time in years, nothing hurt.
The best part about my new mattress is that I could change the setting on my half of the bed and leave it my hubby to choose his own.

Point FIVE: I painted my bedroom blue
Before starting this journey I was always convinced that earthly tones were the best color choices for your bedroom.
Then, I read about a research conducted in a UK hotel chain that returned surprising results - the people who go the most sleep on average were those in rooms painted in pastel hues of blue.
So, I chose a color scheme I liked, painted my walls eggshell blue and changed my bedding to match it.
Aftermath - it wasn't easy, fast or cheap
As you are reading these lines you might be thinking that it's all to complicated, expensive and takes time.
If those are your thoughts, you never truly suffered from insomnia, my friend.
From where I'm standing, it was all well worth it and then some.
There's no price you can put to waking up pain-free and ready for the challenges of the day.
You Might Also Like