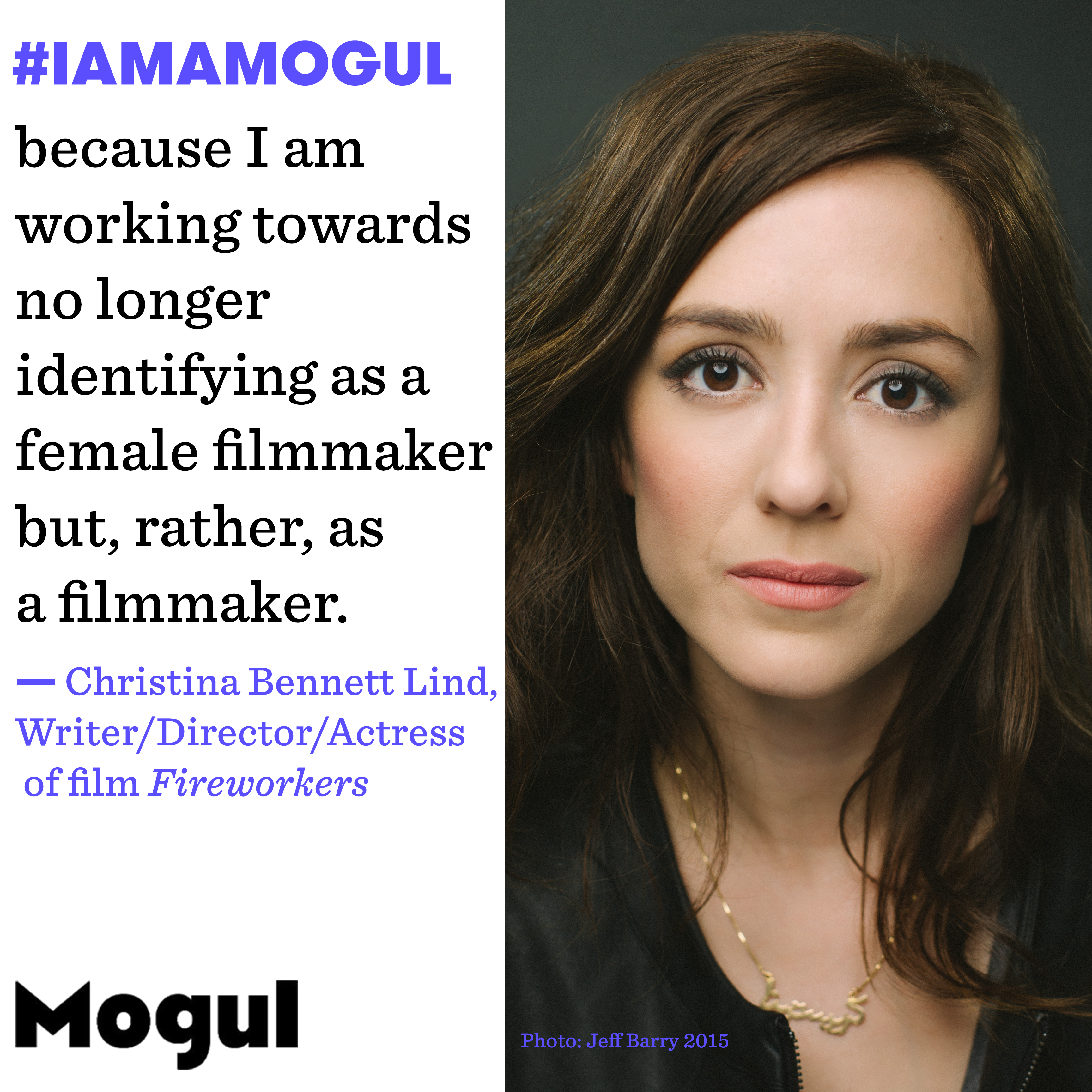 It was 7:15am on a foggy Tuesday morning in September. I was working through my director's notebook, scanning my heavy shoot schedule for the day over a strong cup of black coffee. I was nestled in what used to be my Grandparents' formal parlor, which by then had metamorphosed into a hospice bedroom for my Nana, a temporary bedroom for my ailing Poppa, and was now my recently retired parents' parlor. My Nana once labeled this green floral loveseat as "the cuddle couch." Long nights giggling through English word games on the ivory-carpeted floor with my Poppa seemed only distant memories, though they had long passed.
On this day, this room was not only my office but had also been a location (mere days earlier) for Fireworkers, a $35,000.00, PG­13 rated debut feature film that I had written and for which I was acting and directing. On this day, it was a nesting doll of each mutation: the prettiest room in my parents' home in which a lot of shit went down.
I was feeling good. We had had a fantastic evening the night before shooting an ambitious long shot and I was feeling like I was starting to command respect and attention. Sure; I was also managing overwhelming sensations of ineptitude, swelling from obvious first-­time jitters to quiet and cutting doubt, and often entertaining a deep­-seeded fear that I was not male enough to do this. But who wasn't?!* I was, however, also starting to shed my pleasing nature (so often associated with women and very much associated with me) in favor of a fiercer, warrior­-like skin of kick­ass scales. I felt like a director.
The first crackle of egg sizzled in the pan as my fiancee made our cast, crew and parents French toast for our 7:30 call time when there was a knock at the door. The next thing I knew, there was a male officer barreling at me through the kitchen, the same kitchen in which my Nana use to lovingly make Salmon mousse and off of which a full bathroom had been built only a few years earlier to accommodate my Poppa's broken hip. Within 30 seconds, I was out on the driveway being read my rights and everyone was woken up, even my parents. Some, at gunpoint.
But this is not how this story begins.
Three years earlier, I had finally decided that the script I had been writing for eight years was ready. It was a complex web of stories connected by a single thread to a middle-­aged female protagonist who was questioning her gender. Needless to say, it was not sending me flying into funding meetings. After several grant applications (many for female­-driven grants), consultation meetings, a many-­drafted one­-sheeter, and a film school application that ultimately fell flat, I submitted that I was not yet seasoned enough to earn this kind of financial or professional support. Perhaps it wasn't ready. Perhaps I wasn't.**
Nevertheless, I decided to come up with an experiment; I would create a project through which to exhibit my directing vision and gain on­set experience. I pulled an old story from the archives, wrote a script in a month, approached four producer/actors to pay­-to-­play (one of which was my sister) and, as my parents had just moved into my Grandparents' home in a small village in Nova Scotia (a village of approximately 285 people), I had my location. It was private and we could have the freedom to work small and fast.
About two months before the first day of production, we were tipped off that a performer friend had been stopped at the border and sent back to the United States because of work permitting issues. My mother is Canadian, and so our experience with the border was never anything but pleasant. It had (perhaps naively) never occurred to me that we might encounter trouble. We were all friends and some relatives. We weren't bringing in equipment that we didn't own. We were all working for nothing or very little and my parent's were our craft services. We had, arguably, shot more on our smart phones collectively than we intended to shoot that week. Nevertheless, I decided to hedge our bets and we looked into co­producing with Canadian production companies, all of whom would only consider it if we were working with an actual budget (upwards of $50K). We called the permit office, which was on strike at the time and simply not answering the phone. In the end, I chose to simply encourage our cast and crew to claim they were traveling for pleasure. Which I then hoped we would be.
The police station had to be opened when we arrived. It struck me, through my terror in the back seat of the Mounty's car, that I had never noticed this tiny police station planted in the center of town. It looked like a movie set. It had to be. This couldn't actually be where they were taking me to be handcuffed. Once inside the green tinted holding cell, I was left alone to sob. I was angry at myself from the very start for crying, though that did little to calm my emotions. I had never been arrested before, nor had I even been pulled over for speeding. I was worried that my Grandparents' friends would be disappointed. I was worried that my parents would be disappointed. I was worried that I would not be able to finish my film. That was the place where the tears came from.***
The interrogator, I was sure, was an actor. If I were to sketch a police investigator, he would exactly fit my description. He was tall and handsome, laden with a head of thick, dark hair and presenting a phony, laid­back attitude. He was working me. After several hours spent connecting me to a lawyer, he talked and talked, sometimes about the serious charges I was facing and other times, comparing what they presumed I was doing to sex trafficking and drug smuggling. It was harsh but performative. Still, I started to imagine what three years in jail might look like. I remember thinking, well, at least it would be in Canada. Up until that morning, I knew only kindness from the country.
I learned later that my parents had been frisked and everyone was being held and interrogated, their personal items confiscated and catalogued, while my mother made the officers tea out of my Nana's china. They had a search warrant based on the address found in two crew members' emails who were stopped at the border (who were then searched and sent home, the exact scenario we had attempted to avoid). My parents, I learned later, were furious, but not with me. Their very citizenship was questioned and their home trampled through. My fiancee was being guilted with condescensions, such as, "If I were you, I wouldn't let my girl answer all these questions alone" and, "Just come clean and we'll leave her be."
It was the worst day of my life.
After nine hours of detainment, interrogation, and facing the possibility of a fine larger than my production budget or three years in jail for trying to make a film in a place where my family spent every summer for the first 25 years of my life, a place wherein each and every local had opened their doors wide for us, a comedy of errors made it clear that we were working within a gray area of the law and all charges were dropped.
Then the most curious thing happened.
Just before I was released, after a stern talking­-to from the two male officers in charge about why not to lie to customs, (a conversation which was taken deeply to heart but which sounded to me like I had, to them, transformed from a dangerous sobbing suspect to a subdued female infant,) I was informed that the sole female officer had asked that we be left alone for a minute. The men left and I was alone again, curious what new slice of insight gender might now provide me. By this time, I was no longer crying. The show was over. It had all been an elaborate misunderstanding.
A few moments passed before she knocked. A slight woman with strong features, she sat down across from me and smiled. She asked if I was okay and I immediately started to cry again. I was not really okay. No one had actually asked. She explained that the moment they walked into our home, they knew this was a mistake. She said she looked into the faces of our baby pictures on the wall and wanted to leave right from the start. She also asked about my Grandparents. She said that during the previous week of preparation for the raid, she had noted the address of this house. She had asked not to attend the raid because she knew the street well. Her Grandfather lived on it. He was a neighbor. She explained that she had known my Grandparents before they passed, that everyone did, and that I likely knew her Grandfather, which I did. We were even buying eggs from him every morning to cook for the cast and crew's breakfast: the same eggs that had sizzled that very morning in the French toast batter. She mentioned that, perhaps, we had been kids together on that street. I nodded. Perhaps we had been. And then she left and I was released to my fiancee, who was waiting outside. The police station was closed behind me and we drove home.
As it turned out, my male interrogator was a failed actor. I was told that he had auditioned to be a part of a burgeoning reality show documenting the trials of this very department. He, to my surprise, hadn't made the cut. The ground team asked to be invited to our wedding the following year (which was held in the village) and the officers even chuckled, as they finally straggled out of our home, that, perhaps, we might make our next film about this.
And then it was over.
Fireworkers is finished and is soon to play the festival circuit, and my screenplay about gender is now being adapted for the small screen. I haven't boasted about my arrest and I hesitate to talk about it even now because I did make mistakes. The officers were not wrong or unjustified in their inquiry, nor were they unjust in their actions. I am not a vigilante, nor am I critical of the legal intricacies of the Canadian film industry and the lengths it is willing to go in order to protect itself. I am, however, a female filmmaker who, while trying to follow the rules, realized I would never make a film that way. While I found myself firmly planted in a legal gray area (about which these officers admitted to know very little), I accepted that morning that, in order to create what I need to create, I might have to rebel. And a lot of honest artists, under my direction, might suffer for it.
On that Tuesday in September, I was not mistreated and I am sorry for the undue efforts spent to make an example of me. However, the reality of being arrested for making a tiny film in my childhood home birthed questions for me; what do we mean when we talk about diversity in film? How are truly independent filmmakers able to do it? Is the current spotlight on the embarrassing lack of diversity in the industry linked to the impossible circumstances through which we are being forced to work, those of us with few connections and few resources: those of us who have, traditionally, not been able to look forward to our big break directing Jurassic Park 7 in order to pay off the credit card debt we acquired to make our first feature? Is the great question of diversity in the film industry not even about race or gender or commitment, but class?
And, as is so rarely discussed, if it is about gender, was I released because I am a woman?
Was I placed into this impossible position of trying to make work as a female filmmaker and, consequently, released from it because women are not a threat?
This project was the fruit of frustration and obstacles. It was an experiment in simplicity that proved impossibly complicated. While my expectations as a female filmmaker those three years before may have been optimistic, I now question why my minor transgressions and crimes of ignorance were so threatening as to invite the wrath of bullet proof vests? Was I so dangerous to warrant such a clownish show of force and machismo? Is making independent film as a woman impossible?
And then I remembered; the only compassion I was shown that day came from the sole female in the scenario. She shrugged off her professional cloak to put on another one: that of healer, of honest truth­sayer, of friend. She was clear, yes, that I had misstepped, but she was also kind. She was thoughtful. She acknowledged the wealth of history this home and its contents held for me, and understood I would never have intentionally exploited that. She had been entirely absent from the interrogation and was, now, making a special effort to connect with me. Why had she been absent? Why was she kept out of the lime­ green room for nine hours? Had she, in fact, kept herself from intervening in order to establish herself as genderless? What if she had, simply, been there? What if she had, simply, walked in at 7:17am and said, "This is wrong." What if I had, first, been looked at as an equal, rather than as a subordinate?
Would I have been seen as a professional to be reprimanded instead of a blubbering child to be scolded had I been left alone for nine hours in a room with a woman, instead of with a man?
I don't know the answers. I hoped that, by now, I would. As I now watch the movement towards gender diversity in the film industry blossom into a powerful call to action, I feel compelled to tell this story: not because I have been unfairly treated as a woman, but because I was shown kindness by one. Those years before, as I hawked my gender and­ sex screenplay to every female-­centric outlet I could find, I was not met with kindness or an outpouring of support. I was once told, and never verified, that women in power in my industry were not interested in giving a woman a hand up: it had been so excruciating to climb to the top; there was simply no room for short­cutting. I once read, and never verified, that women do not cherish mentors like men do because it can appear an awful lot like envy, a cardinal female sin. But it seems things are changing. Maybe the more we ask the questions, the more we admit to not knowing the answers, the more we ask one another for help finding them, the more we do: maybe the more we ask one another if we're okay, the more we will be.
Maybe if we let the woman in the room, we will be more deeply understood.
I am grateful to the people who made this film with me: from the initial script readers who urged me on, to my parents and in-­laws who got caught up in it, to the brave cast and crew who stood with me, to the female officer who stopped to make sure I was okay.
I am proud to call myself a female filmmaker, I am proud of Fireworkers, and I will keep trying to answer these questions because what happened to me will not stop me from trying to make films, no matter which class or gender category I happen to be in.
And if I get arrested with a camera in my hand again, I will look around my 5x5 interrogation cell, not apologize or cry so much, and politely ask my female interrogator, "What's the going day rate for a place like this I'll totally throw in points on the back end if that bare bulb comes free I'll make you an EP that vintage Edison is PURE GOLD."
With pride,
Christina Bennett Lind
Fireworkers (2016)
Writer. Director. Actor. Editor. Producer
*(I wouldn't normally admit to that part but it would be so heartily sprinkled through this experience that not be mention it would be dishonest).
**(I stop here, as I write this, to wonder whether that is particular to my gender, my assuming that it must have been my inexperience or gender that was my greatest obstacle, not the accessibility of the resources I was attempting to tap. I wonder if that is a thought that would have entered the mind of, for example, my fiancee, who is also a writer trying to create films. I wonder if gender would have even made the excuse list. I doubt it would have). 
***(I stop here to wonder, again, whether I would have been crying had I been a man. Was that in my nature as a person, or as a woman? Was I being left alone because they didn't want to see a woman crying? Were I a man, would they have left me alone at all, or rather sat with me and stared eye to eye as we pounded our proverbial chests? Would they have entertained whether I, indeed, was not a villain after all, instead of assuming my guilt: a strong man who was wronged, rather than a weeping woman who was caught?)