Most people would agree that having a wardrobe is as important as having a bed or a couch. According to research, however, more than 50% of our bedrooms don't actually come with one built in. It's not entirely surprising that a large percentage of first home buyers are living without basic essentials when they first buy a home – they are more focused on actually getting into the market than they are on whether the house has a good built in wardrobes design or not.
If you're adding a built in wardrobe to your home or giving your current one a bit of a facelift, there are three key areas that you should focus on:
Space
Whilst we'd all like a walk in wardrobe a la Carrie Bradshaw in Sex and the City, the reality is that most of us don't have the room for something this luxurious. Even if a walk in is out of the question, knowing how much space you have to work with is integral to the design process. There is nothing more annoying than designing your dream robe only to discover that it won't fit in the space you have available.
Before you start designing, you will need to decide where in the room the robe will sit and measure the space up. Don't forget to allow clearance space for doors to open.
Types
Once you know how big your wardrobe can realistically be, it's time to start thinking about what type you would like for your bedroom. The most common type is two door, which usually have a simplistic design consisting of a hanging rail, a shelf above and perhaps a drawer at the bottom for shoes. Three and four door robes will often have the same features but with added shelving space on the side.
Sliding door wardrobes, on the other hand, are the smart choice for homeowners without a lot of space for doors. The interior will likely consist of a hanging rail, shelf space and drawers.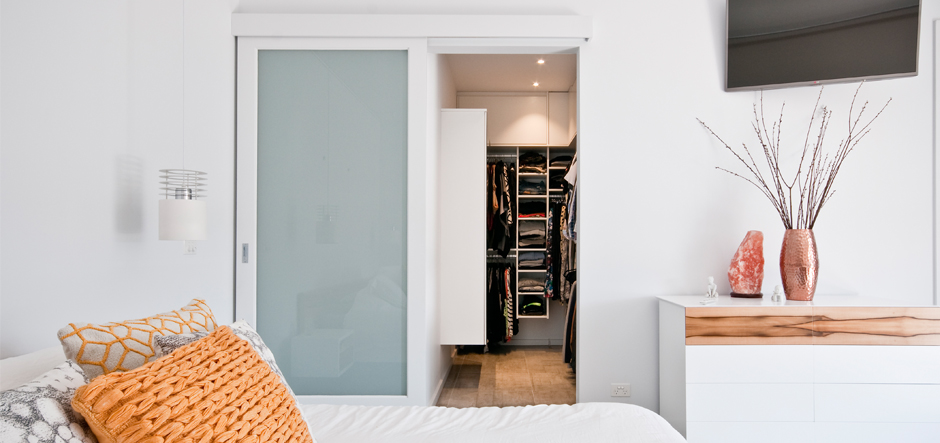 Budget
Whilst the wardrobe is probably the second most important piece of furniture in your bedroom (the bed, of course, claims the top spot), purchasing one doesn't necessarily need to cost you an arm and a leg. Now it's time to sit down and think about your budget. Do your research and look for an option that is durable, stylish and has enough storage to meet your specific requirements.
When shopping around, consider whether you want a flat pack design or whether you want to spend a little bit more and have the robe custom designed to suit your needs perfectly.
By keeping each of these areas in mind, you should be able to come up with a stylish built in wardrobe design that ticks all your boxes in terms of storage as well as fitting into your available space. Once you've worked out how much space you have to work with, what type of wardrobe you like and how much you can realistically afford to spend, you will be able to look into the interior storage solutions (such as hanging rails, shelving, drawers, hooks and so on).
Spaceworks Design provides all type of home office design including: the media units, wardrobes and cabinets in Sydney.