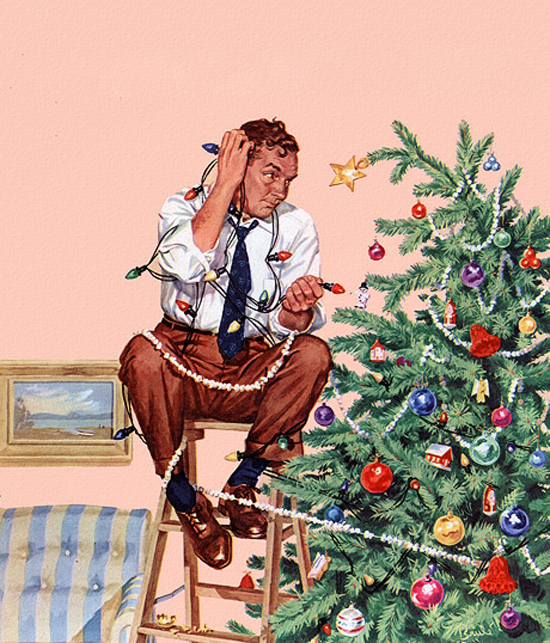 Keeping your Christmas tree's needles from falling may sound like a first world problem - and it is.
To solve it, though, we'd have to put together chemistry, home remedies, erectile dysfunction pills, the Department of Forestry and even a Mythbusters episode. In fact, this matter is so complex that actual scientists got involved. Yay, Canada!
They addressed the reason for the dropping needles - a plant hormone called ethylene. This substance is also what ripens fruit and the one to thank for the schnapps you'll be enjoying on your Christmas dinner. Within ten days of cutting the Christmas tree, the hormone is produced and that, along with lack of moisture and cold air, is why your Christmas tree is losing its needles.
But of course, you wouldn't let something like the fleeting nature of life come in your way. Those scientists sure won't come and help you clean up the mess under the tree, will they? So for the most stubborn of you, here are all the tips we've collected that could help you with the falling needles!
Christmas Hacks: How to keep Christmas tree needles from falling off
Before purchasing:
Look at the base of the tree before purchasing. You can tell by its colour whether the tree has been ripped out of its roots a while ago or if it's fresh. The paler it is, the longer your new Christmas tree will keep its needles. If you're ordering a Christmas tree online, remember to make sure of these details before purchasing.
Choose a Christmas tree with a good reputation. Some strains are grown for their ability to retain needles for longer periods of time: Nordmann fir, Douglas fir (it's citrus-scented too!), Fraser fir. Most Christmas tree services rely on the Nordmann fir for its thicker, longer-lasting needles.
When you get home, do what you would do with any new house guest - offer a refreshment. Put it in a 1-gallon water bucket somewhere in your cool yard. It's an important step in keeping your Christmas tree hydrated (read below). After leaving it for an hour, you can give it a good shake before bringing it inside. Remember to put it as far away from radiators and heat sources as possible!
Once in your home, your tree almost enters a new chapter of its life cycle. In fact, it's the last one! Your tree will be facing challenges like lack of moisture, high temperatures and eventually, its inevitable death. It's a natural process and its symptom, unfortunately for you, is the dropping of the tree's needles. You may think you could outsmart the laws of nature and keep those needles from falling all over your floor. Here are some tricks that people have been trying for years and that took only a day for the Mythbusters to rip apart! 
Viagra
This Christmas hack is similar to the legend that crushing aspirin in your flower's water keeps them fresh longer. Truth of the matter is, the best thing you could say about it is this – it kind of works. But only kind of - it could keep the needles intact for the most part and the effect could last up to 21 days. That number's not so bad,unless you take into account that a single Viagra pill costs no less than 16£. On top of that, the Viagra did, just like with people, have a side effect - it turned the tree's colour dull and sickly. 
Myths: Fertilizer goes right in the rubbish, as proven by the Mythbusters, along with lemon-lime soda, Polyurethane and pain relievers.
Bleach
Using bleach to prolong the life of your plants is nothing new either. It works with flowers, but does it stop the needles of a Christmas tree from dropping? Since the Mythbusters are just about the most reliable source we have, here's what they found: bleach reduces needle loss quite a bit, but just like the Viagra it changes the colour of the tree and makes it unpleasant to look at. Which, after all, is the whole point of a Christmas tree!
Note: Both the Viagra and the bleach are applied through water absorption.

Hair spray
According to the Mythbusters, hair spray was the most effective way to stop needles from dropping. I shiver while writing those words, though, because I know you should never give anyone on the Internet tips on how to create a fire hazard. Hair spray would make the Christmas tree even more flammable than it already is. Dry wood, Christmas lights, candles, fire places and hair spray should never be combined!
Clean water
People often tend to make things more complicated than they need to be. A Christmas tree expert from the NC State University Forestry Department (yes, there is such a thing as a Christmas tree expert) claims that the only thing you really need to stop the needles from dropping as much is water regularly. You need to fill the tree's stand regularly with at least a gallon of clean tap water.
Interestingly enough, this is one tip that the Mythbusters didn't put to the test!
However, in order to make sure the tree would absorb the water fully, you need to pay attention to its stump.
How to cut your Christmas tree properly:
1. Remove half an inch form the tree's trunk before placing it on the stand.
2. No whittling.
3. No angled cuts, unless you're working with a flat that is completely flat.
4. No peeling of the bark!
Christmas tree life cycle
The holiday is the last of the Christmas tree's life and the best you can do is arrange for a good funeral. Proper Christmas tree disposal is vital for the balance of its ecosystem and is best done through Christmas tree collection. 
What do the scientists say?
Remember those Canadian scientists I mentioned in the beginning? Well, they've cracked the code! They found substances that would interfere with the ethylene production in the plants and prolong its life. 
AVG
Christmas trees that were treated with AVG kept their needles for 87 days! That means you could have your tree around the house for nearly 3 months – and you woulnd't even have to clean up after it.
1-MCP
They also tried out a chemical called 1-MCP, which managed to do the trick for 73 days. Unfortunately it has to be used in the form of gas, so it would hardly be applicable at home. However, it could in the future be used as a better way to prepare the Christmas tree for transportation.
The results from their study were announced back in 2010, yet we still haven't seen any of these products on the market. 
Christabel, 29, Hobbies: Ranting.