It will not be wrong to say that in the current lifestyle a lot of couples are losing their love for each other. With so much of work pressure, deadlines and targets; couples are not able to devote the required time to their relationship. And as a result, they are splitting apart.
This not only holds relevance for older couples who are into 5 or 10 years of married life, but rather many couples are also facing issues within the starting years of their life together as a couple. But no worries, when we are here for you and your beloved one. We have compiled a list of five exotic, romantic and funfilled locations in India, which will bring back the lost love in both of your's life.
Munnar: This beautiful and quaint hill station is situated in God's own country i.e. Kerala. The lush green hills are the best choice for a getaway for newly married couples or young couples celebrating their first wedding anniversary. Explore the gushing waterfalls, exotic tea-gardens and shimmering lakes in this serene hill station. A popular tourist destination, here you will find a lot of hotels fulfilling demands ranging from standard to luxurious.
Leh & Ladakh: If your wedding anniversary falls during summer i.e. from April to June, then we highly recommend a trekking or bike trip to Leh and Ladakh. It is a must visit place for all the couples who are adventure lovers. Places like Nubra Valley, Thiksay Monastery, Shanti Stupa, Leh Palace etc attract thousands of tourist from all over the world. But the best part of Leh is the Pangong Lake which is about 5 hours drive from the main city. Trust us, you and your soulmate will fall in love with the calming beauty of this place.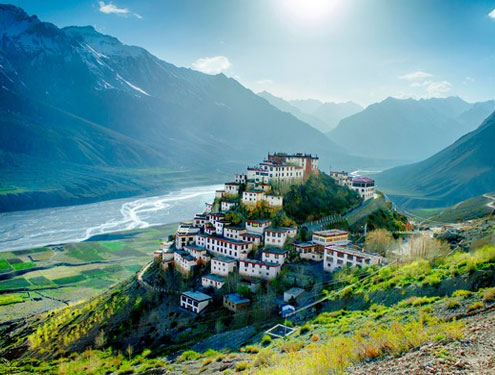 Lakshadweep Islands: If sea, sand, and sun are the things that you and the wifey love, then a trip to the gorgeous Lakshadweep Islands is a must. The warm waters, clean beaches, and gorgeous coral reefs enchant the visitors with their breathtaking beauty. Not only this, you can pump up some adrenaline and become kids again by enjoying water activities like snorkeling, scuba diving, kayaking, water-skiing etc. Owing to its popularity, you can easily find luxurious resorts in the area and make the stay more comfortable.
Darjeeling: It is said to be a nature lovers paradise and also a scenic escape for love-birds around the world. Around 700 kilometers away from Kolkata, you should visit here to get some relief from the hot and humid Indian summers. And if you and the spouse are a tea-lover, then Darjeeling is a paradise where you can enjoy a freshly brewed cup of tea surrounded by lush tea-gardens. And do not forget to grab wedding wishes greeting card for wifey/hubby as a cute little surprise.
Goa: This list would be incomplete without including the most popular tourist destination in India for all the party lovers. Home to mesmerizing beaches, scenic roads, and happening nightlife, Goa is a must visit place for every young couple. And not only this, you can explore various historical places like churches and forts. The best time to visit this southern state is from October to February when the climate is neither too hot nor too humid.
We hope, after going through the above blog you have decided the location you want to explore with the soulmate. But from where you will make the bookings? If you are thinking of managing all the aspects like flight, hotel, sight-seeing on own, then trust us, you will end paying a lot of amount over the decided budget. Hence it is always recommended to find a trusted tour-operator and purchase a tour package which is convenient and even cheaper.
And you can find such professional tour-operating agencies online, from the comfort of your home via Shaadidukaan. It is India's leading online wedding market where you can find a vendor for every service related to wedding planning.
I am digital marketing analyst at Shaadidukaan , A leading Wedding vendors Marketplace, Jaipur. I have keen interest on writing about Inbound Marketing, Social Media and Identity management. You can find my writings on https://www.shaadidukaan.com/blog/. Apart from work, I enjoy singing, travelling [...]