A new TV Series Based On Sunshine Phenomenon is in Active Development by The Weinstein Company. This will be exciting for author Paige McKenzie and her current fans and the television show is another sure fire way to for the series to create new fans.  
YA fiction author Paige McKenzie was never really considering a career as a writer, although she was in an advanced writing class in high school. She knew she wanted to do something with her life, but like many young people she did not know what it was yet. With determination and a strong work ethic, McKenzie became a YouTube star and NYT Bestselling author behind the enormously successful Sunshine Girl series.
The final installment: The Sacrifice of Sunshine Girl is due in stores April 4, 2017 and hot on its heels is a television series coming from The Weinstein Company.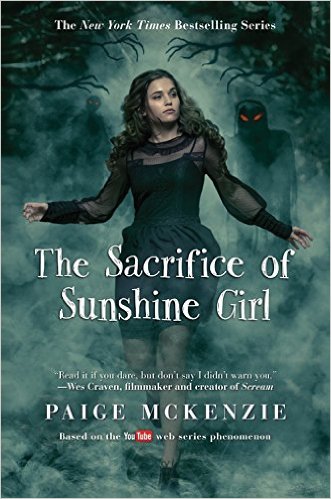 The Sacrifice of Sunshine Girl picks up the suspenseful story from Books 1 and 2 in the trilogy: the original The Haunting of Sunshine Girl, which spent four weeks among the top ten Young Adult paperback bestsellers on The New York Times, and its sequel, The Awakening of Sunshine Girl. The first two books have sold more than 200,000 copies.
The Sunshine Girl series was created in 2010 by then sixteen-year-old high school junior, Paige McKenzie, who began playing Sunshine in a series of paranormal-themed videos on her YouTube channel of the same name. The bestselling author and YouTube star now boasts more than 250 million views on the channel, averages 7.5 million unique views per month, and maintains more than 500,000 active subscribers.
In The Sacrifice of Sunshine Girl, Sunshine Griffith returns for the gripping finale with full control of her powers as a luiseach, an ancient race who have lived among humans for centuries, protecting them from dark spirits. Having barely survived an abyss full of demons in Book 2, Sunshine must now figure out who- or what- has been organizing the forces of darkness against her. Thanks to her brainiac boyfriend, Nolan, they not only unearth that Sunshine's death would trigger a calamitous event, but that all civilization depends on her survival. So when an unexpected event unleashes a fierce war between the luiseach and the demon army, Sunshine will learn a shocking truth about herself. Can she bring herself to make the ultimate sacrifice to save humankind?
While The Sacrifice of Sunshine Girl marks the culmination of the book trilogy, this suspenseful story is in active development for television by The Weinstein Company. With a pilot now in place, The Weinstein Company is hopeful for a Fall 2017 television premiere.
Written in McKenzie's familiar voice that has earned her millions of fans, and with its "creeptastic" storyline that will keep readers at the edge of their seats until the very last page, The Sacrifice of Sunshine Girl is the grand finale of this much-celebrated young adult series.
McKenzie has been covered by Entertainment Weekly, The Today Show, Seventeen, The New York Times, USA Today, TIME and others. Her YouTube channel today boasts more than 250 million total views, averages 7.5 million unique views per month and maintains more than 500,000 monthly subscribers. McKenzie lives in Portland, Oregon.
Fans can keep in touch via the Sunshine Girl website or via social media on Facebook, Twitter, Instagram, an YouTube.
I am a professional writer, web content manager, web producer and social media strategist who has worked for quite a few high profile brands as well as a few startup companies in my career.
You Might Also Like