The original 1977 movie poster for 'Peppermint Soda' in French with English subtitles is rated PG-13, suitable for all ages presents a good case for joint custody.
Cohen Film Collection's 40TH anniversary restoration of this autobiographical  film classic will be rolled out in art house theaters across the country and available for home viewing.  Director Diane Kurys captures the tumult of two sisters Anne (Eléonore Klarwein) and Frederique (Odile Michel) in their adolescent passage.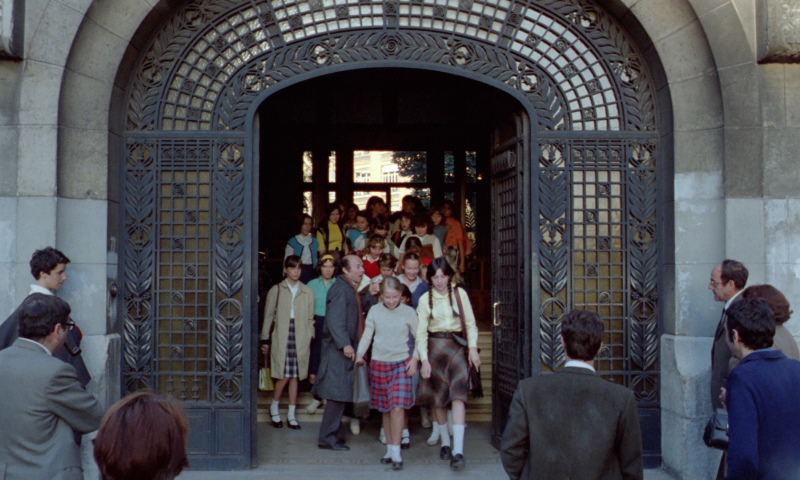 Rounding out the cast are the divorced parents of the jeune filles, their classmates and strict teachers in an all girls angsty upper school during the political and social upheavals of Paris, 1963. 
The excitement of  the 'Ban the Bomb' movement and demonstrations on the 'Algerian Question' spills over into the high school classrooms which get a little rowdy (above) though try as they might the 'old school' administration (below) holds the line.  
Named after a young person's idea of a grown up drink, "Kurys's celebrated film revels in the comedy and tragedy of the seemingly mundane, weaving a complex tapestry of everyday existence that also touches on the universal," according to the press release.  
Mme. Weber (Eléonore Klarwein) is several years younger than M. Weber (the late Michel Puterflam) who is besotted with unrequited love for his former wife.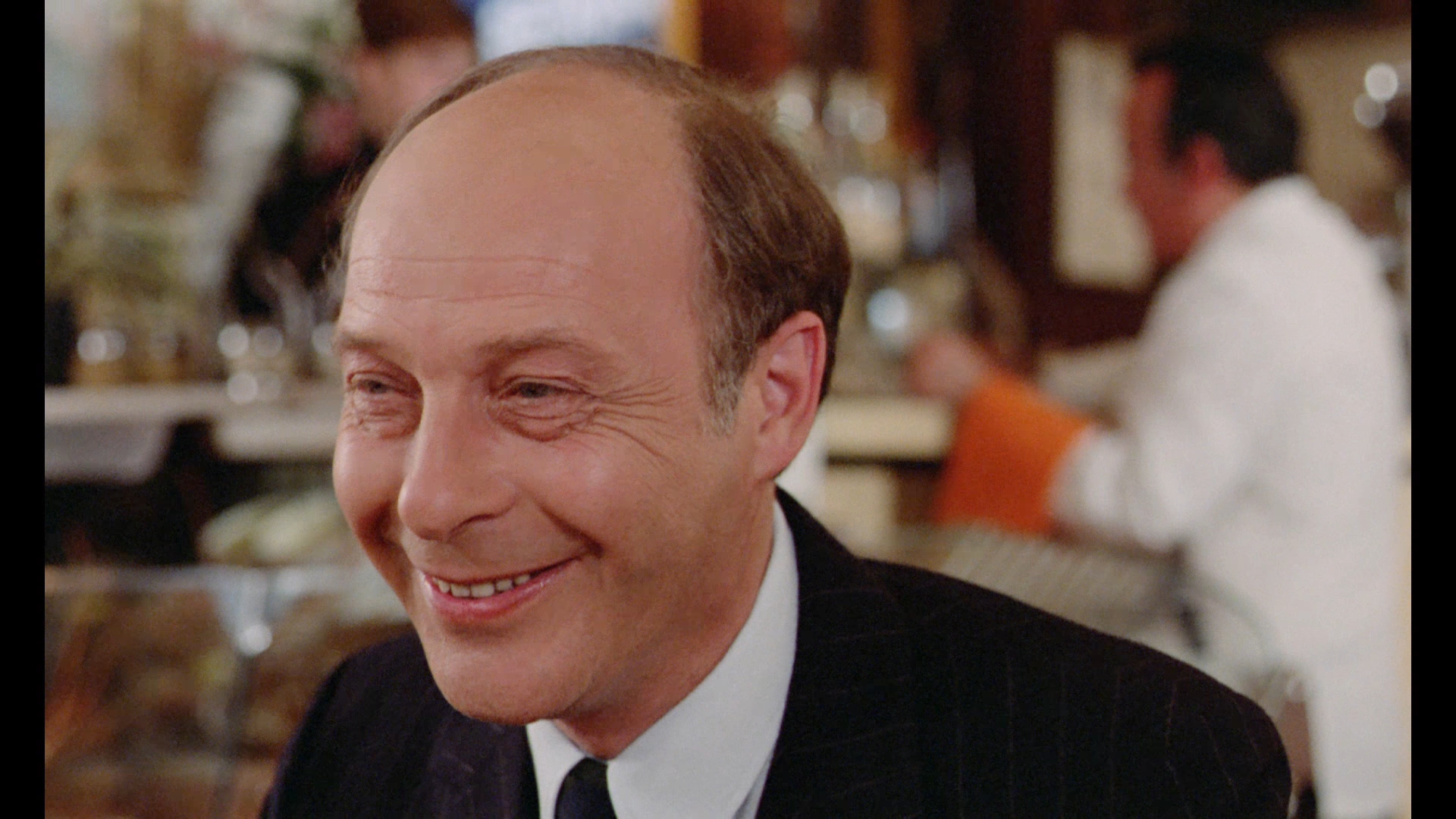 While it is true that some divorces are better than others, and less conflict is better than more, no divorce is easy.  Extra divorce related stressors wear out the girls in the short run.  Who knows what for the long term?  With proper interventions undesirable counter productive growth may be prevented or bypassed altogether.  It remains to be seen what pitfalls await. This is a life-like film insofar more questions remain unanswered than raised. 
Caught in the middle of their parents' largely low conflict divorce there is plenty of mild to moderate dysfunction to navigate.  A modicum of bristling jagged edges stemming from unresolved issues regularly bubble up onto the surface.  Remember children are on high alert when their security system is aroused.  They become more vigilant and sponge-like than usual soaking up ambient stress.  It's their coping mechanism for feeling in control of their lives contrary to their actual lack of power. While divorce starts with the dismantling of the marital union the re-verb injects disruptive and joyful elements alternately freeing and limiting throughout the entire family system.
3 Lessons to be Learned about Co-Parenting from 'Peppermint Soda'
#1 Teens need as much supervision and guidance as toddlers. I lovingly call teens toddlers on hormones. The developmental need for independence and freedom is fundamentally similar for the two age groups. The psycho-sexual storm of hormones bathing the brains of 12-16 year olds bringing on dramatic changes is different than what happens in 2 to 5 year olds. The 10 years or so difference is alike in terms of ushering in tremendous growth that causes friction from rubbing up against limits and a sense of unreality from the bubble of a no-risk world.  
With budding female teens there is the additional vulnerability of their blossoming womanhood.  The unsavory gazes of neighborhood lechers empowered by the lack of an extra layer of a father's steady presence and watchful push back is chilling.  This unwanted attention must be managed on top of everything else including a dash of Anti-Semitism for the assimilated Weber family.     
          Developing hunger for an absent parent is evident in this photo as Frederique (left) and Anne (right) aboard the train to their home in Paris with Mom, saying good bye to Dad after an enjoyable summer with him. 
This scene culminates from a massive build up of childhood longing for and a premature loosening of parental influence and protective oversight infusing this film. Even though they will see him again in a few months, the daughters' sadness is palpable especially Anne (right). Frederique (left) is more detached at least on the surface, blocking her anxiety on a deeper level.  
Each character is red flagged differently by the inequitable time share.  Mother does most of the heavy lifting of child rearing and decision making.  The children have no regular weekends and weekdays with father; only winter holidays and possibly spring break visitations too.  Mother and children live a middle class existence in the heart Paris. while father lives about 2.5 hours away on the provincial coast.      
The sisters vacation with their more affluent father and picnic with mother in the park or have savory meals and card games at home for recreation.  
Mother seems exhausted and father resigned to the situation.  Mother is overwhelmed by the daily exigencies of life, while father misses the girls.  Move away cases are not the norm today. They are exceedingly difficult to execute when parents disagree on it.  In the past it was fairly common post separation for one or both parents to move far from the former family home.  One constant:  according to the statistics dissolution of marriages are more frequently initiated by women though the man may have made it impossible for her to stay.
Though moments of connection occur with busy schedules more would be better.
#2 No one adjusts to divorce on the same emotional timeline. Father is unable to come to terms with a divorce he appears not to have wanted. Who pays? The children of course.  Pleased enough with unstructured time at the beach or after school socializing and mischief, it's the older child who fails as the adult substitute for the younger.  The elder is increasingly more focused on her own busy social life and developmentally appropriate serial romances ill equipped to be patient or wise with her younger sister's needs fading into the background blur.   
One bright spot is both sisters coax father to take them on a bonding ski vacation. This is a luxury that mother could use but not afford.  When he does make it to Paris on a business its a surprise to the girls that he meets them at their school gates and takes the children out to dinner.  In his defense, where else would he feed them? Still this is not something mother gets to do, even on her birthday.
A bridge too far Anne the younger sibling breaks our hearts.  She suffers from insomnia failing grades, stealing from Frederique and attempts at shoplifting, all telltale signs that something is not adding up in her family life. Anne exhibits nascent signs of depression that could be nipped in the bud if addressed sooner than later.  The fact she often feels left out, an outsider or interloper in the family could be taken more seriously.
Mother does do what she can to maximize the little down time she has with the children and still have an adult private life which she is entitled to have.  It's as if mother and Frederique are friends who have more in common with each other. They both have respective new relationships and shared tastes in late night television.  Anne is sent of to bed but can not fall asleep easy feeling somewhat left out even if it is past her bedtime and she is exhausted.  
The implication is mother is a struggling single parent and father is a mildly vindictive single man.   To his credit, he is a loving parent from afar, who could be in better control of his emotions.  He takes financial vengeance out on the mother who accepts her burden and moves on.  She regularly makes it known that money is tight and father pays his child support late.  It is the children who nag him about this which we know is detrimental to their well being.  
Mother moves on.  Her standard of living, while overall stable and nowhere near impoverished, leaves no room for extras. She takes the girls to picnics in the park with her new man. They dine together with him at home and play card games for entertainment. It's interesting that mother only seems to cook when her new lover is there to join in.  There is nothing inherently wrong with this, but the distinction is notable.  

#3 Unintended consequences of decreased parenting and the loosening oversight of the children creates 'hunger' for parental attention. Mother works long hours in retail and is dating a appropriate well mannered man Phillipe (Yves Rénier).   Again, nothing is essentially amiss here, except that the younger child who becomes a latch key kid is lonely and on her own more than is good for her. The older child suffers differently.  The process by which childhood abandonment intensifies and morphs into hyper-sexuality will not be explicated here, but Frederique becomes aroused by a friend's widowed father (whose daughter has bigger problems) for a hot minute.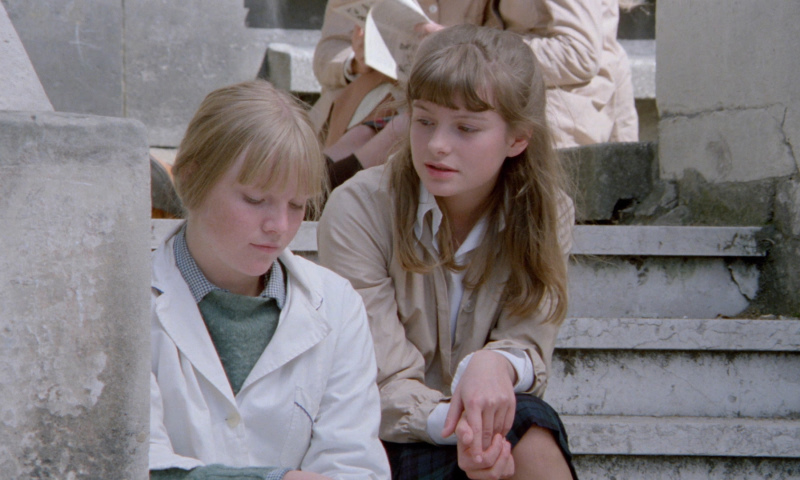 Frederique's friend's mother has comitted suicide and she runs away from home. Frederique connects with the friend's father when feelings of loss are eroticized.
Only once does Frederique fully loose her cool as it relates to her parents.  'Daddy hunger' might not have developed if father were more of a constant presence in their lives.   When father drove to Paris several hours to see a performance of Frederique's this clearly pleased her.  It stung when father refused to stay for the cast party after the performance due to his discomfort being in the same room as mother and her new significant other. 
Instantly upon father's abrupt departure Frederique fights the urge to passionately kiss her best friend's widowed father.  I will go out on a limb to say this impulsivity is rooted in the rejection not meant for her.  Frederique unnecessarily personalizes father's need to flee. In children's confusion over the actions of their elders they unwittingly become collateral damage in their parent's divorce.  It's the father's responsibility to manage his strong emotions which arose in the charged circumstances of meeting the new man of his ex-wife at a child related event which negatively impacts Frederique and Anne as well. 
So would this film be less compelling storytelling in terms of plot and drama if the co-parents lived closer together with a more equitable timeshare? Probably. Nonetheless there are several cautionary tales that can be gleaned from this fine film.   Chances are there still would have been ample opportunities for healing in this family rooted in unrealistic expectations, romantic disconnects and financial shortfalls, but I tend to think the children would have suffered less.
This review may also be seen on It's Over Easy, celebrity family law attorney Laura Wasser's new venture to bring high end uncontested divorce services to the internet.  
Tara Fass, LMFT #35078, is a licensed marriage and family therapist in Los Angeles, California. She treats adults and couples dealing with a broad range of issues from navigating the legacy of divorce in one's life, to the quarter life crisis and conscious aging. Together we attempt to make meaning [...]