A massive crane on the Minnesota Capitol's north side is to come down in the next few days.
The crane's disappearance symbolizes the end of several years of Capitol renovation at a price tag of $310 million.
The day probably comes none too soon for Gov. Mark Dayton, who more than once has been critical of construction work spilling over into 2017. He has mentioned that the $1 billion U.S. Bank Stadium construction finished on time, but not the Capitol work.
From the start, Dayton had beefs about renovation plans. For one, he did not like the idea of turning the Capitol's front lawn into a materials staging area. He commented about shrouds hiding the dome staying up for a long time.
All of that disruption is nearly over.
Temporary parking lots in front of the Capitol are being restored to grass, copper work on the roof will continue for a few more months and a little work inside remains, called "fine tuning" by Assistant Administration Department Commissioner Curt Yoakum.
While the Capitol reopened the first of the year, a grand opening celebration is planned Aug. 11-13. It is to feature music, tours and other events.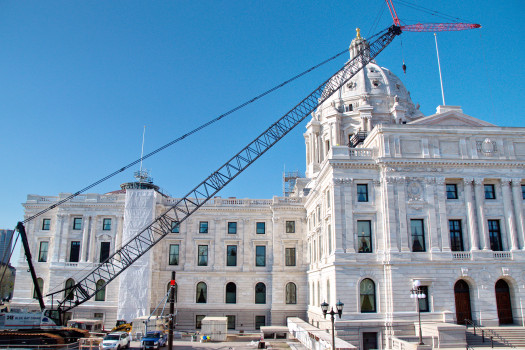 Trump order concerns Simon
President Donald Trump's order to study voter fraud concerns Minnesota's secretary of state, who administers the state's elections.
"Preserving the integrity of our election system is vital," Secretary of State Steve Simon said.
However, Simon added, "the president's proposed commission seems to fail the credibility test" because it does not appear its leaders are "committed to an unbiased inquiry."
Trump "still falsely and irresponsibly insists that millions of ineligible votes were cast in the last election," Simon said.
"The commission will review policies and practices that enhance or undermine the American people's confidence in the integrity of federal elections, and provide the president with a report that identifies system vulnerabilities," White House spokeswoman Sarah Huckabee Sanders said.
She said the report would be complete by 2018.
Warrants go electronic
Minnesota law enforcement officers and judges no longer need to deal with paperwork to issue search warrants.
A new system developed by the Bureau of Criminal Apprehension, known as eSearch Warrant, allows an officer to submit a search warrant application electronically any time of the day or night. A judge can electronically review the request. The judge will conact by office by telephone and can issue or reject the warrant.
"Before eSearch Warrants, a peace officer would write a search warrant application and then drive it to the judge for review," BCA Superintendent Drew Evans said. "Making this process electronic is particularly beneficial for after-hours warrant applications related to DWI investigations."
'Swing a dead cat'
Leave it to a union rally to bring many Democratic governor candidates, and potential candidates.
"You couldn't swing a dead cat without hitting a governor candidate," said. U.S. Rep. Tim Walz, himself a candidate for the post.
The southern Minnesota congressman and state Rep. Erin Murphy of St. Paul were the only two announced candidates speaking at the rally that was called to encourage pension protection.
However, other potential candidates in the Capitol rotunda rally included U.S. Rep. Rick Nolan, state Rep. Paul Thissen and Attorney General Lori Swanson.
A draft-Nolan group wants him to run for governor, and he told Forum News Service he is in the process of deciding whether to run for re-election or for governor in 2018. Thissen says he is "seriously considering" running. Swanson said her decision will come later this year, adding that it is too early to decide now.
The St. Paul Pioneer Press, a Forum News Service partner, keeps track of who is running, who may be and who is not at http://tinyurl.com/MNgov18.
'Wall full of purses'
Lt. Gov. Tina Smith, backed by a couple dozen women Democratic lawmakers, looked to the north wall of the governor's reception room.
It is obvious it was a women's news conference, she said, "when the entire wall is full of purses."
Purses of all shapes and sizes lined the wall.
Women who owned the purses said the Republican-controlled Legislature is not treating women well.
One issue, Sen. Susan Kent of Woodbury said, is a GOP plan to ban cities from adopting different minimum wages and similar ordinances than contained in state law. She said communities need to "respond to the needs of their communities."
Women lawmakers said many GOP-written bills hurt families and women in particular.
'Pretty good again'
It must be a Minnesota thing, you know, modesty.
State Rep. Dean Urdahl, R-Grove City, wore a white baseball cap on the House floor Friday, May 12, with the saying:
"Make Minneota pretty good again."
My name is Justin. I'm an educated professional award-winning writer, editor and journalist. I have more than 10 years of experience writing, editing and formatting articles, personal essays, and most especially college and graduate school papers so I love to write about it. I am an Iowa native and [...]