It was Thursday morning, the second week in October, more than a week after I had flown into Ho Chi Minh City. I rolled out of bed, looked out my window on the 7th floor, and stared at a maze of streets.
I was impressed by the geometry and the colors in the sky.
I dressed to go downtown and, for once, put on a necktie. It was 8:15. I was supposed to meet Howard in 15 minutes at the Hotel Intercontinental, where he had moved after spending one night at the Hotel Vissai. Because I was late, I called Howard, who didn't seem worried. He said he would sit in a lounge chair by the pool until I arrived.
In the lobby at the Hotel Vissai, I noted a TV with soundless images from a CNN broadcast. Donald Trump, the American politician, had been caught in a lie.
Market 39
It was 8:50 when I entered the lobby of the Hotel Intercontinental at 39 Lê Duẩn in District 1. Howard was not reclining next to the pool as he said he would be. Rather, he was standing in the lobby looking out into the street. In a chair next to him another person, a 10-year-old boy, was flipping through the pages of a comic book.
Howard nodded as I approached. "I slept worse last night at the Intercontinental," he said, "than I slept at the Vissai." He laughed. "I should move back. But Emile, my engineering friend, wouldn't be happy. He likes everything in his private life under control, because, he claims, nothing in his professional life is."
When we walked into Market 39, the hotel's main restaurant, we saw a large number of food stations displaying an assortment of dishes. I chose Vietnamese while Howard chose Chinese.
We sat down at a small table in a corner of the large dining room.
"Vietnam is interesting," Howard said. "It has the second largest reserves of crude oil in East Asia, after China." He stopped. "By the way, what's with the tie? Who're you meeting later?"
I ate vermicelli noodles in a beef broth containing roasted ginger, star anis, onions, and spices topped with thinly sliced raw onions and bean sprouts. The chef had added just the right amount of nuoc mam fish sauce, and sliced sirloin.
Howard ate sui mai and lo mai gai: shrimp dumplings and pork dumplings with sticky rice in lotus leaves.
"Emile's challenge here in Vietnam is not different from an engineer's challenge in other countries," Howard said. "He has to insure that his boss' projects succeed." He paused. "At any cost." He paused again and looked around. "Nobody heard me."
I was surprised.
Karen had told me that she and her friends went swimming the previous month in the ocean off Vung Tau, on the coast south of Ho Chi Minh City. When they emerged from the water, they found their bathing suits had turned brown. Offshore drilling was responsible. Meanwhile, drilling near Nha Trang, about 400 kilometers up the coast, had just started, and it would bring the same result. Nha Trang was Emile's new project.
Saigon Pearl
When Howard and I finished breakfast, we went into the lobby to wait for Binh. Our plan for the morning was to visit an apartment complex, called Saigon Pearl, on Nguyễn Hữu Cảnh Street.
"Emile wants his apartments close to his office at Diamond Plaza," Howard said. "SunRise City is too far away." I doubted Howard was telling the truth. "But Saigon Pearl would have to meet the approval of his fiancée who has all of the money."
"More than one apartment?" I said.
Howard smiled. "Emile's fiancée, Amara, wants to rent a separate apartment for her maids. She has an entourage. But I believe Emile doesn't plan to stay in any place for long." Howard looked around again. "In fact, I always thought his career was just a hobby."

Binh arrived in his taxi and drove us in 10 minutes from the Hotel Intercontinental to the Saigon Pearl. The complex had six immense towers. Each tower had apartment homes on 34 floors.
Down a curving concrete sidewalk, a young woman, whose English name was Ashley, led Howard and me to a tower called Sapphire I.
Howard said, "The top floor, please."
Ashley, like the property manager at the Sunrise City complex 2 days before, was young and charming, but she also had been misled.
"On the phone, you said you wanted to see furnished apartment options with 3 bedrooms on the 17th floor," Ashley said. The elevator moved quickly.
"That was yesterday," Howard said.
"Well," she said, annoyed. "On the 34th floor, we have 4 apartment units with 4 bedrooms, and they are 200 meters, not 150 meters. And, they cost $6 thousand a month, not $3 thousand."
The elevator stopped and Howard and I entered a small lobby. He pointed to a door, which had a number 1 on it.
"Can we go inside?" Howard asked. "I apologize. My client has decided he wants to rent 2 apartment units on the same floor. Possibly the whole floor. And he may decide to buy, not rent."
Ashley, who was wearing a grey colored jacket and matching skirt with a scarf around her neck, leaned against the wall by the elevator.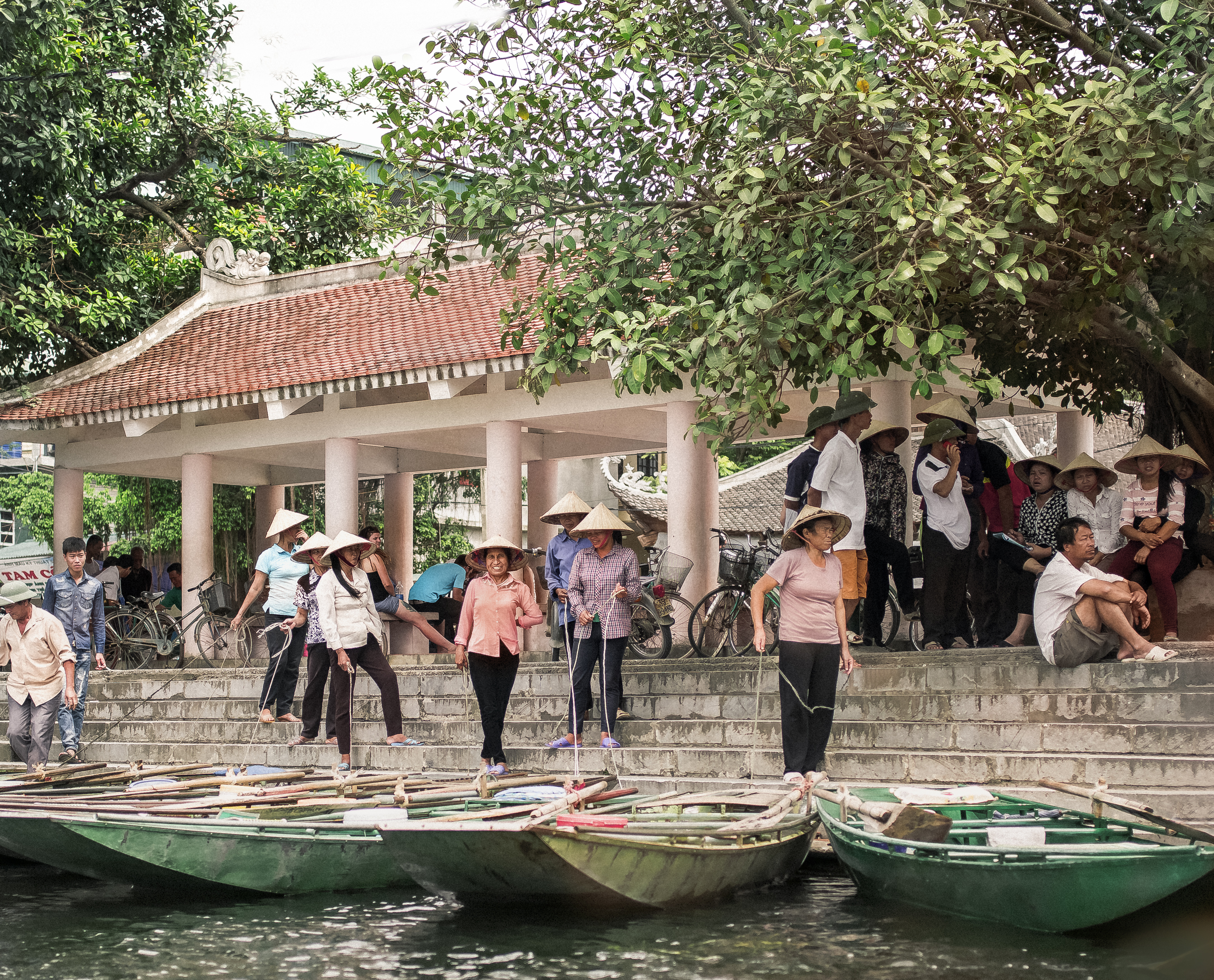 Elana
Binh arrived in his taxi and drove us back to the Hotel Intercontinental, where he dropped off Howard. Afterward, he took me to the University of Economics at 59C Nguyễn Đình Chiểu Street, District 3.
When I got out of the car, it was 1:20pm. I had hoped the temperature would drop, but it had not. I felt light-headed.
Moments later, I found Karen sitting at a table in the cafeteria in the School of Accounting. The cafeteria was air-conditioned.
"Elana came and left, but she'll be back," Karen said. "She had to pick up some clothes for her trip to Ben Tre. It's only 70 kilometers from here. It's her parents' house."
"I want to cool off," I said.
"Elana's father, who was a teacher before the war, now lives outside Ben Tre City and raises pigs," Karen said. "Elana's mother sells the meat in outdoor markets." Karen went to the door and looked outside. "Elana's brother is a business manager for a rice processing plant near My Tho, while her uncle is the company's floor manager," She sat down at the table again. "My Tho and Ben Tre are close. Both are part of the Mekong Delta. Ben Tre rises, on average, 1.5 meters above sea level."
Elana came in the cafeteria door, sat down beside Karen, and hugged her. Elana was tall, about 5'8", and wore her hair in a ponytail. She introduced herself.
"As Karen probably has told you, my parents don't want me to go to the United States," said Elana, "while my brother and uncle do. I'm dreading this visit."
"Her brother is Elana's biggest supporter," Karen commented.
"My brother," Elana said, "graduated from the University of Economics here, but my uncle didn't. He studied a year and dropped out."
Minutes later, Elana left for Ben Tre, carrying a small backpack.
"It's sad," Karen said. "Elana works too hard. Her brother and uncle expect her to perform at a high level, higher than they ever could. They want her to succeed in things they did not. Because of the war, the uncle quit school, and the father lost his career."
"At least they survived," I replied.
Karen added, "The brother was brilliant in school, but the family had no money at the time and couldn't send him overseas." She hesitated for a minute. "The brother is 10 years older than Elana, and it's possible that he's fighting old battles in new times. I should back off a little."
When Karen looked up again, I said, "How's your ear?"
"Still some pain," Karen said. She brought her hand up to her left ear.
"How long has it been?"
"I don't know," she replied. "I went to the healthcare clinic yesterday and told the doctor the anti-biotics he prescribed weren't helping me. Then he looked in my ear, said it would be fine, and sent me home."
"Did he charge you for the visit?"
"Of course. Also, he made me mad. I'll solve the problem on my own."
Khanh and Phi
At 6:15 in the evening, Binh dropped me off at the Hotel Caravelle, where I was going to meet Karen and her friend, Sara, the older woman from Adelaide. Sara had invited us to meet her at the rooftop bar.
In the lobby, at an elevator which went directly to the 14th floor, I saw the two young men, Khanh and Phi, I had met at Sara's party. After Sara got sick at her party and went to bed early, Karen and I had talked with them for a long time.
"You are meeting Karen and Sara upstairs, aren't you?" Khanh said.
I nodded.
"Listen," Phi said. "Khanh and I have a problem. The two of us have argued about it for weeks, and after the party with Sara and our talk with you and Karen, the arguments got worse. We can't solve the problem ourselves."
"What?" I said.
Khanh looked at Phi. Then Phi said, "You're good friends with Karen, and she is good friends with Sara, and we love Sara, and it's not because we have to live in the same house with her."
I was quiet.
The elevator from the 14th floor arrived and the doors opened. Another couple entered the elevator. The man was trying to kiss the woman, and the woman was drunk.
Once we were in the elevator, Khanh and Phi stared at the couple.
"We need to tell you a story," Phi said. He pushed a button and the elevator started up.
"Two weeks ago on a Friday night," Khanh said, "We go out to our favorite place to eat."
"The place is Xu Restaurant on Hai Bà Trưng Street, District 1," Phi said.
"We're sitting at a table with our friends," Khanh continued, "and ordering banh khot." He stopped. "I'm sorry," he said. "That's the name for Vietnamese pancakes with shrimp and coconut milk. Very tasty."
"Hurry up," Phi said.
"Yes," the drunken woman said.
"So...we're ordering banh khot," Khanh said, "when two men burst into the room laughing, and, suddenly, after looking around, hurried out. We know both of them. That's the problem."
Opera House
The five of us drank several glasses of wine, and then Sara fell sick once again and wanted to go to bed. Khanh and Phi decided to take her home. After they left Hotel Caravelle, Karen and I crossed the street to the steps of the Opera House.
She said. "You seemed preoccupied. Why? Also Khanh and Phi were anxious."
"They told me a story in the elevator," I replied.
**
This story was originally published on the author's Web site:
You Might Also Like
Researcher, Storyteller, Team Builder