51Fest, a partnership between Women in the World and IFC Center, continued its inaugural festival last night with a panel discussion for the Women in the World Spotlight: Supermajority and the World Premiere of Netflix's Unbelievable. Friday night started with a conversation spotlighting Supermajority, a women focused non-profit, with its co-founders Cecile Richards and Ai-jen Poo, as well as Katherine Grainger, Partner of Civitas Public Affairs Group, and filmmaker Yoruba Richen. Tina Brown, Founder and CEO of Tina Brown Live Media/Women in the World moderated.
The conversation highlighted the new organization and centered on the panelists' personal stories of activism, their plan to shape a 'New Deal' for women and elevate women's stories to where they belong—the center of the stage, the debate and the forefront of change. They also showed an exclusive clip of the forthcoming documentary And She Could Be Next. The group spoke passionately about the power behind American women voters and current issues.
When asked about how they intend to motivate all women behind a single mission, Grainger, who was a leader in the crusade to legalize gay marriage, shared "What was so beautifully illustrated in [exclusive clip from And She Could Be Next], is Women of Color have been at the forefront and have been driving change in this country since the beginning. White women have not in the same way, they have been voting republican through the 1964 Civil Rights Act. The reason being, they were voting to protect their race not thinking about their gender identity. We're starting to see that change with the election of Trump because for the first time these women, who thought there were systems in place to protect them, are realizing there aren't."
Speaking about the importance of Abortion rights and women's issues, Richards, the former CEO of Planned Parenthood, said "Because of the attacks from this administration on safe and legal abortion, it's no longer even a pretense that it's about protecting women's health or any of that, they just want to make it illegal. That has penetrated into the minds of not just women but men in this country who feel the same way. I think it's going to be a hugely important issue. I don't disagree with Dr. Wen, I don't think healthcare should be a political issue in this country either but it is," regarding the recent exit of Dr. Leana Wen from the company.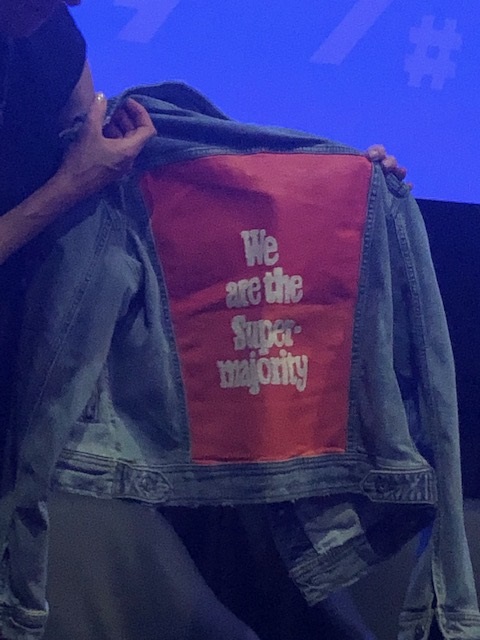 The second event of the night was a World Premiere screening of the limited series drama Unbelievable which chronicles what happens following a sexual assault from different sides of the issue. Castmembers Kaitlyn Dever, Danielle Macdonald and Merritt Wever were joined by showrunner and executive producer Susannah Grant, executive producer Sarah Timberman, executive producer and episode director Lisa Cholodenko as well as author/journalist Chloe Schama for a post-screening conversation about the series, their hopes for the show, and the horrid state of handling sexual assault in America. 
Grant spoke on the issues surrounding the under reported and under investigated sexual assaults across the country saying, "The detectives who are portrayed by Merritt Wever & Toni Collette, Toni Collette's character had 18 years of experience of investigating sexual assaults, and the man who led the other investigation had been recently moved from narcotics, so he was untrained. To hear from those detectives about what that experience has taught them, about what happens to the brain in trauma and how that changes. It's no wonder it gets messed up, you need to be trained." 
Also spotted in the audience were Dever's Booksmart co-star Beanie Feldstein and actress Stef Dawson from The Hunger Games: Catching Fire. 
This was the second night of 51Fest, a partnership between Women in the World and IFC Center. 51Fest is a festival celebrating the voice and vision of the female majority through screenings and conversations, all by or about women. The result is compelling and original entertainment for everyone. Women make up more than half of our population, and 51Festputs women where they belong: at the center of the story. For more information on the festival, check them out via social media on Facebook, Instagram, and Twitter. 
I am a professional writer, web content manager, web producer and social media strategist who has worked for quite a few high profile brands as well as a few startup companies in my career.