For those who aren't aware, the tech world has recently been shaken to its core. Since its inception, there's always been a rather large gender gap in the STEM workforce – in fact, only 29% of all STEM workers are women. Within that 29%, there are hardly any racial minorities represented (African-American, Hispanic, Native American, etc). As a result, the community has been under extreme pressure (for good reason) to encourage more women, and women of color, into tech jobs. This is especially crucial, considering the pay gap between technical careers and non-technical jobs. More diversity equals more perspectives, which in turn, result in more innovation.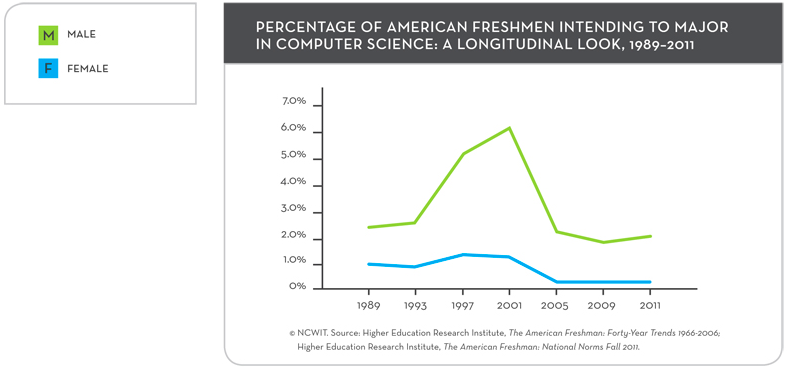 Google Inc. has been actively searching for ways to encourage more women to matriculate into computer science degrees. In fact, they've written up numerous reports, conducted several studies, and set up a multitude of programs to motivate young girls to pursue science. They've found that the hostile and misogynistic nature of tech's bro-culture is a prime factor in keeping women out of STEM.
Despite being one of the most progressive organizations on Earth, Google is still plagued by those perpetuating myths disguised as fact; bias disguised as pseudoscience.
James Damore is one such person.
A former Google engineer, Damore has written a full, 10-page "manifesto" on Google's misguided views concerning the gender gap. Women, according to him, are just 'better' at some things, like being "agreeable", and men are just 'better' at complicated, systemic programming.
So, on behalf of all the teen girls and women whose dreams are continually repressed, undervalued, and underestimated due to our gender – here's what I have to say to you, Mr. Damore.
I wish you realized that your words relate to many hateful, misguided people in this country. That many men, do, in fact, agree with what you say. But despite working in the most progressive company in the world, I wish you realized the complete rubbish you have used to make your "points". I wish you realized how much work you've just undone in Silicon Valley, because you've shifted the silent bias of many to explicit discrimination, and you've made misogyny okay. I wish you realized that your actions have not only brought to light your underlying sexism, but also your implicit bias you described yourself in your "manifesto".
And you may be wondering, what could a 16-year-old girl possibly know about this? And you'd be right – to an extent. I'm not nearly as old, "wise", or infamous as you. But I do know one thing that you don't – in fact, me and the other 29% of your peers.
I know what it feels like to be underestimated. I know what it feels like to be ignored. I know what it feels like to be valued less. I know what it feels like to always try to prove yourself. I know what it feels like to not be in the 'in', or the bro-culture you and your friends are unwittingly feeding into.
As a person of color, the system is already against me. Being female makes that even harder. And now, if I want to go into technology, it feels like I'm bringing a knife to a gunfight – I can't possibly come out of this unscathed. And that's a feeling you'll never know, because you can't possibly understand. You couldn't possibly understand.
You say that "the distribution of preferences and abilities of men and women differ in part due to biological causes" and you claim that "these differences may explain why we don't see equal representation of women in tech and leadership".
But what if I told you that it's not that black and white? That not everything can be solved by you, being one person? That maybe, you're part of the problem, and not even close to the solution?
What if I told you of the millions of high-school girls each year who make up but a small fraction of their computer science or engineering classes? Or the hundreds who are harassed on StackOverflow, by your like-minded "bros"? Or the thousands of your peers who routinely have to prove themselves, holding themselves to a higher standard, because people like you automatically assume less of them?
What if I told you of Emily, whose real name I won't reveal? What if I told you that Emily had an immense passion for robotics, and participated in every competition she could find? What if I told you that Emily was an incredible student, continually excelling at math and science? What if I told you that she had an intellectual gift, whose mind was made for systemic thinking?
What if I told you that Emily was continually degraded by her male peers? That when they looked at her, they saw nothing but a pretty little thing, incapable of anything except for objectifying? That when they looked at her code, and it turned out to be better than theirs, they'd steal it and pretend that they wrote it all along? What if I told you they'd "mansplain" even the simplest things to her, and would cast her away from the group? What if I told you that Emily decided against entering STEM due to her gender, and that the tech world has lost an unimaginable gift?
What would you say?
Well, as you did in your "manifesto", you'd claim that you aren't talking about specific cases, but women on average. You'd call Emily spineless, saying all she had to do was 'deal with it'. And you'd bring in your army of facts, raging toward the reader, all of them trying to pick and point and persuade you. You'd say things like women, as a whole, have more:
"Openness directed towards feelings and aesthetics rather than ideas. Women generally also have a stronger interest in people"

Can I get a credible study or statistic here? Or are you speaking from your own experience, as a man?

"Extraversion expressed as gregariousness rather than assertiveness. Also, higher agreeableness"

Again, could I please get some facts here? Please and thank you? After all, I'm supposed to be agreeable even when I'm dealing with an outwardly sexist person.

"Neuroticism (higher anxiety, lower stress tolerance). This may contribute to the higher levels of anxiety women report" 

I wish I could tell all the female ER workers, firefighters, cops, and working, single mothers that their work isn't suitable for them. After all, as a man, you'd probably know best.
And that:
"Women on average look for more work-life balance while men have a higher drive for status on average"

I'm so disappointed in myself. I shouldn't even want to earn my Ph.D, contribute to the world, and become a responsible citizen advancing our society. I have to thank you from saving me from that terrible choice.

"Women on average show a higher interest in people and men in things"

I must be so uneducated to think that we all, maybe, could be equally interested in both.

"as long as tech and leadership remain high status, lucrative careers, men may disproportionately want to be in them"

My ambition is misguided. If I was a guy, though, that'd be okay. Again, I don't know what I would've done without you.
You've tried to protect the validity of your views by claiming "on average" this or "on average" that. After all, when someone points out a counterexample, you could just default to saying that you're talking about the bigger picture. But Mr. Damore, you aren't looking at the bigger picture. You're utilizing blatant stereotypes you've adopted over the course of your life to support your sentiments. Nothing you have said is considered absolute fact, and that may be an important disclaimer to add. But it's too late now.
You claim to have a solution to all this. And hundreds have read through it. You've gotten what you want: a platform to spread your bottled-up, repressed views. But guess what? You're missing the point.
When you claim that 'biological differences' are what make men better than women at some things, you're using zero credible science. Even if I picked out, printed, and delivered the plethora of studies and research done that discredits your view, put a bow on it, and placed it on your doorstep, you probably wouldn't get the point. Your supporters wouldn't get the point. Even if I linked a couple here, here, and here.
The archaic, obsolete nature of your argument makes it astonishing that you are (or were, I should say) an actual Google engineer. You're using completely debunked pseudoscience to support your incredibly misguided claims.
If only you knew of the obstacles women face every day. If only you knew that the entire system, in every facet of our lives, is against us. If only you knew of the lack of genuine representation we see in tech, the media, and the government, as well as the discrimination and objectifications we put up with on a day-to-day bias.  If only you knew that maybe the complexities of the whole world aren't black and white, and that they're much more than what meets your eye.
The minute you condense 50% of the population into a singular stereotype, with no knowledge of the hardship they face each and every day, you are directly feeding into the culture that Silicon Valley is itching to distance itself from – the more you feed into the sexist, misogynistic views you're (indirectly, or not) championing.
And you know what's the most disturbing thing, Mr. Damore? You don't even know that you're being explicitly, wholly, and absolutely sexist. You just see this as the simple truth, and you wonder why everyone else can't see how right you are. When you're together with a few of your 'bros', and all complain together, it seems that the whole world is against you.
But maybe, just maybe, if you looked closer at the lives of your peers, you might see how much harder the journey to the top has been for them, compared to you. You might check your privilege. And instead of spreading your sexist beliefs, you'd cooperate with your female peers to find a real solution.
And maybe, just maybe, I'm a prime symbol for the "Ideological Echo Chamber" that you speak so critically of. But you know what? I'm okay with that.
Because I know, in a hundred years, history will not look fondly upon your convictions.
Natasha Ravinand is President of Northwood High School's Mogul program, and is highly interested in pursuing engineering and business. Natasha has penned "Girls With Dreams", a nonfiction book detailing how childhood implications of gender biases influence the lack of women entering STEM careers. [...]