[email protected] or the Summit Series Version for HR Professionals
HUDSON VALLEY, NY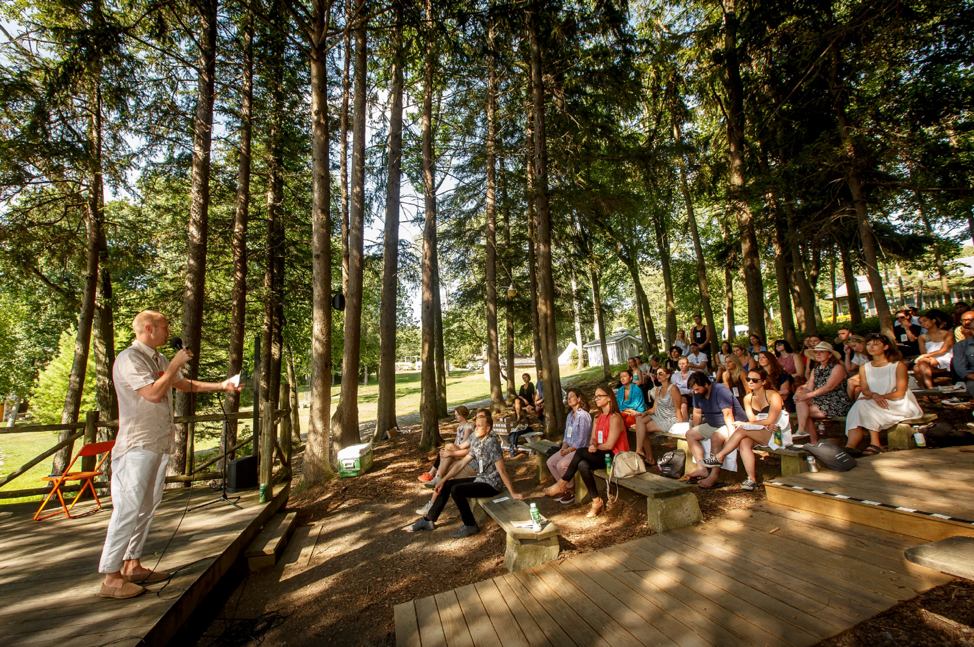 All photographs by Gary He
Inspired by hipster, Silicon Valley entrepreneurs and their plethora of festivals, entrepreneurial summits and conferences (aka Summit Series, Burning Man, Coachella, etc.) Live in the Grey hosted a "[email protected] Culture Conference" deep in the Hudson Valley – well about an hour drive from Manhattan.
Meanwhile, companies inspired by Google's culture, including Warby Parker, VaynerMedia, Johnson & Johnson, Unilever, GE came together looking to find ways to create work environments for millennials that would feel "authentic" to this generation. In plain terms, how can companies market themselves to inspire loyalty and get their largest generation of workers to perform better?
From ice breakers on the bus to setting "one word intentions" for the 2-day event, the conference looked to create "special relationships" amongst its 150 attendees.
In many respects, the "future of work" presented here was in stark opposite to the vast majority of the research that can be found positing an increasingly diverse, increasingly freelance and remote-based workforce. Instead, what was presented was a largely uniform group looking to understand what an "authentic" workplace looked like for the younger generation and create a place where everyone knows each other on a very deep level, peppered by meditation, yoga, farm-to-table meals and Drake infused barn dance parties. 
While employers are spending more on wellness in the workplace (up 60% in just 5 years, according to the 2015 Fidelity Investments and the National Business Group Survey), diversity initiatives are not seeing the same growth.
Here's what we know: companies with the most racial and ethnic diversity are 35% more likely to have financial returns above the industry average. In fact, in the US, for every 10% increase in racial and ethnic diversity on the senior-executive team, EBIT's rise .8% (McKinsey, Why Diversity Matters 2015).
And yet, Google is spending at the very least $72 Million on free food for their employees per year (Huffington Post, 2008) and a mere $115 Million on diversity initiatives (USA Today, 2014). Google is largely seen as a key change-maker and leader of the pack on diversity in the workforce but we'd love to see more companies, including places where 7 out of 10 employees are men, Latinos represent only 3% and African Americans a measly 2% is investing at least double the amount on diversity as they are spending on food.
What trends are you seeing in your workplace?
Employer Branding / Sales / Business Development / Partnerships