With its interesting culture, breathtaking sights, and top-notch dining options, Kuala Lumpur - the capital city of Malaysia - is undoubtedly a charming spot for couples to feel romance and fall in love over and again. From the towering Kuala Lumpur Tower to the scenic Saga Hills, this guide highlights the most romantic places to visit in Kuala Lumpur with your beloved one.
1.Revolving Restaurant at KL Tower
Looking for a dreamy dining spot to enthrall your darling? This sky-high dining spot inside the KL Towers sets a perfect stage for a romantic evening in the city. Perched at a height of over 280 meters, Atmosphere 360 Restaurant is mesmerizingly designed to resemble a spaceship and assures of an intimate ambience with top-notch services. The menu features Malaysian and international delights, and offers a wide assortment of à la carte and buffet specialties. Luxurious dining apart, it is mainly noteworthy being a revolving restaurant. It takes almost an hour to complete a 360 degree rotation. Needless to say, it provides you with the unrivaled city views, and more fascinatingly, from different angles.
2.Thean Hou Buddhist Temple
This hilltop shrine makes for a perfect choice for couples who wish to spend some quality together amidst an exotic atmosphere and exquisite surrounding. Devoted to the goddess – Thean Hou, the six-tiered temple stands out for its impressive structure, inventively integrating the elements of Buddhism, Taoism and Confucianism. Marvel at its beautiful architecture that fuses modern with traditional styles; check out its tortoise pond as well as Chinese garden filled with therapeutic herbs; and of course, indulge in some traditional martial art classes like tai-chi and qigong. If you're curious to know what future has in store for you, try out the special machines with fortune telling sticks, installed in the prayer hall. Situated off Jalan Syed Putra, the temple is open from 09:00 hrs to 18:00 hrs.
3.Orchid Conservatory, The Majestic Hotel
This charming glass atrium-turned-tea room, housed in the Majestic Hotel, has become a popular hangout place among couples and lovers in its own right. Lushly adorned with a striking and colorful selection of orchids, the Orchid Conservatory is truly a slice of heaven and is sure to make your time spend here a moment to remember. Not to mention, for lovers and romantic couples yearning for a peaceful and quieter ambience, this quaint place – boasting a vintage style setting - makes a great choice to laze away the afternoon with a scrumptious lunch or even settle in for an impressive traditional English Afternoon tea complemented by an incredible assortment of tarts, cakes, and pastries.
4.Genting Skyway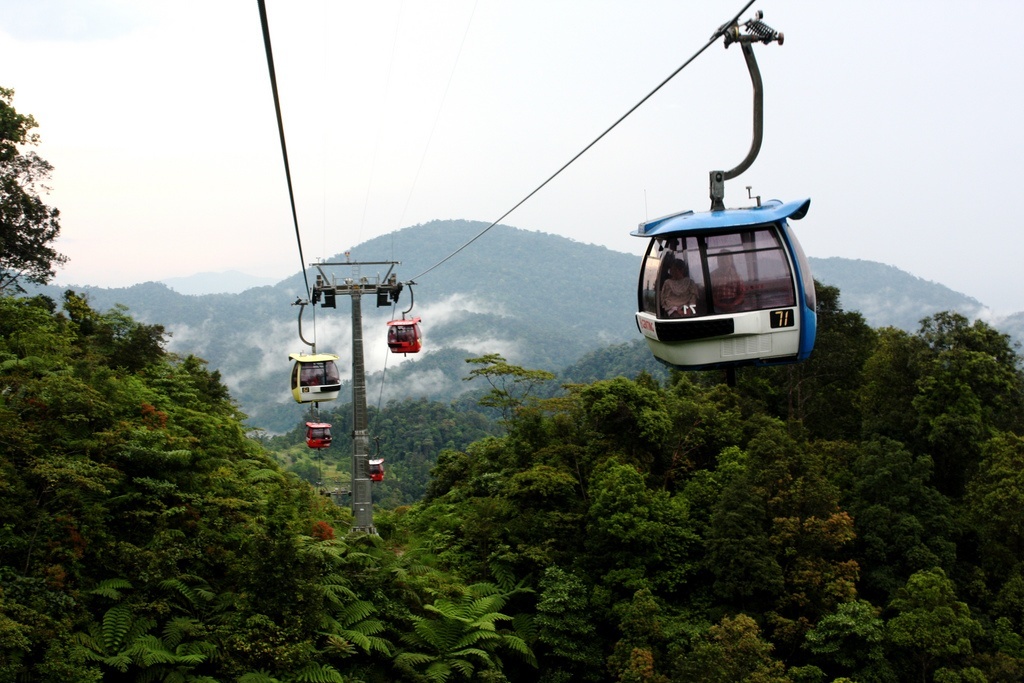 Want to take your love and romance to new heights? Then escape to sky itself, with your lover or other half! Thanks to Genting Skyway. Situated about 50 kilometers from the capital city, it's the fastest as well as the longest of its kind gondola lift in the Southeast Asia. By taking the cable car ride up to the mesmerizing Genting Highlands, be prepared for an unforgettable romantic treat, which furthermore reveals the true glory of Genting's verdant landscape and feasts you with the unparalleled views, as it unfurls below.
5.The Coliseum
If an atmospheric setting is what puts you both in the right mood, the Coliseum Theater, built in Art Deco Style and dating back to 1920s, is perhaps the best place for a romantic getaway in Kuala Lumpur. Mainly playing Tamil and Hindi movies, this legendary theater is credited to be the nation's oldest and continuously running cinema hall. Adjacent to the theater is the extremely popular Coliseum Café and Hotel, which once served as the favorite retreat of British colonials. Taking a page out of a Somerset Maugham novel, this immersive dining spot will leave you floored by its classic signature dishes and more importantly, the unique setting exuding old world charm.
6.Taman Tasik Perdana Lake Gardens
When you're romantic at heart, you'll have that special knack to turn anything to a passionate act of love. But, a breathtaking backdrop will only elevate the love quotient and take your romance to a whole new level. If you're looking for such a location while in Kuala Lumpur, the verdant oasis of Perdana Lake Garden is the place you should visit to make your beloved's heart go pitter patter. This colonial era garden, established in 1888, has thousands of stunning flowering trees and shrubs, laid out over 92 hectares of land. Indulge in a leisurely stroll through its varied gardens, go for a boat cruise along its lakes, or enjoy many of its attractions including Kuala Lumpur Butterfly Park, Deer Park, and Islamic Art Museum.
7.Kampung Baru
Located in central Kuala Lumpur and just a few minutes away from the city center, this 100-year-old Malay enclave is, however, lost in time and provides couples bored of the usual contemporary city sights with a delightful setting for romance to blossom. Once the center of politics in the country, Kampung Baru has now rose to fame as a foodies' paradise, where you can savor some authentic local delicacies while immersing in experiences that are truly Malay.
8.Saga Hills
Known as one of the region's best hikes, the trail of Saga Hills – overlooking Kuala Lumpur – will lead you to a beautiful waterfall. With lush scenery and breathtaking views all around, it's justly easy for love birds to imagine romance on the way up to its summit. There are different ways to reach here, and you can choose one according to your ability and preference. Whether you're an adventurist or a nature lover, a trip to Saga Hills is sure to leave you with some memorable moments.
9.The Spa, Mandarin Oriental KL
Top off your romantic vacation in Kuala Lumpur with a special couple spa retreat at Mandarin Oriental. This is a great way to melt away all the strains and tensions in your muscles and resume your holidays in a more energized and lively manner. From signature therapies, body massages and wraps to specialized facials, it offers a variety of soul-soothing wellness programs in a meditative ambience surrounded by peace and serenity. So what better way to plan an invigorating romantic escape in the heart of the city?
So go ahead; at any time of day or night, Kuala Lumpur provides a perfect concoction of fun, thrill, and relaxation to complement your romantic vacation in Kuala Lumpur. Looking for an inspiration to make your vacation both exotic and quixotic? Imonholidays.com offers affordable Malaysia holiday packages to live your dreams.
Rishika is a Travel Blogger. She completed his Post Graduation in Marketing. Instead of diving in the corporate world, she chooses to travel the world. She has been visited three countries in two years.