The average trade show has dozens upon dozens of booths. If you want to stand out from the crowd, your overall booth design has to have a number of elements that make it special. You have a very limited amount of time to grab the attention of event attendees.
Designing your trade show booth starts long before you create graphics or a layout for the booth and ends with the impact it has on your target audience. Here are eight different factors to consider when designing your trade show booth.
1. Choose an Objective
Before you design a booth, you need to figure out who your target audience is and what your objective is once you attract their attention. It might seem obvious, because you likely already know your objective and target audience for your business. However, the attendees at a trade show may be a bit different. You really have to put yourself in the shoes of your target audience and figure out what would make someone come to your booth.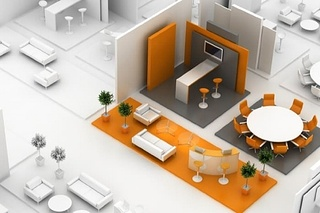 2. Figure Out Your Layout Early
Some booths are difficult to reserve, because the same businesses attend year after year, or they are prime locations and very costly. If you do get any say in the booth, choose the best location available. Try to get on a corner or near the front of an aisle, for example.
Once you know the size and location of your booth, you can figure out the best way to lay it out so it draws people in but has good traffic flow. Think about how people will maneuver around your booth if it gets particularly crowded.
3. Think Bigger
Think about ways you can make your booth attractive both up close and from a distance. You are competing against other booths, presentations and events at the typical trade show. Hanging large-scale vinyl banners from the ceiling can draw extra attention to your booth. If the banner has a pop of color on it, so much the better. A splash of red text can really draw the eye, for example.
4. Limit the Number of Colors
You might want to add a splash of color, but don't want your booth to look like a rainbow. Just as you'd do when designing a website or print ad, stick to a palette of two or three different colors. Otherwise, you risk your message getting lost in the bursts of color. It is easy for people to get distracted with the design, when the design should actually complement your message.
5. Choose Your Typography Carefully
Think about which fonts and type to use in your displays. A good vinyl sign supplier will help you with this element of your overall trade show booth design. However, you have to consider how different fonts might look in larger print and in smaller print, as your booth is likely to have both. How will the font look from a distance? How will it look up close? Artsy fonts and scripts sometimes do not translate well for signage.
6. Keep Text at Eye Level
Think about the impact your signage has as people approach your booth. While you want to place signage high to be seen from a distance, you also want to place it up close and personal for floor displays. You don't want to put text down at people's feet. Instead, you should put your tagline right at eye level. Test this out by setting up signage and approaching it in a similar fashion to the way traffic will come up to your booth at an event. Make any adjustments as needed. Keep in mind that a table banner might look nice when the exhibit is empty, but when an aisle is crowded, the back wall of your booth is the only thing attendees are likely to see over the sea of other people.
7. Bring Your Own Lighting
It is impossible to know how well lighted an event might be, even if you've been there in previous years. Things can change, light bulbs can go out and other booths can cast a shadow over your space. Because of this, it is important that you bring your own exhibit lighting and plan to have a well-lit booth that is easy to see.
As a rule of thumb, plan to add lighting every two or three feet within your booth. This will ensure people can see your displays and signage clearly, no matter what the lighting situation is within the exhibition area itself. You may also want to throw a spotlight on some of your back wall signage to make sure it is easy to spot.
8. Use Quality Images
It is important to use the highest-quality images possible. Remember that the image is often blown up to a much larger size, so think through how that will translate. You don't want a giant family towering over people as they enter the booth. If your company is fairly well known, you might be able to simply use your logo and tagline.
If your company isn't well known, then try to use images that show your product in action. Consider a photo of someone using your product, or a problem your product or service solves. You also want a nice balance among text, graphics and white space within your booth. Think about how people will move around your booth when choosing graphic floor displays. Make sure you allow enough room for foot traffic. 
Make an Impact
An excellent trade show exhibit design makes an impact on visitors. Every element of your booth must work to meet the objective you've set for that particular event. From the promotional items you hand out to the floor displays to the signage at different levels, everything should leave a lasting impact on booth visitors. A well-designed booth will help you meet your trade show objectives.
About The Author
Lexie Lu is freelance designer and writer. She loves creating design mockups and working with HTML code. To connect with Lexie, check out her website Design Roast and follow her on Twitter @lexieludesigner.