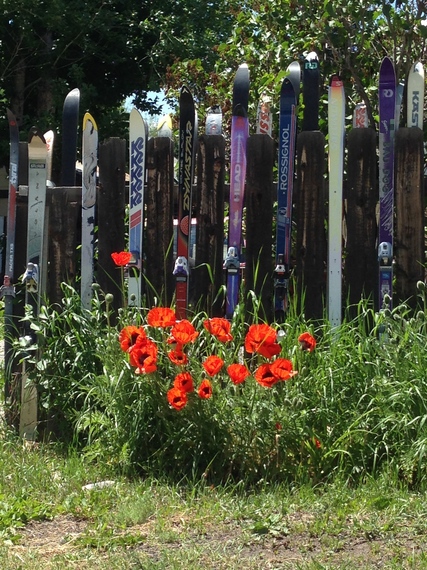 Typical recycled skis roadside art.
The partaking of northern Colorado's geothermic gems is no longer on my mind's back burner as it had been there for too many years. June 2015 found me soaking en chapeau in hot spring-hugging meadows dotted with wildflowers and lilacs in bloom; views of snow-capped Rocky Mountains in the distance.  Southern Colorado remains on the to-do hot spring list.  
Arriving in Denver's airport one bright early morning, at the counter of Avis where a safety upgrade was recommended. High altitude in the mountains can cause a vehicle to overheat and stall. A 6, or better yet an 8, cylinder engine woulf prevent this from occurring. It was an unexpected price bump - something I wish Priceline's algorithms had alerted me to in advance - but still a good idea given the risks involved.
On the road, Pena Blvd turns into the 70, the main interstate spine running east to west. The 70 often trails alongside the Colorado River - the Amazon of the western United States - more dramatic and majestic this year after desperately needed torrential spring rains.
White tents spied on the frontage road awaken a primal instinct in me and signify there must be something good inside, like the Rockies they mirror. This was in direct conflict with three concerns. The first plunge, Hot Sulphur Springs was 100 miles away. The first night's lodging in Steamboat Springs, where I was to meet up with Dr. J, was 50 miles further. Thirdly, night driving in unfamiliar hilly terrain always feels scary and is to be avoided.
The problem was only 10 miles in as the Sirens of Wheat Ridge beckoned. It was a pleasure to find an antiques roadshow worth the U-turn detour. Dainty vintage gloves went for a song, as did name-your- price silver rings and a plethora of Roseville pottery at 1989 prices.
An hour later it happened again. This time the white tents offered up a surprise barbecue lunch to benefit Scraps-To-Soil, the community gardens near one of the state's first gold mines. Folks who have their own land can't necessarily farm it because of the high altitude and clearly, participants cherish the communal effort.

Hot Sulphur Springs Resort and Spa, Hot Sulphur Springs
A few hours suspended in the stringy opalescent blue water that reeks deliciously of sulphur was heavenly. Though I have no photos, it's not to be missed. The Upper and Lower Ute, named after the American Indian tribe of the region, are the most scenic, complete with waterfalls, perfect for lounging and even a nap while soaking.
Strawberry Park Hot Springs, Steamboat Springs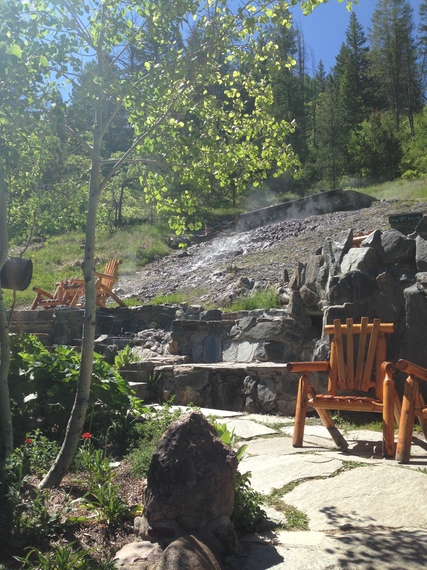 Terraces break up the pools.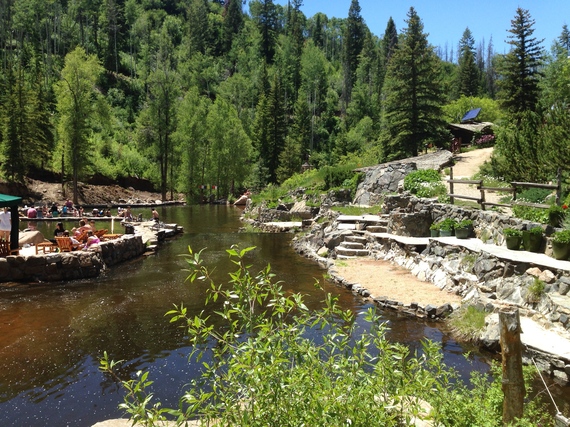 Hot and cold waters separated by a serpentine wall.
Dinner at Sweetpea's alongside the rushing, bulging Colorado before a walk to the bridge for a brilliant sunset and another day another hot spring.  On everyone's short list, Strawberry is there for good reason. It's Mountain modern architecture at its finest and a short drive from our lovely bed and breakfast.  After a few hours of soaking bon the gorgeous Interstate 50 in late afternoon, refreshed by iced coffee at the bookstore on the way out of town, we headed southwest.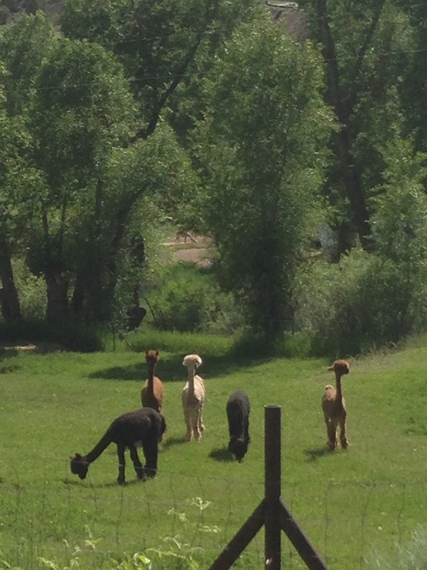 Pristine llamas welcoming committee along the way.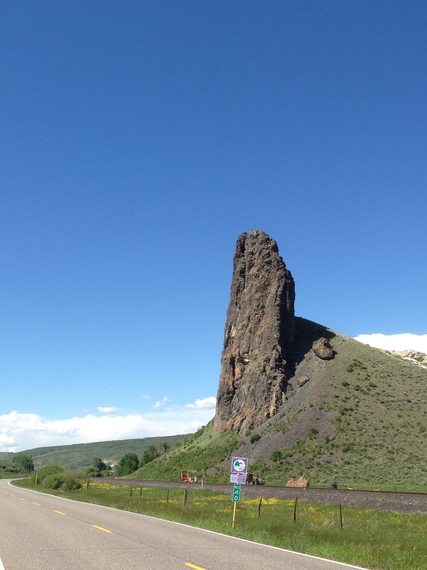 Finger Rock, though unsure which one, further along in the Vail Valley.
Just before you reconnect with the 70, there is the Wolcott Yacht Club for a pit stop and snack, with no harbor in sight.

Glenwood Hot Springs Lodge, Glenwood Hot Springs



The tiny free 'drinking' hot pool.
We needed the overnight, but were skeptical of the eponymous lodge. Having the biggest hot springs pool is curious, though not all that intriguing as small, less crowded venues are better IMHO. Still, we needed to see what all the hullabaloo was about.
Found just what we were looking for after an iced tea-fueled rocking chair excursion on the front lawn of the historic Hotel Colorado. In the waning light we practically stumbled upon a family with ridiculously beautiful complexions splashing their faces and gargling from a tiny free pool labeled, "The Drinking Fountain," though the sign warned against swallowing.
Yampah Spa Vapor Caves, Glenwood Springs
Next morning off to the Yampah Caves, running with higher than normal water levels due to overflow of the Colorado which also raises the steam and heat levels about 10 degrees. Mercifully they provide hoses with snow melt- cooled water to spray oneself and each other for comic and heat relief. It's a bit surreal that heavy traffic from the 70 is just on the other side of the fence.
                         A video history of the town of Glenwood Springs
Avalanche Springs, Redstone
A short jog from Glenwood to a fabulous bed and breakfast in Basalt. Along with Carbondale, it is said this is where millionaires - who sold to the billionaires in Aspen - are now living.
Quite a few hot springs aficionados are to be found in Colorado. Avalanche Ranch is the aspirational one we learned about too late from the delightful wilderness guide and ER nurse, Erin Mtichell.
Besides, after three days of continuous immersion, even I needed a break. My finger pads were fairly shriveled and had not re-plumped overnight. We spent the day hiking instead, nibbling on wild dandelion leaves for sustenance, before a hearty supper at Hops Culture.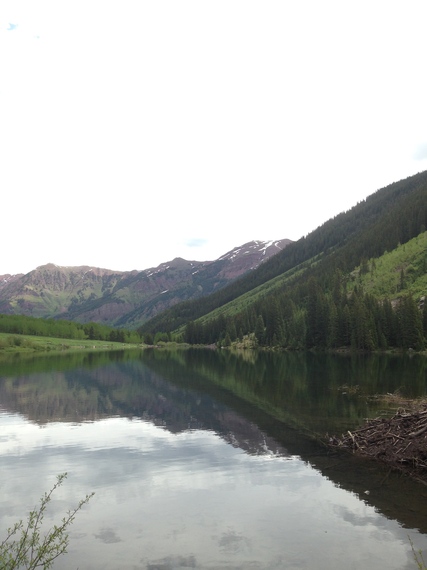 Growing from their roots, Aspens line the Maroon Bells.
Mt. Princeton Hot Springs Resort, Nathrop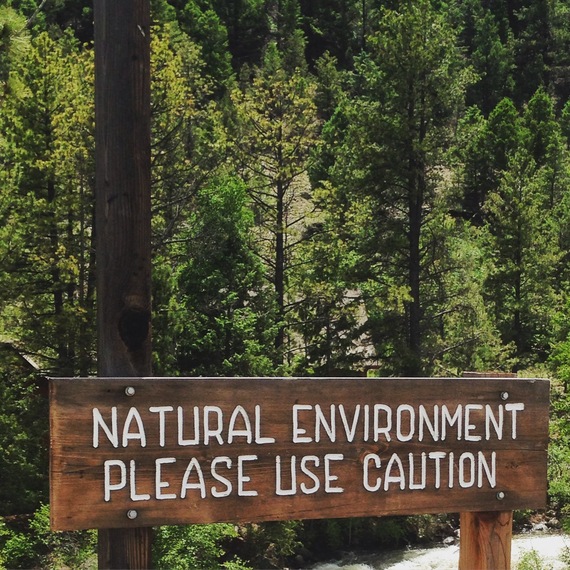 Where hot spots in the river would be accessible if not for high water levels.
The riverside hot springs will be washed out until the fall we're told and are currently extremely dangerous. Local radio air time is filled with flood warnings and politics-of-water talk. If you stay at the hotel you have the privilege of experiencing all of the warm pools, including an exciting slide to bring out the kid in you.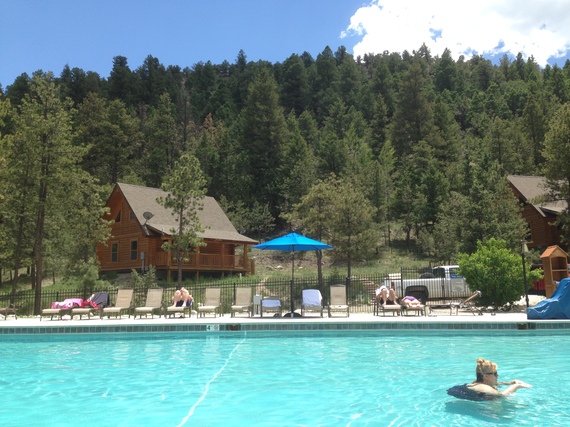 Nestled in the Collegiate or Fourteeners, mountains named for Ivy League universities at 14,000 feet or above, the larger warm swimming pool at Mt. Princeton for overnight guests only.
      Here's a good approximation of the pretty fabulous naturally warm hot spring water slide at Mt. Princeton Hot Springs.

Driving over the Continental Divide to Salida was fascinating.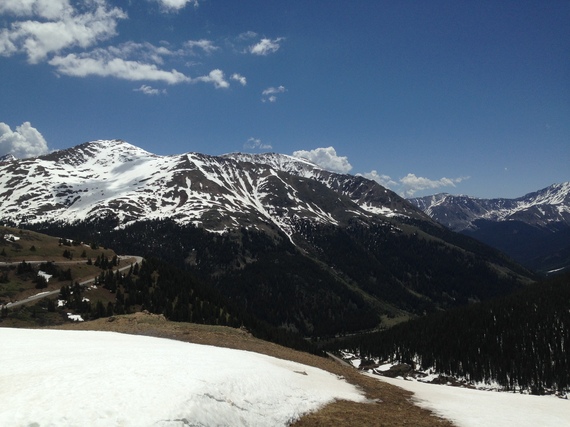 Snowy mountains in summer.
Stay hydrated and keep high quality sunscreen with emollients for your skin and hair handy. The sun is a brutal master. We particularly enjoyed delicious probiotic sodas from Upstart Kombucha of Boulder.
Joyful Journeys Hot Spring Spa, Moffat
Salida was the town where we glamped and were served the best breakfast burrito ever. It is the jumping off point for a number of hot springs and has the largest historic downtown in all of Colorado. Noteworthy are its excellent second hand shops. We really scored with vintage bracelets and stock hats, meaning they are older and never worn.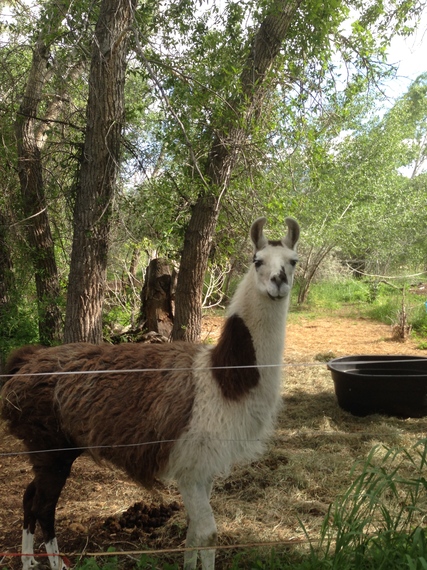 Our constant glamp neighbor a shaggy, friendly llama
Floating down the Arkansas River in an inner tube was planned, though not to be, as it was considered too dangerous due to the ferocious current. Next trip we might try Sand Dunes Swimming Pool or the naturist Valley View Hot Springs.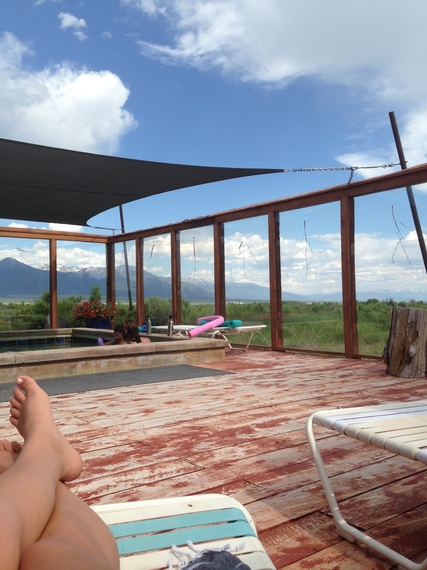 Dr. J in repose at the travertine tiled pools of Joyful Journeys.
Cottonwood Springs, Buena Vista
Cottonwood was as a near miss and counted, if dipping in your feet to test the water and vowing to return is considered legit.
Closing the road trip loop, our last day was spent in Denver. Two highlights were a guided tour of inspiring Molly (really Margaret) Brown's residence. She was a prominent social activist, feminist, philanthropist and bon vivant. After surviving the Titanic she went onto become a successful actress. Her life was fictionalized first by Debbie Reynolds and then by Kathy Bates.
Also a must see as is the fine Clyfford Still Museum, which has an interesting back story, and so much inventory its galleries' offerings change every three months.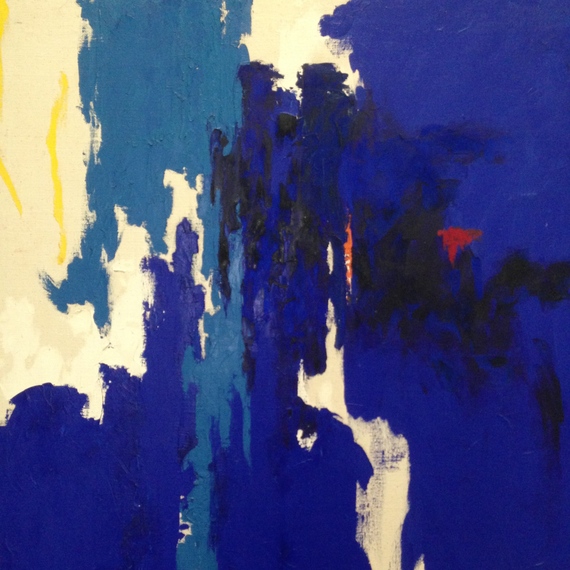 An iconic painting by Clyfford Still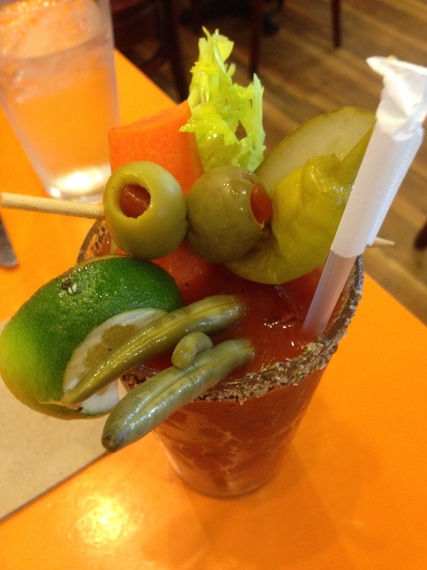 Virgin garden Bloody Mary at Jelly Cafe for brunch in Denver.
While natural hot springs are a place to unplug and refresh, the irony is the pursuit of this particular pleasure can be a competitive one too. Hot springs actually pair well with many other uni-focus vacations such as biking, hiking, fishing, skiing or snowboarding. Hot springs don't qualify as sports in most people's minds, but to certain enthusiasts it could, depending on one's goals.
True sybarites wind up with seriously silky smooth skin. The tingling skin sensation of soaking up minerals through osmosis in hot water followed by an icy cold shower or plunge is said to be the best routine -15 minutes of each at a minimum. This repetitive activity reminds me of being a human polar bear releasing stress after a dip in the ocean.
Packing in spa procedures, including DIY pedicures and facials, is not much different than racking up runs or miles. I'm here to report, the goal to experience one hot spring a day begs reasonableness and could be viewed as precious, and a tad entitled.
But then again, academics have sabbaticals designed for self-directed study and intensive writing every 7 years. Talmudic tradition called shmetah proclaims every 7 years a farmer should give their fields a rest. According to the Hebrew calendar, it has been one of those years about to end in September 2015.
Being neither farmer or scholar, but a secular, self-employed therapist in Los Angeles, the shmetah challenge spoke to me. I was due, despite the fact my daily bread is earned answerable to the needs of others in need. Could I sufficiently earn a living while keeping up my professional duties and get behind the shmetah year responsibly? The answer is yes, with compromises in place.
For instance, it can be a challenge, but I remind myself daily to unhook from worry, hurry or stress, no matter what is going on. This is a new attitude I hope to never lose - and one that's required for spending long productive days in my practice or at a hot spring.
Hours of soaking is also consistent with a larger emerging awareness growing in me this year to embrace conscious aging con gusto. This expanded perspective means I keep regular office hours with a few vacations and long weekends thrown in, some of which are dedicated to continuing education.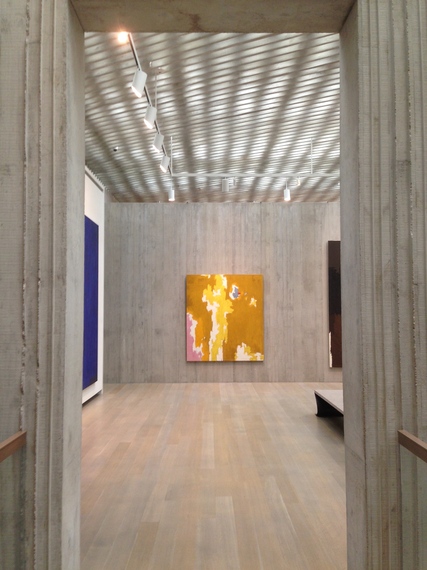 Majority of the Still collection is yet to be exhibited.
Only partially off my bucket list, I have learned there are at least a half dozen more springs to explore in Colorado. I am now inspired to expand my revivifying search to other Western states such as Montana, Idaho and Utah. Expect a follow-up soon.
All photos courtesy of Jana La Brasca
Tara Fass, LMFT #35078, is a licensed marriage and family therapist in Los Angeles, California. She treats adults and couples dealing with a broad range of issues from navigating the legacy of divorce in one's life, to the quarter life crisis and conscious aging. Together we attempt to make meaning [...]