The relationship between Buffy and Angel will go down in history as one of the most reckless, hair grabbing, soul-sucking, but sweet and lovely maybe with a hint of WHY MUST YOU TORTURE US JOSS WHEDON relationship goals ever. I've been an avid Buffy and Angel shipper since the tender age of seven (which makes me an expert at everything) and I have to say, I learned so much about relationships in the three seasons that Angel and Buffy were together than in my 26 years of living. I learned the do's and don't in/of relationships, what it means to be in love, break up, save the world from an apocalypse while dealing with an evil ex, and also, that no matter how hard it is, sometimes you have to let go of the one you love.
Now, before I get teary eyed and start talking about how Angel and Buffy should have ended up together or make some Spike and Buffy shippers mad, here are the 3 Amazing Relationship Lessons I Learned While Watching Buffy and Angel:
1. Sex Is A Big Deal 
When I say sex is a big deal, I don't mean your relationship should be built on sex or that you need to have sex to make a relationship work (which is a lie), I mean SEX IS A BIG DEAL. In Season 2 of Buffy, Buffy and Angel slept together for the first time. It was supposed to be a magical moment but then Angel lost his soul and everything changed. Buffy at first began to doubt herself, asking if it was her that made Angel changed. It was so sad watching that, but I learned some valuable lessons
2. Be True To Yourself
Never change who you are, just to please who you're with. What I liked about their relationship was, they were able to be their authentic self, yes, Angel shielded Buffy from many things in his life and yes, the lacked communication-communication is key in any relationship, intimate or not, but Buffy was her true authentic self, she voiced out her opinions, he knew things about her that other's didn't, she didn't have to hide the fact that she was a Slayer and Angel didn't hide the fact that he was a tortured soul with no soul and a Vampire. They didn't have to pretend or wear a mask around each other.
                                                        (I just found this gif to be cute #notsorry)
I learned that in a relationship, you have to compromise and make space in your life for the other person, but that doesn't mean you have to completely change the who you are to please that person. You shouldn't have to stop doing what you love, speaking to your friends and family, change the way you look and more because you're with someone. Be Who You Are!
3. Letting Go In The Time Of Toxic Relationships
No matter how much I loved them together or how much they tried to make it work, at the end of Season 3, I think they both knew they had to let each other go. Buffy and Angel were bad for each other, there was always so much danger, everything was intense, and their chemistry was great, but… as the saying goes, sometimes we hurt the ones we love the most. Those two could hurt each other like nobodies business, especially Angel, pretending to love her one minute and then hurting her the most -granted, he did lose his soul OR pretending to let her into his life and then verbally sometimes physically pushing her away.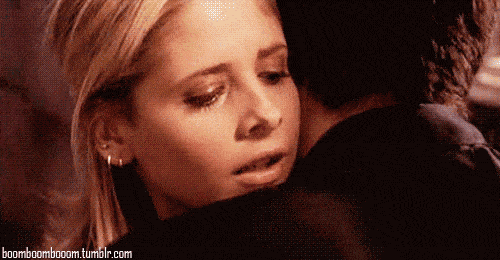 As someone who puts my all into everything I do. Personally, if I love you, I love you wholeheartedly, but I don't want to be with someone who intentionally or unintentionally continues to hurt or harm me. So as hard as it may seem and no matter how much it hurts, sometimes you have to let go *especially when the relationship begins to change you and affect your health. *
Buffy and Angel's relationship was an emotional roller coaster. We learned what love is, what it means to go through an intense breakup, learned a little bit about what an emotional and physically abusive relationship may look like, and most importantly we learned that Joss Whedon is the creator of all things amazing.
This is my favorite line from Buffy to Angel when he tells her that she basically has and is nothing, she looks him dead straight in the eye and said:
Remember, no matter what happens in life and what gets thrown at you- remember that you do have someone who loves, cares for you, and will always be there: YO SELF!! That is the greatest life lesson that  I learned from Buffy and every other tv, film, book.
_______________________________________________________________________
To Kick Off September we're bringing you new stories and a new series, A Collective Effort, collective effort because the series includes Sexual Health Lessons we've learned from TV, Film, and Literature and how each one plays a part on how we view of sex (sex-related taboos), women,men, rape,  and sexuality or is it the other way around?
*Look out for the final post for are  Do You See Me? tomorrow*
Have a great Friday and see you next week
To start a dialogue about the importance of sexual education, inviting strangers and friends to share their opinions and experiences on sexual health and everything in between. We'll bring you commentary and resources on topics such as Sex Education, Abstinence, Rape & Sexual Assault, The [...]