Happy last day of October aka Halloween aka last day of our October Series, aka the best day to read sexual health news from around the world!
From fighting for women's rights to giving healthcare to the homeless, this is.... In Case You Missed It! Welcome to the 6th Edition of In Case You Missed it, today we have four new stories (because a lot happened in October) and some extra stuff. Ok, WELCOME TO IN CASE YOU MISSED IT!
1. Fighting for gender equality and women's rights in Tunisia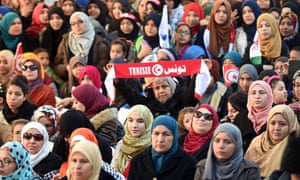 (via the Guardian)
Women in Tunisia with the help of a Coalition and strong female MPs in the government are uniting and standing up against sexual harassment, gender-based violence, and more; including Marital Rape. ----introducing fighting violence against women bill which more than likely pass in Parliment.
"Passing the law is the beginning of the process, not the end. You need the support of the education system; this starts at school. You need a training programme for the police. And you need to look at television shows that normalise violence. "- Check out the full story 
2. True or False......Sex Ed and Contraceptive Education Go Hand in Hand
The Charleston County School Board decided not to add Contraceptive learning to their Abstinence only program for middle schoolers because they fear their students might take an interest in sexual activities. Check out the full story
Note: States with Abstinence-only teaching have higher teen pregnancy rates.
3. Not All Heroes Wear Caps
Giving care---- nurse practitioners from Center From The Urban Community Center in New York City are giving free medical check-ups to the homeless population in New York. Check it out 
4.  Let's talk about mental health/care and the pressures of social media
Self-harm in young adults is rising: "More than one-quarter of women aged between 16 and 24 are suffering from symptoms of common mental health problems, such as anxiety and depression, " according to a major NHS report.  All this can be attributed to the social media and selfie culture as well as the message we send to little girls. The be who you want to be, as long as it fits with what society wants you to be. Check out the full story
Have You Heard? 
Last week, the NYTimes published an article about Patient Zero also known as a.k.a. Gaétan Dugas, a globe-trotting, sexually insatiable French Canadian flight attendant, the man who many blame for the AIDS epidemic in the U.S. but apparently, the virus had been in the States long before Dugas entered the U.S so where and when did the virus enter the U.S Check out the full story
                                                          Can We Talk About This?
Hidden in the shadows aka the NFL doesn't want to talk about players and domestic violence (click image)
Check This Out!!!
Birth Control Horror Stories brought to you by Seriously. TV
Can We Talk? News Corner
Just wanted to say, thank you so much for reading and commenting on our October Series (FYI: STIs and More), we hope you learned and enjoyed everything we shared. Next Week: We are starting a new series called Open Dialogue where we share news and opinions from around the world and ask you what your thoughts are!
Check out our latest Weekly Reads! (click image)
Reminder: STAY FLAWLESS< STAY SAFE< STAY HYDRATED<AND DO YOU BOO
You Might Also Like
Breaking down sexual health barriers by speaking on taboo topics and providing you with credible resources and personal stories.