Honored in the Worldwide Who's Who VIP, Who's Who in the World, Who's Who in American Law and the Queen's Trust, the Honorable Pauline Truong is one incredibly impressive entrepreneur who has over 12 years of global experience in international law, business, education, and public-speaking.
She has received an abundance of accolades and was most recently awarded an Honorable Order (U.S.A. & Global) for her global innovation, leadership and contribution. The prestigious honor has been commissioned to such distinguished leaders as President Bill Clinton, President Ronald Reagan, President George Bush, President Johnson, Prime Minister Winston Churchill and America's first person in space, John Glenn. Pauline is the first person of Vietnamese background to be awarded the Justice Lionel Murphy International Postgraduate Award for attending UCLA Law School. She will also be featured on Inc. Magazine, CNN, MOGUL, Social Media Week, TEDx, Examiner and other media globally.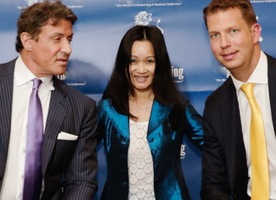 A true dream career that has spanned across multiple areas, Pauline has worked with the United Nations, State Law Office & Parliamentarians on U.N. Conventions, human rights, equal opportunity and diversity issues, and has been an Editor and Board Member of the renowned Journal of International Law and Foreign Affairs (JILFA), and the Asian Pacific American Law Journal (APALJ).
An amazingly accomplished and generous individual who will be the first person of Australian and Vietnamese background to be inducted into the Millennium Global Woman of Honor, and a Global Ambassador for U.N. and Women's issues, Pauline is an inspiration who is giving back to the community and helping to cultivate the next generation of attorneys, professionals, entrepreneurs, and women worldwide.
Describing herself as originally being a "Vietnamese Boat Person", Pauline has received tremendous global leadership opportunities from the U.S.A., Australia, E.U., and Asia. A true entrepreneur, she is the Founder and CEO of Ascendo International Group, a successful share- and stake-holder in a conglomerate of global companies, specializing in innovations to help global clients in: Innovation & Start-Ups, International Law, Government, Investments, Trade & Business, Strategic Internationalization, M& A's, Immigration and Real Estate.
Recognized for her incredible public speaking skills, Pauline is an International Adviser to famous Public Figures and is a Global Guest Lecturer & Public Speaker at UCLA, international universities, and at professional conferences & events. In addition, she serves as a Global Ambassador and regional representative for UCLA Law School for the U.S.A. as well as Australia (with responsibilities in Asia).
MOGUL: What was your inspiration for founding Ascendo International Group, and had you always had a passion for wanting to help emerging international companies?
Pauline Truong: This year marks the 40th Anniversary of the 'Fall of Saigon,' which happened on April 30, 1975. As a Vietnamese refugee (toddler) fleeing Vietnam after the war, I am very grateful for all the opportunities that the global leaders and community have offered me. My family first migrated from China to Vietnam, and then a generation later risked our lives to reach Malaysia from Vietnam on our family boat after the war. We were blessed to receive refugee status in Australia and expanded internationally thereafter. At each transition, it was necessary to "re- build" part of our lives and businesses. Whilst it was challenging initially, this later became an asset for the globalization of my work, business and lifestyle.
My initial inspiration for founding Ascendo International Group (www.ascendo- international.com) was to help people, companies and families from emerging markets to innovate, migrate, globalize and realize their dreams. While practising law around the world, my business partners and I invested in emerging market companies to help them succeed internationally. As a result, we now have an incredible number of companies ready to make an impact on the global economy.
This business model has in turn helped us grow and realize our dreams in so many continents and directions. For example, large global companies have sought partnerships with us. My family's group of companies has enjoyed measurable success. We also have immense support for our upcoming global platform and other great projects. It is very exciting!
MOGUL: What tactics have you used in order to balance all your various entrepreneurial ventures, whether it pertain to public speaking, education, business or law? What is your advice when it comes to work-life balance?
Truong: My rigorous training in Science and Law (at UCLA and Melbourne Law Schools), work experience and leadership positions provided me with great skills to efficiently juggle many projects and roles under pressure.
My team, inner circle and strategies enable me to balance many ventures efficiently. People say I am an outside-the-box, no-nonsense woman, problem solver, and advocate for change. I also try to invest in the right people and right opportunities at the right time. To help balance my various entrepreneurial ventures, my approach was to create global companies that are great for lifestyle, challenging and unique, abundant with global investors, and pertain to causes that people can be passionate about. This makes it so rewarding that it doesn't feel like "work," and people are naturally drawn to us. 
Modern technology has also helped me to balance my ventures and where there is a gap, we continue to work with our associates to develop new technology that facilitate effective and efficient global transactions.
While work and business is important, balance is the key. Life is short. So I try to work smart, be healthy, spend quality time with the right people (and pets), give back to the community, embrace change, live life to the fullest and enjoy the journey.
MOGUL: Having won so many prestigious accolades, what would you say has been the most significant in your life, both personally and professionally?
Truong: All milestones are significant in different ways as they help me to see the areas I need to continue to explore, learn and transform. My recent Honorable Order (USA & Global) commission for global innovation, leadership and contribution is a tribute to all those who inspired me to be where I am today personally and professionally.
As a minority woman, I studied and worked very hard, winning scholarships and awards frequently (since childhood) to attend top selective schools and be with the movers and shakers around the globe. It has been a great privilege to be trained, mentored and surrounded by the Ivy League professionals and top experts from diverse professions globally.
At Law School, most of my friends' parents were judges, partners in law firms, owners of well established businesses and/or other distinguished professions. As a migrant student, I realized that my career could be interesting by being "different". My professors, mentors and peers inspired me to continually learn, challenge myself, transform, handle all situations, strive for excellence, reach new heights, realize impossible dreams and make a small difference to the global community.
MOGUL: In an ever-evolving world, what do you believe makes a strong leader, and how should young women equip themselves in order to compete for upper management positions?
Truong: Leaders are architects of change in many different spheres and capacities. In the modern world, success is with strong leaders with the innovative outlook, high powered global networks, multi-disciplinary skills, global presence, vision, dedication, emotional intelligence and passion to navigate a competitive global economy. A strong leader also needs to ask the right questions, go out of their comfort zone, be assertive, have a good sense of humor and effectively handle all situations.
To compete for upper management positions, they should invest in continued education/training to equip themselves with updated knowledge and skills to master and mobilize themselves. They also need great mentors/sponsors, influential networks and inspiration to effectively differentiate themselves and unleash their full potential in a world of amazing talent.
Having goals, dreams, creativity, adaptability, discipline, perseverance and resilience also helps them have a competitive edge for upper management positions and leadership roles. If things don't turn out as originally planned, just learn, improve and take another shot! I believe that if we are authentic and compassionate, give life the best we have, and show gratitude, in all circumstances, the best will come to us!
MOGUL: As a successful entrepreneur also from Australia, how do you hope your inspirational path will pave the way for other young women who might be facing challenging circumstances, but would like to follow in your footsteps?
Truong: There are no boundaries for our dreams, innovation and success. I am blessed to be surrounded by so many inspirational people and enjoy the fulfilling life and journey. Hence, I like to give back to the community and empower young women (and people in general) to achieve their goals and dreams. It is very rewarding to receive many notes, like this one, from the audience (during speaking engagements):
"[T]hank you so much for your inspirational advice, personality and stories... I really did appreciate you sharing your story about being a refugee, basically starting from nothing, and being able to carry yourself and build yourself into this wonderful successful person. You really inspire me to be the best that I can be, to embrace my womanhood, and to not let negativity put me down."
Young women are key to the global economy and community. They are generally very sharp and savvy. Opportunities arise from challenges. If we create being unstoppable, we are unstoppable. Part of my postgraduate law thesis was on international law, women and diversity. As a human rights, innovation and diversity advocate, I believe that it doesn't matter where we are from. Women's and diversity rights are human rights.
We are working on stage one of ShePreneurs.com and GlobePreneurs.com. They will hopefully become global platforms, endorsed by celebrities, that empower and celebrate global entrepreneurs from diverse backgrounds in a 'different' way.
When we empower young women, global entrepreneurs and people from diverse backgrounds to focus, strive for excellence, dream big, innovate, see the beauty (and humor) in life's imperfections, take risks, unleash their full potential, assert their rights, and ensure accountability ...we will ALL achieve our goals and dreams.
Mogul is a platform reaching millions of women per week across 196 countries and 30,470 cities. Mogul is democratizing information for women worldwide by enabling users to connect, share information, and access knowledge from each other. Headquartered in NYC, with offices in San Francisco and [...]