Cinco de Mayo is right around the corner. To celebrate, we've got the best deals from four of the best places in New York City!
Whether you're looking for a chill rooftop restaurant or exciting beer hall, we've got you covered. Get ready, everyone. It's fiesta time!
1) Cantina Rooftop – 605 West 48th Street, Hell's Kitchen
Cantina Rooftop offers a traditional Cinco de Mayo experience with Executive Chef Gonzalo Colon's Mexican cuisine. Try their selection of ceviches, tacos, and guacamole. We recommend their signature house specials—Camarones Al Ajillio (garlic shrimp, tequila flame, lime juice, Chile de Arbol & Mexican rice) and Rooftop Molcajete (grilled sirloin Cecina, adobo chicken, chorizo, enchilado queso fresco, grilled cactus, charred jalapeño & Comal tortillas).
For cocktails, check their house specials like the Sangre de Nopal (tequila blanco, prickly pear, St. Germain Elderflower, citrus & agave nectar) and the Pero Woah! (Bacardi Superior Rum, passion fruit, coconut & pineapple). Or enjoy the classic margaritas, mojitos, or palomas!
2) Treadwell Park – 1125 1st Avenue, Upper East Side
Party hard with Treadwell Park's unbeatable Cinco de Mayo Special! This beer hall's got the perfect Mexican-inspired deal: two house-smoked pulled pork tacos, a 21st Amendment El Sully Lager, and a shot of tequila for just $20!
While you're there, also consider their smoked pork nachos (smoked in-house, pepper jack, ancho chili salsa & guacamole), smoked crispy wings (smoked in-house, horseradish cream & Texas Pete), and guacamole (jalapeño, cilantro, tomato & tortilla chips)! All of which—perfect for sharing!
For drinks, Treadwell Park's armed and ready with their selection of 20 rotating craft draught beers, ciders, and over 40 bottled options. Ask about their Reserve List of specialty beers!
3) Mundo – 37-06 36th Street, Long Island City
Complete your Cinco de Mayo celebration with fan favorites—The Factory Burger (tomato, arugula, gruyere cheese, truffle aioli & fries) and the Truffle Risotto (Portobello mushrooms, parmesan & chives).
Don't forget about Mundo's signature margarita—the Pachamama (tequila, orange liquer, lime juice, cucumber extract, pepper extract & basil leaves), finished with a spicy salt rim!
Mundo's also got live entertainment! Downstairs, in the Paper Factory's Rose Room, check out A Mexican Affair, a performance including music, romance, and candid stories by Rafa Reyes. The performance will start at 9:30 PM. For ticket information, visit here.
4) Haven Rooftop – 132 West 47th Street, Midtown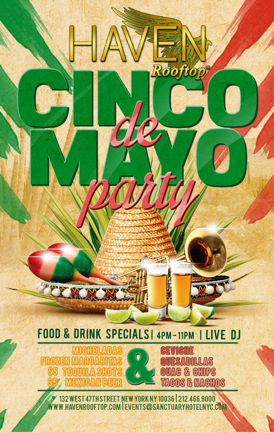 Gather your amigos, and head to Haven Rooftop! They're hosting the perfect fiesta for Cinco de Mayo, complete with drinks, dancing, and great deals! Look for their specials on ceviches, tacos, nachos, quesadillas, chips and guacamole. And don't forget to take advantage of their $5 tequila shots and Mexican beer!
The night gets even better with a live DJ and specials between 4 and 11 PM!
--
Let us know if you've visited these places and enjoyed their deals! And feel free to recommend your favorite places.
Let's get our drink on… responsibly!
Nice to meet you! My name is Theresa Park. I like to collect Box Tops and fun stories!