2017 Miami Art Week has come and gone bringing together yet another year of artists from all walks of life, from all around the World, with a variety of disciplines. While Art Basel and Design Miami catered to a more veteran art audience, other shows during the week such as Superfine, New Art Dealers [NADA], Red Dot, and others catered to the emerging audience of new art enthusiasts and collectors. 
It's safe to say that there was art showcased for every situation, culture, generation, and anyone with inspiration borrowed from everything from trending and tough topics, real life experiences, and even conversations that need to happen. 
With the industry of art growing rapidly and becoming more accessible, we came a few works from a few females, who's works are inspiring, visual pleasing, and are possibly starting the conversations. Below are the fifteen female artists you need to know from Miami Art Week: 
1. Christina Eve. Orlando-based artist, Christina Eve experiences synesthesia. Synesthesia is a neurological phenomenon that involuntarily merges senses in the brain. A simple song can be soothing for the average listener, but for Eve, a song allows her to see sound, in which inspires her works made from alcohol ink. Listen to Eve's playlist that inspired her works, or view her works inspired by the songs, here.    
2. Sara Zaher. Born in Cairo, Egypt and based in New York, this pop artist deals directly with social issues of the contemporary world through her art. Her most current collection, includes the piece below "Xanax" (via Red Dot Miami], "What's Your Poison?", "What Now" and others exploring a major issue amongst society today - the increased glamorization and escapism through the false world of social media and/or prescription drug use. 
3. Elena Bulatova. This Russian fine artist, based in Palm Springs is internationally known for her various mix medium works - most popular her "Sweet Life Series" consisting of vibrant colored sculptures of small to large sized sweets and treats. 
4. Melanie King. In collaboration with Design Miami and COS, this London-based artist explored the concept and anatomy of bubbles through the lens of art history, science, and metaphors. This exhibition was literally a "hands-on" experience for attendees of all ages. 
5. Sarah Derat & Rachel McRae. Have you ever wondered what happens to your online presence when you die? Belgium-based duo explored this question (at NADA Miami) with the piece Digital & Dead, which consists of AR and Urethane, marble powder, acrylic, along with an app. 
6. Daisy Winfrey. As mentioned, it's no better time to be a woman, but let's keep it real - it's also is a challenging time. We're in a age where labels are constantly being put on and removed from us, having a voice is praised and at the same time can be criticized - you get the gist. Alabama artist, Daisy Winfrey showcased at SUPERFINE, art to shed light and "talk back" on the (many) frustrations, roles, and situations women encounter as we navigate this society with subtle satire. Mainly, Winfrey's works are inspired by the constant bombardment of pop culture images, Americanism (as an ideal versus its reality), fashion in the form of protest or control, and using words to foster emotions. 
7. Nancy Davidson. In the art world, it's not very often you come across pieces that are a breath of fresh air. When you do, the artist behind the piece(s) usually has a damned good story to tell. For the veteran interdisciplinary artist, Nancy Davidson, this is exactly the case, utilizing inflatables to shed light into the feminized body as a theater with witty concepts and absurd themes. If you're in Miami, be sure to catch Davidson's multimedia exhibition per Sway presented by Locust Projects starting now through January 20, 2018. 
8. Nneka Oseke. Nigerian, multidisciplinary artist, Nneka Oseke various works is a direct conversation of the matters of her heart, mind, and the human experience. Her works include canvas to hand-carved sculptures inspired by her imagination, Black empowerment, spirituality, and the exploration of the unconscious mind. 
9. Barbara Kruger. This Jersey-bred artist needs no introduction, being in the industry since the late 60's with notable works in her signature "black-and-white photographs overlaid with declarative captions—in white-on-red Futura Bold Oblique or Helvetica Ultra Condensed". Kruger has inspired many people (and brands) alike with her most popular and current works, that forces the viewer into think mode. Kruger's most notable pieces include "I shop therefore I am" (1987) and "Your body is a battleground" (1985). 
10. Berta Fischer. Utilizing mixed media ( transparent PVC and acrylic glass in fluorescent), Berlin-based artist Berta Fischer's sculptures never fail to amaze no matter the showcase.  
11. Maria Laura Ribeiro. If you love fashion, you'll fancy this Brazilian artist. Ribeiro is based in Delray Beach, FL and is responsible for mixed medium works with inspiration borrowed from her lifelong passions Pop Art, fashion, and nature. Her piece (below) Golden Age features a instagram-worthy portrait of fashion icon, Iris Apfel. 
12. Sofia Del Rivero. Sofia Del Rivero was one of the stand out artists at the 2017 Superfine Art Fair. Her various works exude femininity combined with pop art at first glance, however, refers to the physical state of the earth, man's relationship with nature, and the emerging energy of the female leader. Rivero is also the founder of ArtBox, which offers creative workshops for children in Miami, FL.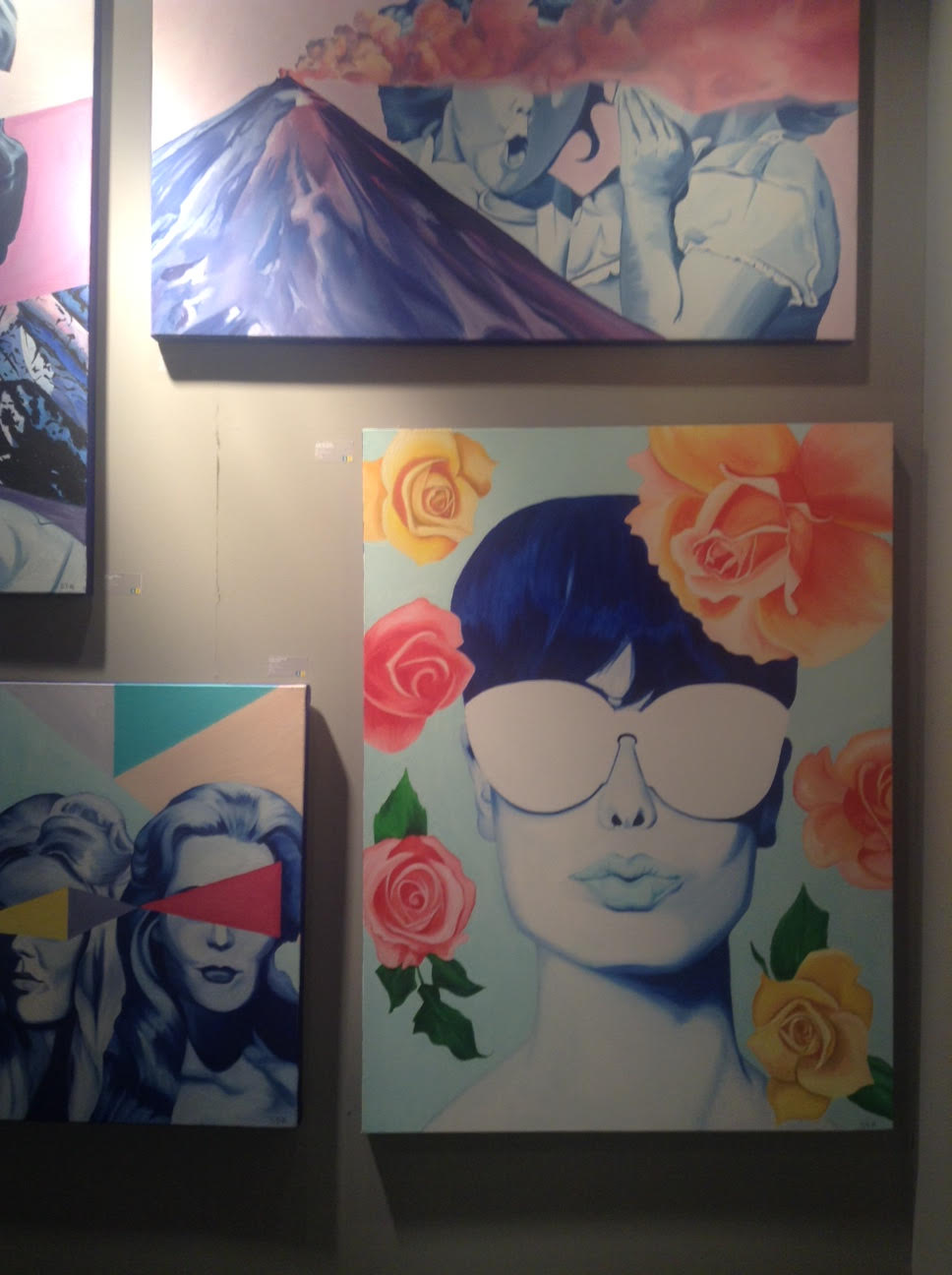 13. Merrilee Challiss. The "protective eye, evil eye, or nazdar" is a constant theme in Alabama-based artist, Merrilee Challiss mixed medium works majority constructed with sequins placed individually by hand. Challiss's ultimate goal with her work? To bring divine, healing feminine energy to the work and into the world. 
14. Sarah Stieber. Currently, we're experiencing a powerful moment for women all over the globe. It's no better time to be a woman. Sarah Stieber agrees, in which inspired her current art series called Rainbow Ribbon Magic, which features inspirational women with the signature inclusion of multi-color ribbons made of acrylic on canvas.
15. Janet Allinger. With over fifteen years experience in graphic design, Janet Allinger uses vintage book and magazine papers to create portraits of saints, cowboys and girls, and other characters. For example, the portrait titled "Barbara" seen below was created by Allinger using vintage Playboy magazines cuttings on wood panel.
For more information on all things Miami Art Week, visit here.