Although solo travel has gotten a bad reputation in the past, it is slowly becoming acceptable for its many benefits. For women, some of the benefits include increased self-confidence, self-awareness, and the unforgettable priceless knowledge!
Whether you're planning your next adventure, "to travel more" is one of your New Year resolutions, or if you have a female solo traveler on your list, the 12 gifts below are perfect (and useful) for her! 
1. AirSelfie ($299) 
If you've traveled solo, then you've probably know how it is when you want to take a picture, that's not a selfie. Luckily, the team at AirSelfie has created the first portable flying camera that allows you to capture photos and videos. The device is lightweight, packs 5 megapixels with HD video, flies up to 20m, and lasts about 1-hour. 
2. Clipa ($14.39) 
Have you noticed that a lot of bathroom stalls don't have hooks? Say goodbye to putting your bag on the dirty floor, and say hello to Clipa. This sleek ring automatically opens up as a bag hook, that can support up to 33 pounds. Discreetly wear it as a bracelet or clipped to your purse, then use it when you need it the most.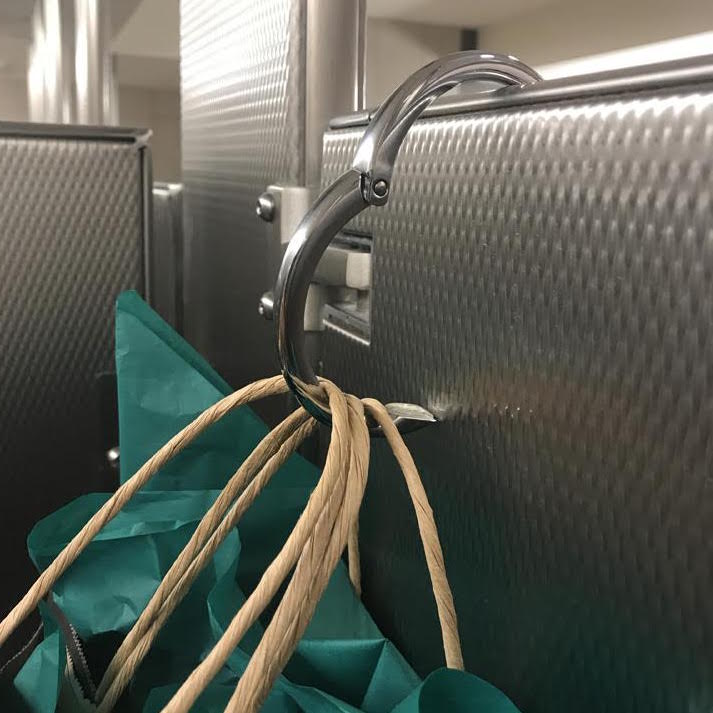 3. Revolar [$39.99-$79.99) 
Solo travel for women is liberating, however, can be dangerous. The best way to prevent unfortunate events is to be prepared. While there are various wearable devices on the market, Revolar, is a wearable that seamlessly fits within your lifestyle, while keeping you safe. Founded by Jacqueline Ros and Andrea Perdomo, the device counts your steps, as well, includes a button feature that alerts your family or friends by number of button presses, if you've arrived home safe or instantly shows your location if you're danger and need help. 
4. Dagne Dover Dakota Neoprene Backpack ($175) 
From Dagne Dover's 365 Collection, The Dakota Backpack is a sleek, backpack that can easily transition from work, gym, or for traveling. The bag features several compartments, specially dedicated for your basic daily necessities (i.e. umbrella, laptop, phone), as well as, secret compartments for more personal items you don't want to lose. The bag comes in four distinctive colors and is made of 100% premium Neoprene. 
5. Sonic Washcloth by Pulsaderm ($40)
Gentle enough for everyday use and suitable for men and women with all skin types. Made of silicone, The Sonic Washcloth by Pulsaderm is inexpensive, better than manual cleansing, and leaves your face clean, exfoliated, and fresh after using. 
6. LISSOM ($89-$99)
The best gifts are the gifts that you can use right away. UK brand, LISSOM, just launched in the US bringing forth a shoe that molds right to your foot! This shoe is ideal whether you're running for a flight (one of the inspirations behind the shoe) or you'd like an easy shoe to slip on and off to get through TSA. 
7. Collapsible Water Bottle by Nomader ($21.95) 
TSA approved, this water bottle is gift you can take with you on both short and long-distance travels. While stainless steel, plastic, and glass water bottles are great, they sometimes do not last or are not suitable for long term travels. The Nomader collapsible water bottle comes in 11 fun colors, making it the perfect stocking stuffer under $25. 
8. eAlarm by BASU ($7.99)
Another personal safety device is eAlarm by BASU. After the BASU team noticed how poorly designed and/or bulky devices dominated the personal safety space, that inspired them to create the eAlarm. The eAlarm is TSA-approved, weighs less than 1 oz, however, packs a powerful siren of 120 dB, which is as loud as an ambulance! 
9. McCrea's Candies ($15) 
For last minute gifts, and for the solo female traveler in your life who has a sweet tooth, McCrea's Caramel's are perfect. McCrea's offer luxe caramel handcrafted and slow-cooked with ingredients from around the world. Take your taste buds on a journey, too, with flavors such as Black Lava Sea Salt with salt crystals straight from Hawaii's volcanos, or other flavors including Ginger Fusion (Southeast Asia), or Café Noir with freshly ground coffee (Central America). McCrea's is sold at specialty shops, as well, at your local Bloomingdales or Barney's. 
10. The Port Kitt by Boundary ($79.99) 
Tired of storing all your toiletries in a clear plastic bag? The folks over at Boundary has created a sleek, dual-side case with magnetic clip (for hanging) for everyday use or when you're on the go. The Port Kitt features several compartments for seamless organization, is waterproof, durable, and is available in two chic colors for the modern traveler. 
11. TravelWise Durable 5 Piece Packing Cube System ($24.95) 
Packing cubes are life changing if you haven't tried them for your travels. TravelWise offers this inexpensive five-piece packing cube system in five cool colors. Each set includes 2 large, 2 medium, and 1 small packing cubes.
12. Bit Wearable Bluetooth Speaker by Polk ($29.99)
You always don't have time to grab your headphones, and sometimes you just want to listen to music aloud - whether you're working out, hitting the trails, or taking a call. Introducing the Bit by Polk is truly the first Bluetooth wearable speaker that easily clips to your clothes and can be controlled, leaving you phone free! Ideal for work or play, The Bit has a 3-hour battery life, built-in speakerphone includes a spring steel attachment, and is available in five vibrant colors.