Even hospitals have their walls decorated. Banks, schools and even malls have some sort of art on the wall. Don't let those impersonal institutions have personalized walls while your house interior is sporting pure white. Make your house a home, by turning one wall into the perfect gallery wall. You don't have to be an interior decorator pro in order to make this happen. Use some of the ideas laid out right here.
Bringing it All Together in Color
If your wall looks more like a magazine with different ads, you will grow tired of it pretty soon. There has to be some idea behind your choices, so make sure you have something that ties all those pieces together. Pick a color and search for the pieces that are in that color. They don't have to be monochrome, of course, but one color should be dominant. Others should appear, as a flash of freshness. This will make a very pleasant and tasteful art wall.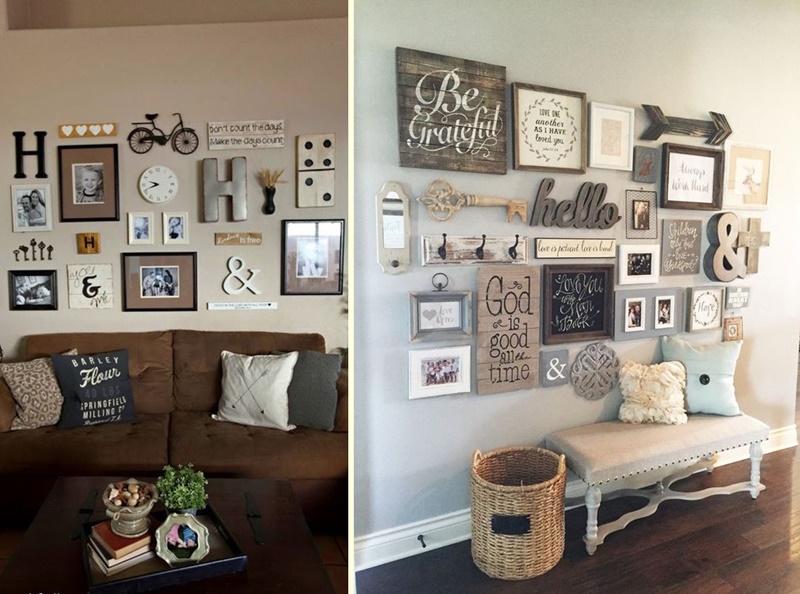 Do You Think Rainbow Is Too Much?
If one color is not enough, what about a rainbow? Make imaginary vertical lines from one side of the wall to another. They will be the border for the areas of different colors. Start with red and finish up with purple. Your art pieces should be classified into appropriate areas, according to their color.
Make Your Own Frames for All
If you don't want to put that much accent on the colors, think about something else to tie the pieces together. You can pick your favorite art and make your own frames for all of them. Pick enough material to make the same frames for every piece. It will give the observer the feeling that all those pieces are seen through the same lens.
Get Creative with a Theme
There are many themes to pick from that will make your wall lovely. You can pick Butterflies, ships, world capitals and many more. Once you got it, browse the art pieces and find the ones that match your theme. It will be much easier to combine them together on the wall if there is a logic behind your choices.
Start with the Biggest Pieces
Once you have all the pieces you want, nice and framed, it is the time to arrange them on the wall. Make sure you put the largest pieces first and arrange them evenly. After those, hang the smaller ones and work your way down to the miniature pieces. In that way, you will have harmonious constellations of artwork that will work together perfectly.
Make sure You Hang Them Properly
You do not want to damage the wall or have some of the art ruined. Therefore, avoid nails and screws and look for the picture hanging hooks. Use two hook rings per art piece to hold it tightly and to distribute the weight evenly. If the piece is heavier than 30 kg, use an extra hook. Even better, use D-rings and wire to reduce the pendulum effect.
Make It About You
Fashion comes and goes and your wall is there to stay for a while. Unless you want to change it each year or so, be honest to yourself about what you really like.  This means that personalized artwork is the best choice. After all, you will be the one who will live in that room. So, make it about you.
The perfect gallery wall is a pretty much a matter of personal taste. Therefore, do not try to match the walls of high-end galleries of New York, but make it a part of your home, where you will be able to truly enjoy its beauty every single day.
You Might Also Like