Sinew Palladium 100% Whey Protein Is Pure, Natural and High Quality Protein. It contains Ion Exchange Whey Protein Isolate & cross Flow Ultra Filtration Whey Protein Concentrates. They are the purest form and contains little or no fat, lactose and cholesterol. It provides a good amount of BCAA and also work as an anti-oxidant and immune system builder. The Whey combination is a one of the best combination to give you 80 per cent of Protein per serve.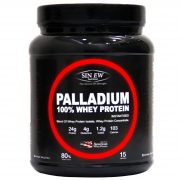 Features:
 It is 100% Vegetarian.
* Zero Sugar
* Contains 24g of 100% Whey Protein Blend.
* It improves Strength and Immunity.
* It is powerful Post-Workout Recovery Protein.
* It is Instantized to be more soluble.
* Amazing Taste.
Health & Fitness lover to share views on topics such as Health & Nutrition , Exercise , Weight lose , Healthy life, Fitness and wellness .